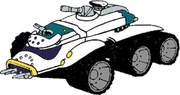 The
Migrator
is a massive, heavy-duty all terrain vehicle that the Ducks use for ground transportation.
Vehicle Overview
Stored in a hangar beneath the Aerowing on the second level of the Pond, the Migrator exits through an underground ramp that leads outside. The cargo bay of the vehicle can hold several Duckcycles, as well as extra supplies for almost any emergency.
Technology & Weapons
Engaging the Migrator's battle mode gives the vehicle extra shielding, as well as a more intimidating appearance. Weapons consist of laser cannons of varying strengths.
Trivia
Just like the Aero Wing, the Migrator uses a mix of hand drawn and cell-shaded computer animation.
Community content is available under
CC-BY-SA
unless otherwise noted.