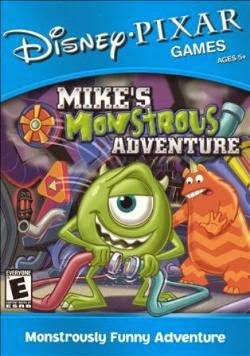 Mike's Monstrous Adventure is a PC game released on September 2002. The game is based on Monsters, Inc. It is a point-and-click adventure game developed by Hulabee Entertaiment.
Plot
Players control Mike as he searches the factory and solve puzzles to restore the parts to the Laugh Energy Filter 5000, a laugh machine which is needed for a big press conference. Exploring the factory takes players to a variety of locations including the lobby, platform room, atrium, maintenance room, cafeteria, security booth, conference room, elevator, trash room, pipe room, tentacle room, contamination room, R&D lab, pressure control room, locker room, mailroom and more.
During the adventure, players interact with characters from the film, including Delta, Boo, Fran, Smitty, Needleman, Skip, and Wally. In addition to solving puzzles, kids are required to complete simple tasks like finishing Mike's paperwork, exploring every room in the factory to find joke cards, and maintaining a small inventory. Joke cards are used by Mike to match specific types of jokes, categorized by sports, animals, science, food, music, family, transportation, school, monsters and clown routines, with certain kids to make them laugh.
Upon completion of the first puzzle, a blueprint becomes available that shows the missing machine parts as well as a list of items that have been found. After Mike rescues Boo early in the game, players gain access to the Cereal Slide mini-game where the goal is to become the first player to line up colored cereal pieces horizontally, vertically or diagonally in a row of three (3x3 grid) or four (5x5 or 7x7 grids). Hints and gameplay instructions are included in a printable and colorful electronic manual on the CD.
Features
Interact with characters from the Monsters, Inc. animated film
Explore the factory, collect joke cards, and solve puzzles
Create a personal monster ID card
Characters
Voices
Deena Freeman
Connor Lott
Lancey Lott
Spencer Lott
Gallery