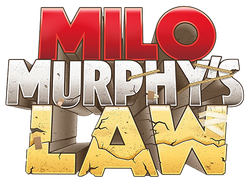 The following episodes of Milo Murphy's Law are listed in the order of their original airing.
The series premiered on October 3, 2016 with the episodes "Going the Extra Milo" on Disney Channel, along with "Sunny Side Up". Before making its television premiere, the first episodes of the show, "Going the Extra milo" and "The Undergrounders", were released for free at the iTunes and Google Play on September 23, 2016. On February 28, 2017, the show was renewed for a second season. The second season was planned for Fall 2018, but was delayed to 2019.
Series Overview
Season
Episodes
Originally aired
Season premiere
Season finale
1
21
October 3, 2016
December 2, 2017
2
20
January 5, 2019
May 18, 2019
Total
Series premiere
Series finale
1-2
41
October 3, 2016
May 18, 2019
Season One (2016-2017)
No. in
Series
No. in
Season
Title
Original
Airdate
Production
Code
01
01
"Going the Extra Milo"
October 3, 2016
101A
Zack Underwood, a new kid in town, meets Milo Murphy, the unluckiest kid in town. Because of Milo's misfortune, he and Zack both miss the bus for school, so Milo shows Zack a "shortcut" to school, while attempting to avoid wolves, bees, fire, and even an alien abduction. Meanwhile, Melissa Chase, a friend of Milo's, collects lunches as wagers from other students on whether or not Milo and Zack will make it to school before the bell rings.
"Sunny Side Up"
October 3, 2016
102B
After a science class, Milo and his friends experiment with eggs and they create an invention which is nicknamed. "Big Bertha". But then Milo causes a brain to fall off a anatomy model, and the egg breaks. but luckily, he has another egg and they compete in a contest which they see which one falls without breaking the egg.
02
02
"Rooting for the Enemy"
October 10, 2016
102A
Milo attends his first football game, which turns into an extraordinary, explosive sporting event that is anything BUT football.
"The Undergrounders"
October 10, 2016
101B
Milo, Zack, and Melissa's subway car gets derailed on their way to a field trip to the museum. While trying to find their way to the museum, they encounter a society of construction workers who have been underground for a long time.
03
03
"The Doctor Zone Files"
October 17, 2016
103A
Sara wants to go see The Doctor Zone Files movie with Milo, but worries about potential problems.
"The Note"
October 17, 2016
103B
Milo and the gang spend the entire day chasing after his doctor's note that excuses an entire semester of absences, illness and shenanigans caused by Murphy's Law.
04
04
"Party of Peril"
October 26, 2016
104A
Melissa and Zack throw Milo his first surprise birthday party, the only real birthday party he's ever had.
"Smooth Opera-tor"
October 26, 2016
104B
Milo goes to the opera and when things go wrong, he ends up center stage! Will things go right again?
05
05
"Worked Day"
October 27, 2016
105A
It's career day and Milo is having a hard time deciding what his career should be. He tries to decide while visiting the water works, fire department, and hospital. But of course, everything goes wrong. Meanwhile, Dakota and Cavendish try and make sure a shipment truck full of pistachios make it to the pistachio warehouse.
"The Wilder West"
October 27, 2016
105B
Milo and his friends visit a dude ranch. While horse back riding, they meet a girl named Jackie who joins their posee, and Zack is smitten with love. But, Jackie leads them into more danger then usual. Meanwhile, Sara is going crazy because the ranch reminds her of scenes from The Doctor Zone Files, and invites other fans to join in the geek fest.
06
06
"Family Vacation"
March 6, 2017
106A
When Milo accidentally joins another family on their vacation, the new family must learn to cope with Murphy's Law.
"Murphy's Lard"
March 7, 2017
106B
Milo and Zack try to help Melissa overcome her secret fear of roller coasters.
07
07
"Secrets and Pies"
March 8, 2017
107A
Milo and Melissa share their most embarrassing stories, but Zack refuses.
"Athledecamathalon"
March 9, 2017
107B
The gang participates in a school event that combines the Academic Decathlon and the Athletic Decathlon.
08
08
"The Substitute"
March 13, 2017
108A
A jaded science substitute teacher, Ms. Baxter, re-discovers her love of teaching after a life-altering day with Milo.
"Time Out"
March 14, 2017
108B
Cavendish and Dakota compete against two of the agency's top operatives, Brick and Savannah, to impress their boss.
09
09
"We're Going to the Zoo"
March 15, 2017
109A
Milo accidentally gives away his mom's priceless rock concert T-shirts to a school clothing drive and must fight Murphy's Law to get them back.
"School Dance"
March 16, 2017
109B
Amanda is concerned that Milo will ruin everything at her carefully orchestrated school dance.
10
10
"Battle of the Bands"
March 20, 2017
110A
Milo, Melissa and Zack must learn to overcome their own conflicting concerns in preparation for their first Battle of the Bands competition.
"The Math Book"
March 21, 2017
110B
Milo and Zack go on a quest to help Melissa get a book she left behind at school.
11
11
"The Little Engine That Couldn't"
March 22, 2017
111A
When Melissa's dad drives her and Milo into town on a decommissioned old fire engine, chaos ensues.
"The Llama Incident"
March 23, 2017
111B
Milo and Melissa finally tell Zack the story of the infamous Llama Incident.
12-13
12-13
"Missing Milo"
July 22, 2017
SPE
When Cavendish and Dakota stop Milo from destroying a pistachio plant, they change the future. Pistachio plants become sentient and take over the planet, so Cavendish, Dakota and Milo must race through time to save the future.
14
14
"Star Struck"
September 25, 2017
112A
Milo wants to get an autograph from his favorite actor, Tobias Toopanen, who is shooting a film in town.
"Disaster of My Dreams"
September 25, 2017
112B
Elliot Decker is hired as the school's head safety monitor.
15
15
"A Clockwork Origin"
September 26, 2017
115A
Milo, Zack, and Melissa search for an escaped robot.
"Perchance to Sleepwalk"
September 26, 2017
115B
Milo, Zack and Melissa spend the night camping in the woods, and Milo ends up sleepwalking. Meanwhile, after seeing the consequences of saving the pistachios, Vinnie Dakota and Balthazar Cavendish choose not to carry out their next assignment.
16
16
"Some Like It Yacht"
September 27, 2017
117A
The students take a trip on the school yacht, and end up stranded on a deserted island. When the teaches go native, It's up to Milo to lead the class to fix the boat and get back to civilisation.
"Backward to School Night"
September 27, 2017
117B
Parents become children at Back to School Night.
17
17
"World Without Milo"
September 28, 2017
118A
Elliot gets to see what the world would be like without Milo.
"The Race"
September 28, 2017
118B
Milo runs a race as Cavendish and Dakota gets stuck in the Old West.
18
18
"Love Togboggan"
September 29, 2017
120A
With Milo away skiing, Sara finally feels safe enough to go on a date.
"The Island of Lost Dakotas"
September 29, 2017
120B
Dakota travels back in time to save Cavendish.
19
19
"Fungus Among Us"
September 30, 2017
121
Milo, Cavendish, and Dakota travel back to 1965 and inspire the creation of Dr. Zone only to encounter a sinister plot to take over the world.
20
20
"Milo Murphy's Halloween Scream-A-Torium!"
October 7, 2017
119
Zack doesn't think anything about Halloween can scare him anymore, but he didn't account for Murphy's Law.
21
21
"A Christmas Peril"
December 2, 2017
116
Milo surprises his parents by inviting the extended Murphy family to town for Christmas, multiplying the effects of Murphy's Law.
Season Two (2019)
No. in
Series
No. in
Season
Title
Original
Airdate
Production
Code
22
01
"The Phineas and Ferb Effect"
January 5, 2019
201
Milo, Zack and Melissa must work with their new neighbors Phineas, Ferb, Buford and Baljeet to overcome Murphy's law and stop the (Pistachion) invasion.
23
02
"Snow Way Out"
January 12, 2019
TBA
Milo and Zack get into a lot of dangerous snow-related obstacles.
"Teacher Feature"
January 12, 2019
TBA
The kids prepare Scott for an appointment with Miss Murawski.
24
03
"Picture Day"
January 19, 2019
TBA
It's Picture Day at school and Milo intends to get his first successful photo.
"Agee lentee Diogee"
January 19, 2019
TBA
Milo, Zack and Melissa try to relax by eating some ice cream on a Sunday.
25
04
"Game Night"
January 26, 2019
204A
Milo, Melissa and Zack try to finish a boardgame for the first time.
"Pace Makes Waste"
January 26, 2019
204B
There's a huge charity car race in town and Murphy's Law causes a lot of chaos.
26
05
"Cake 'Splosion!"
February 2, 2019
TBA
Amanda and Milo try to win the bake-off named "Cake 'Splosion".
"Lady Krillers"
February 2, 2019
TBA
Milo convinces Tobias Trollhammer, to dress up as a woman in the newest Krillhunter-Movie.
27
06
"Doof's Day Out"
February 9, 2019
TBA
Doof has made himself a house guest at the Murphy's but Sara doesn't want him to be there.
"Disco Do-Over"
February 9, 2019
TBA
Since the Roller-Skating Rink closed Martin and Brigitte get a new chance to fulfill their dreams to become Disco-Dance-Champions.
28
07
"The Ticking Clock"
February 16, 2019
207A
Milo, Zack and Melissa try to save the city hall's clock that Melissa's great grandmother has designed.
"Managing Murphy's Law"
February 16, 2019
207B
Amanda helps Milo, Zack and Melissa to prepare a concert in the afternoon.
29
08
"Milo's Shadow"
February 23, 2019
209A
Doof wants to learn how to be good and follows Milo for an entire day.
"Sick Day"
February 23, 2019
209B
Aliens try to get the DNA of a sick Milo but Diogee prevents it.
30
09
"Field of Screams"
March 2, 2019
TBA
The gang volunteers to help Zack with farm chores to prove he's not a city boy.
"Spy Little Sister!"
March 2, 2019
TBA
Melissa enters a mentoring program with weather agent Savannah.
31
10
"Dog Walker, Runner, Screamer"
March 9, 2019
TBA
Elliot is injured and hospitalized, so Milo substitutes for his side job as dog walker.
"Now I Am a Murphy"
March 9, 2019
TBA
Milo takes a trip to the woods with his dad and grandfather in order to become a true Murphy.
32
11
"Freefall"
March 16, 2019
TBA
Milo and his friends are simulating a freefall, but Murphy's Law turns it into an actual freefall.
"Milo's World"
March 16, 2019
TBA
Milo's friends wonder when Milo is joining them at a fast food restaurant. To pass the time, they tell each other stories about him.
33
12
"Abducting Murphy's Law"
March 23, 2019
212
Milo gets abduced by aliens from Octalia, who seem to be afraid of him. Melissa, Zack and Doofenshmirtz try to find him after they discover about the abduction.
34
13
"The Goulash Legacy"
March 30, 2019
TBA
Milo has to protect Brigette's last goulash from getting ruined by Murphy's Law.
"The Dog Who Knew Too Much"
March 30, 2019
TBA
Diogee gets himself into a mission with Agent P.
35
14
"Adventure Buddies"
April 6, 2019
TBA
Doofenshmirtz becomes adventure buddies with Scott the Undergrounder.
"Ride Along Little Doggie!"
April 6, 2019
TBA
While Milo tries to get inside the school to receive an award at an awards show his school is hosting, Diogee teams up with the police to catch Zippy, the world's fastest koala.
36
15
"Look at this Ship"
April 13, 2019
TBA
Cavendish finds a crashed UFO.
"Cast Party"
April 13, 2019
TBA
All guests of Zack's surprise party come with plaster cast, due to extraordinary accidents that seemingly have nothing to do with Murphy's Law.
37
16
"Safety First"
April 20, 2019
TBA
Milo and Elliot accidentally get handcuffed together.
"Cavendish Unleashed"
April 20, 2019
TBA
Cavendish mistakenly unleashes a giant alien.
38
17
"First Impressions"
April 27, 2019
217A
Six-year-olds Milo and Melissa meet for the first time and Murphy's Law makes their first day of kindergarten a big adventure.
"The Speech and Debate League of Death and Destruction Cross Town Explosion Event"
April 27, 2019
217A
Zack and Milo join Melissa's newly athletically-minded wrestling, speech and debate team.
39
18
"The Mid-Afternoon Snack Club"
May 4, 2019
TBA
Milo, Melissa, Zack, Mort, Amanda and Bradley are stuck in detention for the afternoon.
"Parks and Wreck"
May 4, 2019
TBA
Milo and the gang volunteer at the local park.
40
19
"Escape"
May 11, 2019
TBA
Doof and Dakota attempt to use a bizarre Cavendish-platypus hybrid to lead them to Dakota's missing partner and friend.
"Milo in Space"
May 11, 2019
TBA
Milo is abducted by aliens.
41
20
"Sphere and Loathing in Outer Space"
May 18, 2019
220
Milo faces a cosmic storm made of Murphy's Law while his friends work their way through the alien populace to save him.