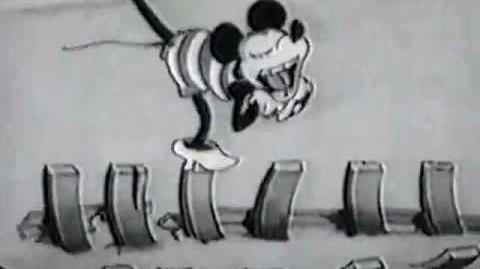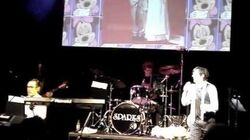 "Minnie Mouse" is the seventh track from the 1983 album, Mickey Mouse Splashdance. It was written and performed by LA-based rock band Sparks after the minor regional radio success of their 1982 song, "Mickey Mouse", in Los Angeles.
Sparks consists of primary songwriter and keyboardist Ron Mael, and his brother, singer Russel Mael. They were likely accompanied by Bob Haag on guitar, Leslie Bohem on bass guitar, James Goodwin on additional keyboards, and David Kendrick on drums, who were their backing band at the time.
Lyrics
She's the woman of the year
Minne Mouse
And the woman with the ears
Minne Mouse
You can say she's just a mouse
Just a mouse
The Taj Mahal is just a house
What a house

Minnie Minnie
I like Minnie

George and Martha Washington
Minnie Mouse
Ozzie had his Harriet
Minnie Mouse
And beside the greatest mouse
In the rue
Stands out to be Minnie Mouse
Dressed in blue

CHORUS
Minnie Mouse, we've never met
But to me your Juliet
Minne Mouse, don't ever change
Minnie Mouse, don't every change

Minne,where'd you learn to act?
Minne Mouse
Minne, where'd you learn to dance?
Minnie Mouse
She's a real rarity
In this day
Everything comes naturally
I would say

CHORUS

Minne, where'd you get that dress?
Minnie Mouse
It's persian I would guess
Minnie Mouse
Minne, where'd you get that smile?
It's so neat
You could make my life worthwhile
And complete

Minne Minnie
I like Minnie

She can sing and act and dance
Minnie Mouse
She looks good in square-short pants
Minnie Mouse
She is loved in any land
Minnie Mouse
But I am her biggest fan
Minnie Mouse

Minnie Mouse (x4)
Trivia
Sparks also created a song titled "Mickey Mouse", appearing on their 1982 album, Angst In My Pants.
According to Sparks singer, Russel Mael, "We did the Mickey Mouse song on [Angst In My Pants], and at first there was some controversy, we got a lot of flak from the Disney people in Los Angeles..." "And then all of the sudden the record started getting played a lot on the radio in LA and it was actually a good thing and was helping to advertise their theme park for them, and then they actually approached us to do another song. They said 'You guys got anything else like that Mickey Mouse thing? Perhaps, I dunno, uh, Minnie Mouse?'. So, we said, 'yeah, of course'."
The song has only been played live once, during the Sparks Spectacular in 2008, in which Sparks played all of their albums (up to that point) in their entirety with rarities as encores each night. "Minnie Mouse" was played as the encore on the 11th night, in which they played Angst In My Pants.
David Kendrick, who likely played drums on the track, would later go on to join Devo from 1987 to 1991, and on-and-off from 1996 to 2004.
Community content is available under
CC-BY-SA
unless otherwise noted.