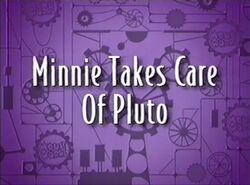 Minnie Takes Care of Pluto is a Minnie Mouse cartoon from Mickey Mouse Works. Despite this short being labeled as a Minnie Mouse short, it focuses on Pluto instead of Minnie.
Plot
Mickey drops Pluto off at Minnie's house unexpectedly, so Pluto's conscience convinces him that Minnie is out to do him in.
Characters
Censorship and Controversy
This short was pulled from ABC and never shown again in the U.S., due to complaints about the short's frightening moments. It can, however, still be seen outside the U.S. For the very same reason, this short, along with "Pluto Gets the Paper: Vending Machine" are the only two MouseWorks shorts not shown on House of Mouse. The frightening moments include:

An imagine spot where "Poison Berry Jelly" is put on Pluto's dog bowl and Minnie laughs evilly as Pluto's remains are on the bowl.
A second imagine spot where Minnie buries Pluto alive.
A third imagine spot where Minnie tries to kill Pluto with a mace.
A nightmare where instead of remaining in Heaven, Pluto ends up in Hell.
Trivia
This is the second short where Pluto is sent to Hell, the first being Pluto's Judgement Day. However, unlike in Judgement Day, the "demons" are all portrayed as Doberman Pinschers instead of black cats and the Satan equivalent is now Pluto's Devil instead of the Cat Judge.
Gallery
Community content is available under
CC-BY-SA
unless otherwise noted.