Boba Fett Returns - The Loop
Play Sound
Mirabel Madrigal is the main protagonist of Disney's 2021 animated feature film Encanto. She is the youngest daughter of Julieta and Agustín Madrigal, who has the distinction of being the only Madrigal without a magical gift.
Background
Mirabel is the youngest daughter of the family and to face many difficulties and challenges such as sometimes being left out of her family, being the only child not blessed with a gift (believing she contributes nothing to her family and community). Despite this, she genuinely loves her family. But when the magic is in danger of disappearing, Mirabel might be the last hope for the Madrigal family to restore the magic.
Personality
Mirabel is an optimistic young girl who, despite her lack of having a magical gift, manages to scrape by with her down-to earth-approach to solving problems. Despite her happy and loving nature, Mirabel has insecurities about her place in her family: being the only child not blessed with a gift, she feels like an outsider to the family and thinks she disappointed her family, particularly her Abuela, who is quite hard on her for not getting a gift. Despite this, Mirabel genuinely loves her family (being supportive of her younger cousin Antonio when he received a gift) and wished to receive a gift to make her family proud, as well as benefit her community. She is very brave, spunky, and adventurous, as she was willing to save the magic despite the repercussions and the danger she faced. Mirabel shows she could be very empathetic when interacting with Luisa, Bruno, and Isabela and learning about their own insecurities. From these moments, Mirabel learns having a gift is not all it seemed with her family, who defined themselves solely by their magical abilities as well as having to constantly maintain an exemplary outlook at the expense of their own happiness.
Reconnecting with her eldest sister Isabela, whom she was always resentful of, and helping her express herself, Mirabel discovers positive bonding and being true to oneself was the solution to saving the family magic. When Alma harshly blames her for the family's problems, Mirabel angrily lashes out at her grandmother for putting so much burden on the family to be perfect and driving Bruno away (whose disappearance the older woman blames her for), and states she, not Mirabel, is why the magic is dying. When the casita collapses as a result of their argument, Mirabel runs away in shame at supposedly causing harm to her family. When Alma apologizes for her treatment and explains her strict upbringing of the family as a result of losing her husband Pedro, Mirabel's aforementioned empathy enables her to understand, forgive, and reconcile. This heightened Mirabel's self-esteem, confidence, and emotionally security, enabling her to inspire her family and help them realize their own self-worth beyond their gifts. As the Madrigals and the townsfolk rebuild the casita, Mirabel is closer than she was before with her family, who regain their magic from the positive atmosphere of their familial relationships with one another. Her family proud of her, Mirabel no longer believes she needs a magic gift to be special, having found her place as the family's emotional rock.
Physical appearance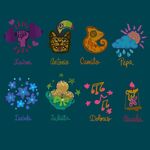 Mirabel is a 15-year-old Colombian girl with a 5'2" height[1] and has short curly black hair, thick eyebrows, hazel eyes, and visible dark shade of freckles on her nose and cheeks. She wears light green round-framed glasses, blue earrings, and has a mochila bag that she carries around when going out.
Her attire consist of a white blouse with frills at the neck with black trimming and colorful butterfly stitching on it, along with her name stitched on in the middle of her dress. She wears a long teal skirt with colorful butterfly prints on it with an indigo petticoat and white bloomers, and sandals with pink linking on them and black ribbons around her ankles. Mirabel's skirt has many drawings stitched on it, like butterflies, flowers, a little version of herself, some even representing her relatives, like a candle (for Abuela), a little basket of food (for Julieta), a chameleon (for Camilo), musical notes (for Dolores) and the same for the rest of her family.
Powers and abilities
Mirabel has no magical powers, unlike the rest of her family. However, she does have a stronger affinity with the Casa Madrigal than most of her family; she communicates with the house (or Casita) like it is a real person and Casita responds to her prompts and helps with her daily routine. Mirabel is skilled in sewing, having embroidered her own clothes and made a stuffed jaguar for her cousin, Antonio. She is also quite nimble and quick on her feet, displaying skills similar to parkour to navigate through difficult areas.
Gallery
Trivia
The reason for why Mirabel did not get a magical gift was intentionally left unexplained in the film because the directors felt it was unnecessary since it was not the point of film and believed that "she is who she needs to be for a very good reason."[2]
Mirabel is not only the fourth Disney animated protagonist to wear glasses (after Milo Thatch, Chicken Little, and Lewis Robinson), but the first female protagonist to do so.

Mirabel's glasses are an important part of her design, with production designer Lorelay Bove stating that "one of the film's main themes is perspective — how different points of view can affect a relationship — and having our main character wear glasses was an intentional choice to reinforce that theme."[3]
Initially, during the "Vanellope and the Princesses" sequence in Ralph Breaks the Internet, Snow White was to reveal she was actually nearsighted and needed glasses. There was even some merchandise portraying Snow White wearing glasses, but, for some reason, this trait was dropped.

Early in production, the character's name was Mariana.[4]

The name Mirabel means "wonderful".
The "Mira" in Mirabel's name comes from the Spanish word mirar, which means "to look". This was an intentional choice for thematic relevance.[5]

Mirabel is the second human female protagonist from the Disney Animated Canon to debut in 2021, after Raya from Raya and the Last Dragon.

This marked the first time in history that two human female protagonists from two different Walt Disney Animation Studios films debuted in the same year.
Reference