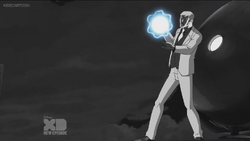 Mister Negative (real name Martin Li) is a Marvel Comics supervillain with a split personality. A noir version of the character appeared in Ultimate Spider-Man, voiced by Keone Young.
History
Li was an underhand of the mobster Hammerhead until he gained the power to turn anything he touches into stone from a shard of the Siege Perilous. He turned Miles Morales into stone and proceeded to go on a rampage through New York City. Spider-Man, Spider-Man Noir, and Mr. Fixit managed to defeat him, turned everyone back to normal and gave color to the Noir universe.
Gallery
Community content is available under
CC-BY-SA
unless otherwise noted.