The Misty Palisades (formerly known as the Blazing Palisades) is an island that appears in the Disney Junior animated series Sofia the First. The island has a rugged, rocky terrain, with winding paths, volcanoes (and geysers later on), and a mountainous top in the shape of a dragon.
Background
The Misty Palisades is the island home of both the Dragons and Sea Monsters of Enchancia. Originally the Blazing Palisades, it was an island covered in fire and home exclusively to Dragons, to whom it was a fiery paradise. The islands undying flames were fueled by an artifact known as the Eternal Torch, which was kept on a pedestal in a cave at at the top of the islands highest mountain.
The Blazing Palisades first appears in "The Curse of Princess Ivy". Princess Ivy arrived on the island to find Everburn the Elder Dragon to get him to destroy the Amulet of Avalor since his dragon fire is the only thing powerful enough to do so. Princess Sofia, Princess Amber, and Cedric arrive to stop her from doing so. After the trio reveals Ivy's true nature to them, the dragons help Sofia, who becomes their friend.
The Palisades reaches its present state in "The Secret Library: Tale of the Eternal Torch". The Sea Serpents of Enchancia, who have always wanted to claim the Palisades as their home, arrive on the island with an artifact known as the Forever Fountain, a conch shell that unleash an endless torrent of water, dousing all the flames and flooding the island.
Sofia shows up to help the Dragons stop them, but Prince James, whom Sofia unintentionally brought along, ends up wrecking their plans in a way that enables the Sea Monsters to succeed in ascending the Palisades and putting the Forever Fountain on the Eternal Torch's pedestal, turning the Blazing Palisades into the Watery Palisades.
Sofia and James, with the help of the Dragons, manage to lure the Sea Monster away from the Forever Fountain and put the Eternal Torch back on its pedestal, but without removing the Forever Fountain first. This arrangement merges the magic of the two items, causing the lower half of the island to be covered in water and the upper half to be covered in fire. As well as the combination of fire and water creating a dazzling rainbow in the sky above the Palisades.
Seeing this, Aqualina, the leader of the Sea Monsters, declares a truce with Everburn, and from then on, the Blazing Palisades were known as the Misty Palisades, where the Dragons and Sea Monsters lived together in harmony and friendship,
v - e - d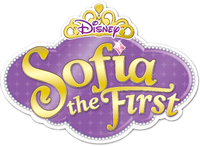 Characters
Princess Sofia • Queen Miranda • King Roland II • Prince James • Princess Amber • Princess Hildegard • Cedric the Sorcerer • Wormwood • Baileywick • Robin • Mia • Clover • Whatnaught • Goodwyn the Great • Winifred the Wise • Jade • Ruby Hanshaw • Princess Clio • Prince Zandar • Princess Jun • Prince Hugo • Minimus • Princess Vivian • Crackle • King Marcus and Queen Cecily • Trolls• Lucinda • Prince Jin • Magic Carpet • Jasper • Prince Khalid • Meg and Peg • Madam Ubetcha • Prince Desmond • Miss Nettle • Sir Gillium • Professor Popov • Helen Hanshaw • Oona • Queen Emmaline • Cora • Plank • Aunt Tilly • Wilbur the Wombeast • Sven • Emperor Quon • Empress Lin-Lin • Rex • Prince Axel • King Garrick • Electra • Vaughan and Vance • Marla • Sir Bartleby • Sir Maxwell • Sir Finnegan • Gwen • Chef Andre • Sofia the Worst • Lady Joy • Lord Gilbert • Wu-Chang • Jade Jaguar • Sir Dax • Boo • Princess Lani • Mamanu • Kamea and Halia • Praline • Freedo • Princess Zooey • Princess Astrid • Slickwell • Greylock the Grand • Princess Ivy • Dragons of Enchancia • Winter • Whiskers • Glacia the Ice Witch • Elliot, Amy, and Kurt • Tizzy • Master Erwin • Bryce Twigley • Button, Benngee, and Brody • Mossy • Carol of the Arrow • Jane • Princess Kari • Miss Elodie • Fluke • Slim • Shelly • Flip • Mantacorn • Onyx and Opal • Wendell Fidget • Mrs. Fidget • Saffron • Muck, Gunk, and Grime • Spruce • Ballerina • Mazzimo • Prince Roderick • Gavin • Kazeem • Sergeant Fizz • King Habib and Queen Farnaz • Chief Gnuckles • Flinch • Grotta • Elfonso • Elfred • Milo the Snake • King Henrik • Cordelia the Conjuror • Calista • Morgana • Crispy • Barley • Sassofras • Professor Zacharias Fleeber • Grand Mum • Gemina and Argus • Count Barnstorm • Sir Oliver • Sir Jaxon • Willawing • Kai • Princess Charlotte • Morris • Zinessa • King Philip and Queen Everly • Lily • Indigo • Marty and Maple • Mandy • Grimtrix • Wriggley, Pumpkin, and Chester • Skye • Piccolo • Baron Von Rocha • Professor Pecullian • Sea Monsters • Malachite and Fig • Omar • Prisma • Azurine • Orion • Vega • Chrysta • Sizzle • Cinder • Singe • Mare of the Mist • King Roland I • Roma • Giggling Goblin • Captain Quivers • Twitch • Vor • Nerissa


Elena of Avalor: Princess Elena • Princess Isabel • Francisco • Luisa • Shuriki • Alacazar • Zuzo • Mateo • Migs, Luna, and Skylar • Rafa • Chancellor Esteban • Armando • King Raul and Queen Lucia • Naomi Turner
Guest Characters: Flora, Fauna, and Merryweather • Cinderella • Jasmine • Magic Carpet • Belle • Ariel • Aurora • Snow White • Mulan • Rapunzel • Tiana • Merida • Olaf • Merlin • Archimedes