| | |
| --- | --- |
| | Moana (character) is a featured article, which means that it has been identified as one of the best articles produced by the Disney Wiki community. If you see a way this page can be updated or improved without compromising previous work, please feel free to contribute. |
"I am Moana of Motunui. You will board my boat, sail across the sea and restore the heart of Te Fiti!"
―Moana
Moana is the titular protagonist of Disney's 2016 animated feature film of the same name. Born on the island village of Motunui, Moana is the daughter of Chief Tui and Sina, with an inherited love for the seas and voyaging. When her island becomes endangered by a life-killing darkness, Moana is chosen by the ocean to journey across the sea and save the world—with the help of the shape-shifting demigod Maui.
Moana is the twelfth official member of the Disney Princess line-up.[6]
Background
Official Description
Moana is the vibrant, tenacious and optimistic daughter of the Chief of Motunui, thriving on her island but drawn to the ocean. When her island is threatened by a dark force, Moana sets sail outside the reef and her comfort zone to right a wrong, save her people, and find the answers she's been searching for her whole life.
Personality
As described by Gramma Tala, Moana "stands out from the crowd". She is sea-loving, headstrong, strong-willed, practically fearless, and physically capable. Though she has moments of self-doubt, she has great pride in who she is, and is generally too stubborn to back away from new challenges. Moana approaches new experiences and tasks with the utmost seriousness and will stand her ground to fight for what she values even when all seems lost. Despite her lack of experience outside of Motunui, Moana can present herself as an imposing force despite her size and has bested the most fearsome beasts and impossible obstacles across the seas of Oceania while relying almost solely on her own intelligence.
For all her strengths, Moana suffers from major identity crises. Surrounded by a loving family and a supportive community of neighbors, Moana cares a great deal for her people, and the village in which she was born and raised. However, she also has a passionate love for the ocean and the idea of voyaging beyond her home island's barrier reef. Throughout Moana's life, voyaging had been prohibited as a means to keep the people of Motunui safe, but even so, Moana's spirited and tenacious attitude kept her dreams of experiencing life beyond her island alive. At the same time, Moana was happily devoted to her village during her time as chief-in-training. An intelligent and resourceful leader, Moana was quick to remedy any problems her village faced and was masterful in keeping herself composed and optimistic during times of a crisis. Moana's loyalty towards her family and people actually played a part in her crippling identity crisis. As she cared for them immensely, she occasionally felt extreme guilt for being drawn to the sea, as lamented in her song "How Far I'll Go"; she believed that if she were to pursue the ocean, she would ultimately disappoint the people she loved. Simultaneously, she felt an obligation towards her ancestors, wanting to reinvigorate their ways of wayfinding as a means to honor them and the legacy they left for her people. These conflicted emotions would ultimately act as Moana's greatest challenge throughout the film.
When it was revealed that she had been chosen by the ocean to restore the legendary heart of Te Fiti, Moana did not put her focus on the potentially devastating outcome of her mission, but the unity between her love for Motunui and her dream of voyaging in the tradition of her great ancestors. Though this would ultimately benefit all parties, this mindset is perhaps Moana's greatest flaw. In being heroic and deathly devoted to her goals, Moana can be selfish in that she is willing to endanger others in order to prove she is capable of confronting her ambitions without fail. Both Tui and Maui confront Moana on this during the film's events, and though she denied both accusations, she knew - deep down - that this was correct. She can also be reckless with herself in this regard, as she drove herself out to sea without proper training in the ways of wayfinding or even sailing. She fears very little, but because of this, she can occasionally bite off more than she can chew. However, these acts are not done with malicious or even notable intent. Moana is extremely sympathetic and caring, which drives her to perform life-threatening stunts for what she genuinely believes to be the greater good.
Even as a child, Moana was a courageous youth who displayed bravery, a longing to leave home and sail beyond the reef to experience adventures. As other children feared Gramma Tala's story of Te Fiti and Maui, Moana was fully invested and excited. However, due to a lack of experience out in the sea, Moana wasn't aware of the dangers that came along with it. For instance, Maui teases Moana during his song "You're Welcome" and, with her transfixed, he shuts her in a cave so he could steal her boat. Throughout her adventure to return the heart of Te Fiti, Moana was dunked, sent flying, or occasionally stumbling as well as slipping on her feet. Like most teenagers, Moana was also wide-eyed and shy, having a tendency to stammer when she speaks, fidget with her hands, flinch when frightened, and stand or stagger in a pigeon-toed stance. Nevertheless, Moana held her own against the dangers of the sea. Although initially thinking the Kakamora are "kind of cute", only for them to immediately attack, Moana was able to board the Kakamora's ship and survive their attacks as well as dodge the darts being shot at her. Moana also had the ocean on her side whenever she needed help, such as when Maui repeatedly flung her overboard, the ocean popped Moana back onto her canoe, dripping wet. Upon entering Lalotai, Moana is attacked by a frog-lizard monster and a sloth monster, where she scream or squirm in panic, having never been so afraid in her life as the monsters attempts to eat her. Fear and shock distracted Moana as Tamatoa flipped her into the air and clutched her in his pincer, hanging her midair as his mouth opening wide to catch her. Despite the odds, Moana refused to give up and kept on going with her strength and bravery, though at times she can be reckless, cocky and gets confused easily in her lack of experience. Still, Moana would keep going, asserting her stance and using her wits to find her way out of situations by unorthodox methods.
In contrast to this, Moana grows with failure. When the Kakamora try to steal the heart of Te Fiti, Moana fights back, successfully recovering the heart and defeating the pirates. After Maui refuses to assist her in battling Te Kā following a disastrous first encounter on her account, she works up the courage to redeem herself by facing the lava demon alone. She is also empathetic and looks to help herself by helping and understanding others first. This is most notably seen when she puts hours worth of focus on coming to understand Maui and the reasoning behind his own inner demons. In doing so, she was able to exhibit self-loving wisdom (specifically regarding how one should look inside themselves for strength and guidance, and not in someone else). Moana would later use this to encourage herself during her darkest hour.
As she grew with her adventure, Moana discovered more about herself. She came to realize that no one can define who you are, other than yourself; she was neither meant to be devoted solely to the sea or solely to her people, but to herself. As such, she was able to bring her two loves together, ultimately recreating and honoring what came before her: a unity between her people and the sea.
Physical appearance
At 16 years old, Moana of Motunui has a slender yet muscular build that sets her apart from previous Disney princesses and heroines. She has brown eyes with thick eyebrows, full brownish-pink lips, and long, wavy, black hair. Moana usually wears her hair down, only tying it in a top bun sporadically when sailing.

Moana's outfits are all made out of Tapa, Pandanus, leaves, feathers, and other natural resources found on Motunui. For her regular outfit, she wears a crop top made out of red Tapa with a layered style accessorized with seashells along the perimeter. She wears a red sash made from the same material that wraps around her skirt made out of shredded Pandanas and layered Tapa, with a slit for mobility purposes on her journey. When leading on Motunui, she wears a lei made out of green leaves and pink flowers. After Gramma Tala's death, Moana dons her blue necklace that carries in it the heart of Te Fiti.
During a brief dancing scene in "Where You Are", Moana wears a dress similar in style to her regular outfit, this time with a red skirt and a white top adorned with a white Pandanus collar, seashell necklace, and a lei made out of green leaves and white flowers, as well as bracelets and anklets on both hands and feet made out of the same material and encrusted with white seashells.
Moana also wears a Samoan-inspired ceremonial dress during the same song with a red Tapa top and skirt adorned with red tassels, a white Pandanus collar, skirt, and belt, red-feathered arm cuffs, and green leaf bracelets, both with white seashells around the edge. The dress is topped off with a traditional Samoan headdress made out of shredded red Pandanus, white feathers, seashells, and other natural items found throughout Motunui.
The final outfit Moana wears in the film is her voyager dress in the film's epilogue. Moana's voyager dress is made out of fresh leaves and plants in contrast to her previous outfits, all made out of dried materials. Moana's top is made out of bright red leaves to symbolize her new role as Chief of Motunui. Her belt is made out of red Tapa with a panel of green leaves cascading down the layered skirt made out of shredded Pandanus. Moana wears a lei made out of red and green leaves and encrusted with white flowers, as well as a leaf cuff on her left arm and on her right ankle.
Abilities
Ocean connection: Though Moana does not technically possess the skill to bend water to her will, she does share a unique and exclusive connection with the ocean itself. Sometimes the ocean helps her when she's in need. For example, when Maui leaves Moana with her boat, and repeatedly throwing her overboard, the ocean popped her back on board, dripping wet.
Athleticism: Growing up on an island has provided Moana with an environment that allows her to use her strength and agility to traverse throughout it. As seen during "How Far I'll Go", Moana is physically dominant, as she was seen zip-lining and running at a fast pace without losing stamina. She also has a natural talent for swimming and can endure being underwater for a considerably long period of time for a human. During her brief time trapped in Maui's cave, Moana demonstrated incredible leg strength by moving and toppling over a statue of the demigod many times her size and weight, so she can climb out through a tiny crevice. Moana also held her own while fighting back against the Kakamora and has demonstrated that she is able to outrun various monsters.
Master sailor: Though inexperienced at first, Moana has always been drawn to the sea as a result of her ancestral heritage. When she first embarked set sail with Pua in an attempt to go beyond the reef, her sailing skills left much to be desired, and as a result, she was nearly killed by the strong currents. However, she made it passed almost effortlessly the same night, and throughout her adventures with Maui, steadily learned various necessities and tricks that would ultimately lead her to become a talented sailor - and by extension - a master navigator.
Appearances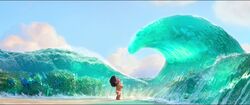 Moana is first seen as a toddler, being told an ancient story about the legendary demigod Maui. According to Gramma Tala, the dramatic storyteller, Maui stole the coveted heart of Te Fiti centuries before their time. As a result, a lava demon known as Te Kā was born, and the world was plunged into slow-burning darkness. The only hope for humanity lies in the hands of a fearless hero, who must journey to find Maui and have him return the heart to its rightful place. While the other children are terrified by the story, Moana is captivated. Chief Tui claims there is no such darkness consuming the world, and stresses the law that forbids anyone on the island from traveling past the reef. Moana fails to heed her father's words and waddles to the ocean shores in bliss. There, she helps a struggling newborn sea turtle make its way to the ocean against predators. Just then, Moana is acquainted with the ocean, which reveals itself to have a mind of its own. Having witnessed her purity with the baby sea turtle, the ocean grows fond of Moana and chooses her as the heroine destined to save the world. It provides her with the heart of Te Fiti, but when Tui arrives and takes her back to the village, Moana drops the heart and leaves it at the shore.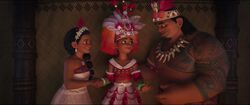 Tui notices his daughter's love for the sea, and over the years, he and the people of Motunui try to convince Moana that their island home is a paradise and that her destiny is to follow in her father's footsteps by becoming chief. Though she loves her people, Moana continues to feel drawn to the sea, something Tala encourages. One day, Tui takes Moana to a sacred place on the island: a high mountain, where chiefs from every generation place a stone to signify the start of their leadership. This inspires Moana to finally accept her role as soon-to-be chief of the village. She thusly spends her time learning under her parents on how to assist her people across the island. One day, the islands' supply of food begins to die out. Moana believes that traveling beyond the reef to find food elsewhere is the best solution, but Tui strongly forbids it. She nevertheless tries against his wishes and nearly drowns before she can even make it past the barriers.
Believing she's failed as a sailor, Moana declares that she is not fit for the sea and wishes to place her stone on the mountain. She tells this to Tala, who responds by showing Moana a hidden cave created by their ancestors long ago. Moana learns that she's drawn to the sea because her ancestors were voyagers. When asked why their voyaging stopped, Tala explains that it was Maui's doing, referring to his crime of stealing Te Fiti's heart, which filled the seas with monsters and demons. Tala reveals to have the heart of Te Fiti in her possession and explains that the ocean chose Moana to restore it. Not knowing how to sail, Moana rushes to Tui and her people to ask for their assistance in restoring the heart. Once again, Tui forbids leaving the island, ignores her, and throws the heart away. As Moana recovers it, she finds Tala's walking stick on the grass.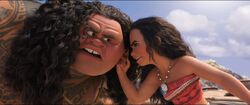 Moana and her parents rush to the medics, where Tala lies on her deathbed. She encourages Moana to find Maui and restore the heart with her last ounce of breath. Moana reluctantly accepts her grandmother's dying wish, packs supplies, and takes one of her ancestor's boats that unknowingly had her rooster friend, Heihei, aboard as well. As Moana leaves, her grandmother's light fades out, and her spirit guides Moana past the reef and into the seas. The following night, the ocean carries Moana to Maui's island, where the two meet and fail to see eye to eye. Maui is more concerned with the sight of Moana's boat, which he steals by trapping Moana in a cave. She manages to use her wits to escape and makes it to Maui with the help of the ocean. She orders him to return the heart, but upon seeing it, Maui tries to leave the boat, only to be brought back by the ocean. He claims the heart is cursed, something Moana refuses to believe until they fall under attack by a band of pirates called the Kakamora.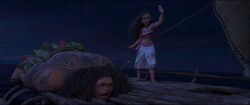 The Kakamora crave the heart of Te Fiti's power, but Moana stands her ground and fights back. She successfully recovers the heart and defeats the pirates. Though Maui commends her on surviving, he still refuses to help return the heart. Moana persuades him to comply when she claims such an act will help Maui regain a positive reputation amongst mortals. Maui agrees to help, but not without his fishhook, which is said to be in the clutches of Tamatoa, a giant crab living in Lalotai, the Realm of Monsters. As they make their way, Moana watches intently as Maui proves himself to be a master wayfinder. She asks him to teach her, and after he refuses at first, the ocean uses one of the Kakamora's blow darts to numb the demigod, leaving him unable to sail. With no other choice, he teaches Moana how to wayfind. After much mentoring, Moana falls asleep and has a nightmare in which she watches as her home and parents are destroyed by Te Kā's curse. When she awakens, she finds that Maui has taken over the boat and has successfully led them to Lalotai's island.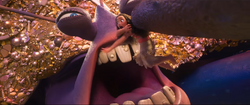 As they climb a mountain to reach the entrance to the underworld, Maui questions why the ocean chose Moana to save the world, though she doesn't seem to know, herself. Despite her sudden feeling of self-doubt, Moana follows Maui into Lalotai. She evades several monsters, one of which tried to eat her, until eventually finding Tamatoa's lair and the fishhook adhered to Tamatoa's shell. Moana distracts Tamatoa long enough for Maui to take back his hook, but the demigod finds that his shapeshifting abilities are out of whack. Feeling powerful, Tamatoa attacks Maui and imprisons Moana to prevent her from interfering. As she watches helplessly, Tamatoa taunts Maui on his hidden insecurities and alludes to a tragic past. As such information was previously unknown to her, Moana is confused by Tamatoa's words. She nevertheless escapes her cell while Tamatoa is distracted and uses a makeshift duplicate of Te Fiti's heart to drive the crab's attention away from Maui. The two escape, and once they have reached safety, Maui thanks Moana for her actions, though he berates himself for failing to defeat Tamatoa and almost letting Moana be killed as a result.
They set sail once more, but a down-on-his-luck Maui feels unable to defeat Te Kā and restore the heart without his hook. Moana, wanting to get to the root of Maui's self-doubt, pries to uncover the demigod's backstory. This only angers Maui, which prompts Moana to confess her own feelings of self-doubt by revealing she is unsure why the ocean chose her. She further explains that she pushes herself regardless in order to save her dying island, though she can only do so with Maui's help. Moana offers to lend an ear for the demigod, and Maui eventually opens up to her by revealing he was born a human and was abandoned by his parents. After being adopted by the gods, he became a hero and protected mankind to earn the love he was denied by his parents. Maui admits that he feels worthless without his hook, but Moana sees a true hero in the demigod, regardless of his magical attributes. This resonates with Maui and gives him the courage to train in order to recover his power, under the guidance of Moana and Mini Maui (Maui's sentient tattoo). Simultaneously, Maui furthers Moana's mentoring in wayfinding, eventually turning her into a master navigator on par with her ancestors, though Maui contends that she may have surpassed them.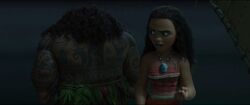 It is eventually decided that they're ready to face Te Kā. Maui encourages Moana to utilize her skills and sail the rest of the way, and with the demigod's teachings in mind, Moana makes it to Te Fiti, much to the delight of a prideful Maui. Maui then takes the heart and flies to Te Fiti, but he is immediately attacked by Te Kā and quickly defeated. Landing back on the boat, Maui urges Moana to turn back for their own safety, but Moana refuses, unwilling to back away after coming so close to accomplishing their goal. She sails them towards Te Fiti and straight into Te Kā's reach. The lava monster strikes down to kill Moana, but Maui intervenes and uses his fishhook to block Te Kā's blow. The wave created by the powerful impact drives Moana and Maui far from Te Fiti's shores. After they recover, Maui confronts Moana on her recklessness, which severely damaged his fishhook. Believing the ocean chose wrong in Moana as the world's savior, Maui refuses to return to Te Kā, instead suggesting they part ways as all hope is lost with his fishhook in such critical condition. Leaving Moana sad and upset, Moana stands her ground at the thought of backing down and tearfully tries to force Maui to stay, only to be met with rejection as the demigod uses some of his remaining power to shape-shift into a hawk and fly off into the night.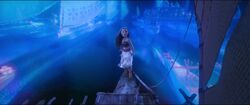 Sad and alone, Moana is approached by the ocean. She mournfully confesses to her incompetence and demands that the ocean chooses someone else to restore the heart. The ocean accepts Moana's decision and takes the heart of Te Fiti back into the sea. As Moana breaks down in tears, she is visited by Gramma Tala's spirit ghost, who comforts and apologizes to her granddaughter for placing so much pressure on her. Tala encourages Moana to return home if she wishes to, promising to remain by her side on the journey back. Moana prepares herself to sail home, but finds that she cannot bring herself to actually do so. Unable to understand, Tala encourages Moana to open up to her emotions to understand why she feels hesitant to return home. Moana comes to realize that the everlasting love she holds for her people and the sea is what brought her so far, is what ultimately defines who she is, and explains why she's the one capable of saving the world. Encouraged, Moana dives into the sea and retrieves the heart of Te Fiti. When she resurfaces, Tala is gone, but Moana's determination is now even stronger than ever.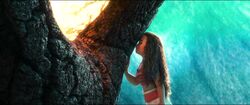 She repairs her boat and travels back to Te Fiti with Heihei by her side. They confront Te Kā, who Moana manages to outsmart in order to make it past Te Fiti's barrier islands. Unfortunately, Te Kā eventually catches on and attacks. Moana is thrown off her boat and is nearly killed by the lava demon until Maui returns with a change of heart. Determined to defend Moana despite the damaged state of his fishhook, Maui distracts Te Kā while the ocean helps Moana to Te Fiti's now molten shores. There, Moana cannot find the spiral in which the heart is to be placed. Looking out into the distance, she notices a glowing spiral on Te Kā's chest and quickly comes to the realization that the lava demon is Te Fiti. Just as Te Kā is about to finish Maui off, Moana uses the heart to get her attention as she tells the ocean to clear a path. When she confronts Te Kā, she then sings "Know Who You Are" in the moment of certain doom, which the song tames Te Kā, who finds peace in Moana's inspiring words and turns herself into molten rock. Moana places the heart into Te Kā's chest, and the lava monster's body crumbles away, reviving the radiant and lush Te Fiti.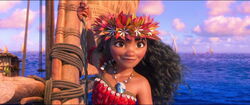 The Goddess revives the dying islands across the world, as well as Moana's boat and Maui's fishhook. Moana asks Maui to return home with her, but Maui warmly denies, instead of showing Moana a new tattoo on his body, inspired by her heroism. The two warmly embrace before Maui shape-shifts into a hawk and flies off. Shortly afterward, Moana and Heihei sail for Motunui. They arrive just as Motunui recovers from the curse entirely. Tui and Sina spot Moana arriving home and lovingly greet her. With her deed having restored the safety of the sea, Moana becomes chief, and the people of the village bring out their ancestor's boats. Voyaging starts again, and Moana makes her mark of leadership on Motunui's sacred mountain with a seashell given to her by the ocean, symbolizing the unity of her duties to her people and her passion for the seas.
Moana interacts with the Ocean back on her home island of Motunui. She is interrupted by Maui, who tried teaching her to 'command' it instead. This leads to Maui getting humiliated by the Ocean while trying to fish, much to Moana and Mini Maui's amusement. After his ego is completely deflated, Moana then returns the fish (intended to be Maui's lunch) to the Ocean as she corrects him on her name, leading to Maui being thrown to the sky by the Ocean through a geyser.
Moana returns in Ralph Breaks the Internet, joining all the other Disney Princesses at Oh My Disney. She is first seen greeting netizens behind all the other princesses. Vanellope manages to find refuge in the Disney princesses' private quarters to get away from the First Order Stormtroopers, where the ladies are on break; Moana can be seen talking with Anna and Elsa. As the princesses mistake Vanellope as a threat, they surge at her with their respective weapons; Moana prepares to hit Vanellope with her oar. Luckily, she and the other princesses begin to softening themselves when Vanellope tells them that she is a princess too. Moana, Mulan, Merida, and Anna are the only ones who do not ask Vanellope a question to prove what kind of princess she is. After declaring Vanellope to be a princess, they soon admired her casual modern outfit, and switched their gowns to modern casual outfits; Moana wears an orange tank top reading "#SHINY" along with the artwork of Tamatoa, and white shorts; along with Ariel, she is also seen barefoot throughout the film. They then talk about how they like to break into song. Pocahontas says what works is to find a body of water and stare at it, where Moana replies that she sings to the ocean. After C-3PO tells the princesses to get ready to meet the quiz participants, Merida bids farewell to Vanellope in a thick Scottish dialect, which Moana says they cannot understand her.
Moana also later appears participating in the rescue to save Ralph from falling down from the Google skyscraper, creating a magical wave that Ariel swims through. When Ralph falls into the Royal Mattress wearing Snow White's dress, he notices the princesses after Prince Naveen kisses him. After the princesses tell Ralph that they are Vanellope's friends, Moana says "You're welcome". Much to Yesss and Vanellope's amusement, Ralph says Snow White's dress is not made for a big boy.
In the credits, the toddler version of Moana makes an appearance as a modern-day girl named Mo coming home after seeing the very film. Mo tells her mother that she was unhappy over a scene that was in the trailer, which was not in the film itself, so her mother encourages her to play a mobile game, Pancake Milkshake, to feel better. Mo does so, but while playing, she sees both Ralph and Vanellope crash the game. Ralph then overfeeds the bunny character who explodes from pressure, causing Mo to scream in horror.
Other appearances
In Zootopia, a feline version of Moana can be seen on the cover of Duke Weaselton's bootleg copy of Meowana.
A doll version of Moana makes a cameo appearance in a 2016 Holiday commercial for Target, where she is shown turning on the stage lights for the rehearsal of the "Toycracker".
An emoticon version of Moana appeared in the As Told by Emoji episode based on Moana.
A little girl, resembling her modern day counterpart Mo, appears in the Short Circuit film Drop. She is sitting in a car playing with a toy during a rainstorm when she catches sight of the sentient rain drop and makes contact with him.
In the series finale of At Home With Olaf, a short clip of her film featuring herself appears during a montage of heartwarming moments from Disney films playing in Olaf's song "I Am with You".
A woman cosplaying as Moana appears in the Chip 'n Dale Rescue Rangers film. She appears as one of the audience members during Baloo's show at Fan Con.
Video games
Moana is featured as a 5-star golden magic combat medal obtained for optional quests in promotion with the film. In addition, a Moana costume appears as customizable attire.[7][8]
Moana appears in the mobile battle game as an unlockable hero with thirty tiles, her ability to hit enemies with a paddle is the same as in the movie, in addition to that when she activates the white ability, the spirit of her grandmother appears in battle giving it vitality.
Moana appears as a playable character in this game.
Moana currently makes meet-and-greet appearances at the Disneyland park in Adventureland.
Moana began making appearances at Disney's Polynesian Village Resort on November 16, 2016, prior to the film's release. She later became available for meet-and-greets at Disney's Hollywood Studios.
At the Magic Kingdom, Moana appears in the nighttime spectacular Happily Ever After, where she performs "How Far I'll Go".
As of August 2017, she appears in the boat finale of Fantasmic! where she replaced Mulan standing next to Donald before swapping spots with Stitch. But beginning in 2022, during the revamp of the show, she will play a major role.
Also in 2022, she will appear alongside fellow Disney characters in the Disney Adventure Friends Cavalcade.
When Tokyo's version of It's a Small World was refurbished in 2018, a Moana figure was added to the Pacific Islands section, sailing on her boat with Pua.
On November 18, 2016, Moana made her debut at the Disneyland park during the "You're Welcome" pre-parade, in which she toured through the parade route to the music of Maui's signature song. She later began making meet-and-greet appearances at the Art of Animation attraction on November 20.
Moana appears in Moana: A Homecoming Celebration, performed in Adventureland.
In front of Enchanted Storybook Castle, Moana appears alongside Maui in the Summer Blast stage show. She also stars as one of the hosts in Moana: A Homecoming Celebration, retelling the story of her journey.
Gallery
Trivia
Her name means "ocean" in many Polynesian languages, including Hawaiian and Maori.
Moana is the second Disney Princess to be part of a tribal civilization, with the first being Pocahontas. Despite both being the daughters of a chief, unlike Pocahontas, Moana wasn't considered a princess by other people, including herself (except for Maui, but it was in a joking manner). The real counterpart of Pocahontas was addressed as a princess in history; she was also called a princess in her respective sequel.

Moana and Pocahontas are also the only Disney Princesses who did not appear in the Sofia the First series nor the live-action series Once Upon a Time. The reason why Moana did not appear on the former was that show ended its run before the character was officially inducted; Sofia the First ended on September 8, 2018, while Moana did not become an official member of the Disney Princess line until 2019.

Animators put a considerable amount of effort into ensuring Moana's hair added to her performance. They did so by developing new software to give the hair a realistic look. They also changed her hairstyle in different scenes, depending on her current action (such as tying her hair in a bun as she sails).[9]
In one version of the story, Moana had nine older brothers that left the island. Their sister would eventually journey to rescue them.[10]
Musician Dinah Jane Hansen auditioned for the role of lead, but the role eventually went to Auliʻi Cravalho.
Moana was designed to have a body that is considerably more realistic than the thinly stylized proportions of previous Disney animated heroines.[11]
The junior novelization gives her age as 16. This makes her the only Disney princess to be voiced by an actress younger than the character, as her film was released on Auli'i Cravalho's 16th birthday.
Like Merida, Snow White, Tiana, and Aurora, Moana is one of the few Disney Princesses without a sequel to her film.
Moana was, at one point, a secondary character as the film was initially centered around Maui. Moana's story involved going on a mission to save her love interest.[11]
The red in Moana's clothing represents her royal heritage as the daughter of a chief.[11]
Over 40 designs were proposed for Moana's necklace. The final appearance was chosen to represent Moana's ties to both the land and sea. The stars on the necklace represent Moana's identity as a navigator.[11]
She is the second protagonist of Polynesian descent in a Disney animated feature, the first being Lilo from Lilo & Stitch.

During the credits of that movie, one of the photos showed Stitch holding a giant leaf over a sea turtle and its baby the same way Moana did.

In some foreign versions of the film (mainly in some countries in Europe), she is renamed Vaiana due to copyright reasons.
Moana was originally going to be a playable character in the third installment of Disney Infinity, but after the series was confirmed to have been discontinued in May 2016, it was implied that Moana was canceled.[12]
At one point, Moana says "You lying, slimy son of a b...!" to Maui while she was stuck in the cave, saying a curse word in the process, but the scene switches to Maui, cutting her off.
In keeping with the tradition of other Disney Princesses, Moana does not have a last name. There are some reports of the last name "Waialiki" having been heard at the original D23 announcement or seen in early promotional material, but no examples have been found to confirm this.

Writer Jared Bush reported that past iterations of the film had her last name be Waialiki, while others have Motunui, though he wasn't sure on what was ultimately canon.[13]

In the reprise of the deleted ballad "More", Moana mentions that Gramma Tala was the one who named her.
Moana's oar is most likely a Culacula: a warclub originating from Fiji that could be used both as an oar and a weapon.
Some of Ariel's meet-and-greets have Ariel sing "How Far I'll Go" to the people that meet her, and she does never know the rest of the song, and she only hears Moana sing it from "above", and that she sings it every time she sails.
Moana is the fifth non-white Disney Princess, after Jasmine, Pocahontas, Mulan, and Tiana.
Unlike her most recent predecessors, Moana was not inducted into the Disney Princess franchise with a coronation event. Instead, the character was slowly integrated into official Disney Princess merchandise such as books and toy lines, as well as social media posts following the release of her film, before being added to the franchise's official website as a member in 2019.

Also, unlike her most recent predecessors (who were inducted in the line-up after almost one year of their film's release), Moana took almost three years since her film's release before being inducted into the line-up.

Moana is a taupou, who later became a Matai in the Fa'amatai government system due to her being a daughter of a chief, and because she became a successor to her father, who was a Matai before her.
Moana is the second Disney Princess to be an original character and not based on a preexisting character, the first being Merida from Brave.
Moana appeared in Ralph Breaks The Internet despite not being an official member yet of the Disney Princess franchise at the time of the film's release.

Moana only got officially inducted into the franchise a few months after the premiere of Ralph Breaks The Internet.

Considering her ethnicity, Moana is the first CGI Disney Princess to not have freckles.
Moana is one of the few Disney Princesses whose signature outfit has more than one color, after Snow White, Ariel (in her mermaid form), and Mulan.
Moana is the first Disney Princess to have her name in her film's title since Mulan.
Moana is the first Disney Princess to directly reject the title of "princess".
References
External links
v - e - d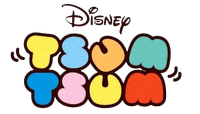 Disney
Mickey & Friends:

Mickey • Minnie • Donald • Daisy • Goofy • Pluto • Chip and Dale • Oswald • Ortensia • Duffy • ShellieMay • Gelatoni • StellaLou • CookieAnn • 'Olu Mel • Huey, Dewey, and Louie • José Carioca • Panchito Pistoles • Clarabelle Cow • Horace Horsecollar • Max Goof • Clarice • Pete • Scrooge McDuck • Ludwig Von Drake • Dr. Frankenollie • Julius

Pooh and Pals: Pooh • Tigger • Piglet • Eeyore • Rabbit • Owl • Roo • Kanga • Gopher • Christopher Robin • Lumpy
Lilo & Stitch: Stitch • Lilo • Scrump • Pleakley • Jumba • Angel • Leroy • Dr. Hämsterviel • Ugly Duckling • Sparky • 627 • Gigi • Babyfier • Yang • Slushy • Shortstuff • 625 • Amnesio • Dupe • Sample • Clip • Tank • Yin • Hunkahunka • Plasmoid
Silly Symphonies: Donald Duck • Big Bad Wolf • Practical Pig • Fiddler Pig • Fifer Pig • Ugly Duckling
Snow White and the Seven Dwarfs: Snow White • Evil Queen • Doc • Grumpy • Happy • Bashful • Sneezy • Sleepy • Dopey
Pinocchio: Pinocchio • Jiminy Cricket • Figaro • Cleo • Geppetto • Blue Fairy • Honest John and Gideon • Lampwick • Monstro
Fantasia: Mickey • Yen Sid • Chernabog • Hyacinth Hippo • Ben Ali Gator
Dumbo: Dumbo
Bambi: Bambi • Thumper • Miss Bunny • Friend Owl • The Great Prince of the Forest
The Three Caballeros: Gauchito • Burrito
The Adventures of Ichabod and Mr. Toad: Mr. Toad
Cinderella: Cinderella • Jaq and Gus • Prince Charming • Fairy Godmother • Lady Tremaine • Lucifer • Suzy • Perla • Bruno
Alice in Wonderland: Alice • Mad Hatter • March Hare • Dormouse • White Rabbit • Cheshire Cat • Tweedle Dum and Tweedle Dee • Queen of Hearts • King of Hearts • Caterpillar • Dinah • Oysters
Peter Pan: Peter Pan • Tinker Bell • Wendy Darling • John Darling • Michael Darling • Captain Hook • Mr Smee • Nana • Tick Tock • Tiger Lily
Lady and the Tramp: Lady • Tramp • Si and Am • Jock • Trusty • Peg
Sleeping Beauty: Aurora • Phillip • Maleficent • Flora • Fauna • Merryweather • Diablo • Samson • King Stefan • Goon • Owl • Rabbit
Mary Poppins: Mary Poppins • Bert • Penguin Waiter • Carousel Horse
One Hundred and One Dalmatians: Cruella De Vil • Lucky • Patch • Rolly
The Jungle Book: Mowgli • Baloo • Bagheera • Shere Khan • Kaa • King Louie • Hathi, Jr. • Raksha
Pete's Dragon: Elliott
The Fox and the Hound: Tod • Copper
The Aristocats: Marie • Berlioz • Toulouse • Duchess • Thomas O'Malley
The Rescuers: Bernard • Bianca
Oliver & Company: Oliver • Dodger • Tito • Rita • Francis • Einstein
The Little Mermaid: Ariel • Flounder • Sebastian • Eric • Ursula • Triton • Max • Scuttle
Beauty and the Beast: Belle • Beast • Lumiere • Cogsworth • Mrs. Potts • Chip • Maurice • Philippe • Gaston • LeFou
Aladdin: Aladdin • Abu • Genie • Jasmine • Jafar • Sultan • Iago • Rajah
The Nightmare Before Christmas: Jack Skellington • Sally • Zero • Lock, Shock, and Barrel • Oogie Boogie • Dr. Finkelstein • Mayor of Halloween Town • Santa Claus
The Lion King: Simba • Nala • Timon • Pumbaa • Zazu • Rafiki • Scar • Ed
Pocahontas: Pocahontas • John Smith • Meeko • Flit • Percy
Hercules: Hercules • Megara • Hades
Mulan: Mulan • Li Shang • Mushu • Fa Zhou • Khan
The Emperor's New Groove: Kuzco • Yzma • Kronk
Mickey, Donald, Goofy: The Three Musketeers: Mickey Mouse • Minnie Mouse • Donald Duck • Goofy
Chicken Little: Chicken Little
The Princess and the Frog: Tiana • Dr. Facilier
Tangled: Rapunzel • Flynn Rider • Pascal • Maximus • Mother Gothel • Queen Arianna • King Frederic • Cassandra • Fidella • Pub Thug
Wreck-It Ralph: Wreck-It Ralph • Fix-It Felix Jr.
Frozen: Anna • Elsa • Olaf • Kristoff • Sven • Hans • Snowgies • Bruni
Big Hero 6: Hiro • Baymax • Fred • Wasabi • Honey Lemon • Go Go Tomago • Tadashi Hamada • Yokai • Mochi
Zootopia: Judy Hopps • Nick Wilde • Mayor Lionheart • Flash • Yax • Gazelle • Chief Bogo • Clawhauser • Finnick • Mr. Big • Bellwether • Jerry Jumbeaux Jr.
Moana: Moana • Maui • Pua • Heihei • Tamatoa • Kakamora
Chip 'n Dale Rescue Rangers: Chip • Dale • Gadget • Monterey Jack
Phineas and Ferb: Perry
The Lion Guard: Kion • Ono • Bunga • Beshte • Fuli
DuckTales (2017): Scrooge McDuck • Huey, Dewey, and Louie • Webby Vanderquack
Kingdom Hearts: Sora • Riku • Kairi • Aqua • Xemnas • Ansem, Seeker of Darkness • Ventus • Terra • Chirithy • Lea • Young Xehanort
UniBEARsity: Mocha • Pudding • Whip • Puffy • Mont • Blanc • Souffle • Blue Rose • Charmant • Portiron • Rogue Rose • Fauve • Lucien • Horloge • La Mer • Ma Puce
Sofia the First: Sofia • Minimus • Skye
Elena of Avalor: Elena
Enchanted: Giselle
Disney Fairies: Periwinkle • Rosetta • Silvermist
The Sword in the Stone: Wart • Merlin
Oliver & Company: Oliver
Raya and the Last Dragon: Raya • Sisu
Twisted Wonderland: Grim • Riddle Rosehearts • Azul Ashengrotto • Leona Kingscholar • Kalim Al-Asim • Vil Schoenheit • Idia Shroud • Malleus Draconia • Dire Crowley • Mirror of Darkness