"Monster from the Id" is a Season 3 episode of Phineas and Ferb.
Synopsis
After losing a gift that Jeremy made for her, Candace is determined to recreate it before Jeremy realizes it's missing. Unfortunately, Candace can't remember what it looks like, so she enlists Phineas and Ferb to use their mind machine to enter into her subconscious and recapture the memory. Meanwhile, Doofenshmirtz's evil plan is to use his Underwear-Inator to take over the Tri-State Area, since everyone's greatest fear is being caught in public in their underwear.
Plot
As Candace watches Jeremy walk to the bus stop from her house, she notices a strange object fall from his backpack onto the sidewalk, though she is too late to catch him before he gets on the bus. She calls to inform him of the lost object, describing it as "artsy". Jeremy assumes it is the gift that he had made for her, but is unable to elaborate as his cell phone loses reception. Candace is flattered, but unsure of what the item actually is. While trying to figure it out, she accidentally flings it into a sewer drain and it is flushed away. She decides Phineas and Ferb will be able to recreate it for her so Jeremy won't be disappointed.
In the backyard, Phineas, Ferb, and Baljeet are hooked up to a Mind Machine manned by Irving that they created to enter one's subconscious and cure fears; in this case Baljeet's fear of using contractions. Phineas says that they'd be happy to help Candace out, but she is unable to describe the strange object. Phineas concludes that they can use the Mind Machine to enter Candace's subconscious and retrieve the memory of the object so they can reconstruct it for her.
Meanwhile, Perry arrives early at Doofenshmirtz Evil Incorporated and catches Doofenshmirtz in his underwear. Doofenshmirtz traps Perry in a net and tells him that he had just inspired his new evil idea of constructing an "Underwear-Inator", and using it to disrupt the Tri-State Area Summit and Weenie Roast by exposing everyone in their underwear, paralyzing them with embarrassment and making it much easier to take over.
Candace is wired up to the Mind Machine, and she enters her subconscious along with Phineas, Ferb, and Baljeet. Once in, Irving reminds them that they have forty-five minutes until Jeremy arrives. Phineas tells Candace that they must head for the "Forest of Memory". The four hear a monstrous roar from afar, which Baljeet identifies as the cry of Candace's id, manifested as an actual being inside her mind. While Doofenshmirtz finishes building the Underwear-Inator, Perry pulls out his right contact lens and uses it to magnify the sun's heat unto the rope of his net trap.
Phineas, Ferb, and the others emerge from the "Peaks and Valleys of Fickleness" in Candace's mind and arrive at the "Falls of Anxiety", where Buford meets them, to Candace's disapproval. In the real-world backyard, Irving explains to an inquisitive Isabella that Buford had just arrived and jacked himself into the Mind Machine. Buford's presence in her mind stresses Candace, and they part ways with him after manifestations of fear chase them through the waterfall. Isabella arrives in the mind next to Buford, who proceeds to give her a tour. Doofenshmirtz realizes Perry's escape plan and crushes his magnifying contact lens and walks away, not realizing that Perry has another one hidden in his left eye.
After wandering through different parts of Candace's mind, the main group arrives in the Forrest of Memory. Phineas theorizes that they can prompt Candace's memory by stimulating the actual trees in the forest by scratching them. It works, and a vision of the strange object appears in the forest. Just then, Jeremy arrives in the mind and greets Candace. He identifies the mysterious object as his drain unclogger (admitting he has no idea why he carries it around with him). The id, appearing as a primitive and monstrous version of Candace, then arrives and chases the main group out of the forest. They pass Buford's tour group, which is now comprised of Isabella and the Fireside Girls. The tour group then joins the main group as the id pursues.
At Doofenshmirtz Evil Inc. Perry succeeds in burning through the net and attacks Doofenshmirtz, accidentally activating the Underwear-Inator. It ends up shooting Perry, Doofenshmirtz, Norm, and Irving, whose underwear happens to be lavender, the color he fears. The distressed Irving is unable to answer Phineas's call for help, and cannot extract them from Candace's mind. Perry deactivates the Underwear-Inator.
As the id begins devouring the very ground beneath them, Phineas explains to the group that one of them needs to wake up and extract the others. They all successfully shock Baljeet awake by using contractions; though once awake Baljeet is unable to pull the cables from the computer because of his wimpy physicality. Fireside Girls Ginger Hirano and Gretchen fall into the mouth of the id, and as Candace trips and knocks the others down, they all follow. The shock of being eaten wakes them all up (though it contradicts to seeing Baljeet walking off with the cables torn out afterwards), except for Buford, who stays inside to hang out with the id. In the real-world backyard, Jeremy presents Candace with her real gift: a beautiful purple beaded bracelet with her name on it.
Cast
Songs
Goofs
Milly is shown to be sleeping with wires attached to her head along with everyone else, however Gretchen is shown instead of Milly.
Irving said the gang counted backwards from 4, but they only count from 3.
Shortly after meeting the Talking Zebra in the song, Candace's belt is mis-colored white as she flies upwards out the room.
Phineas, Candace, and Irving all used contractions when they were talking in the backyard. However, it wasn't until Baljeet started using contractions that he got scared, even though he said he was scared of contractions, and could perfectly hear Phineas, Candace, and Irving. Also, he's heard contractions is many other episodes, and he said "Where's Perry?" himself.
When Candace enters the backyard, Ferb looks like he is in someone's mind. However, he could have been sleeping.
When the monster of the id hits Phineas, Ferb, Candace, Baljeet, and Jeremy, Baljeet is behind a tree in the forest of memory. Also he couldn't be sitting in the middle of the tree after the monster hit it unless he was pushing up against it.
For a split-second just after deactivating the Underwear-inator, Perry's briefs disappear.
The Mind Machine has been broken, but Buford is still in Candace's mind at the end.
Katie disappears and reappears throughout the episode.
The Underwear-inator should have had no effect on Norm or Doof, considering Norm is a robot and doesn't wear clothes (or underwear for that matter) and Doof was already in his underwear. It makes sense that it would work on Perry because he has been seen wearing underwear under his fur ("Unfair Science Fair", "Perry Lays an Egg").
In Doofenshmirtz's underwear flashback, when he takes them off, they are white instead of faded brown.
Trivia
During "Going Deep into Your Mind", it showed squirrels in Candace's pants. This is a callback to "Comet Kermillian".
The title alludes to the science-fiction movie Forbidden Planet (1956), in which a scientist stranded on an alien planet where the dominant race has mysteriously died off awakens a creature formed from his own long-suppressed dark desires and fears, the Monster from the Id. The Disney studio animated the briefly-glimpsed creature.
The main plot of the episode alludes to the movie Inception, where people enter another's subconsciousness. The music during many of the scenes referring to this activity is also allusive to this movie, relying heavily on electric guitar noodling and underlying orchestral strings adding the lower notes and chords.
This episode has references to different psychological theories, but most prominent is that of Sigmund Freud. They mention Freud during the song and the monster from the title, Candace's Id is one of Freud's most famous contributions to psychological theory.

The Id is a part of the psyche that is the source of instinctive impulses, Candace's insane urge to bust her brothers, in this case.

At the end, the Id sounds like a T-Rex from Jurassic Park.
Candace's fear of the number seven might be a reference to the riddle, "Why was six afraid of seven?" "Because 7 8 9 (seven ate nine)".
It is revealed that Perry wears contact lenses.
Baljeet has a phobia of contraction words.
Irving was afraid of the color lavender.
It is revealed that whatever happened in the episode with Candace ending up in a Picasso-like environment from "Phineas' Birthday Clip-O-Rama!", caused her to fear the number seven.
It is also revealed that Candace fears of moldy bread.
International premieres
v - e - d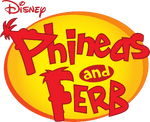 Episodes
Season One: "Rollercoaster" • "Candace Loses Her Head" • "The Fast and the Phineas" • "Lawn Gnome Beach Party of Terror" • "The Magnificent Few" • "S'Winter" • "Are You My Mummy?" • "Flop Starz" • "Raging Bully" • "Lights, Candace, Action!" • "Get That Bigfoot Outta My Face!" • "Tree to Get Ready" • "It's About Time!" • "Jerk De Soleil" • "Toy to the World" • "One Good Scare Ought to Do It!" • "A Hard Day's Knight" • "I, Brobot" • "Mom's Birthday" • "Journey to the Center of Candace" • "Run Away Runway" • "I Scream, You Scream" • "It's a Mud, Mud, Mud, Mud World" • "The Ballad of Badbeard" • "Dude, We're Getting the Band Back Together" • "Ready for the Bettys" • "The Flying Fishmonger" • "Phineas and Ferb Get Busted!" • "Greece Lightning" • "Leave the Busting to Us!" • "Crack That Whip" • "The Best Lazy Day Ever" • "Boyfriend From 27,000 B.C." • "Voyage to the Bottom of Buford" • "Put That Putter Away" • "Does This Duckbill Make Me Look Fat?" • "Traffic Cam Caper" • "Bowl-R-Ama Drama" • "The Monster of Phineas-n-Ferbenstein" • "Oil on Candace" • "Unfair Science Fair" • "Unfair Science Fair Redux (Another Story)" • "Out to Launch" • "Got Game?" • "Comet Kermillian" • "Out of Toon" • "Hail Doofania!"


Season Two: "The Lake Nose Monster" • "Interview With a Platypus" • "Tip of the Day" • "Attack of the 50 Foot Sister" • "Backyard Aquarium" • "Day of the Living Gelatin" • "Elementary My Dear Stacy" • "Don't Even Blink" • "Chez Platypus" • "Perry Lays an Egg" • "Gaming the System" • "The Chronicles of Meap" • "Thaddeus and Thor" • "De Plane! De Plane!" • "Let's Take a Quiz" • "At the Car Wash" • "Oh, There You Are, Perry" • "Swiss Family Phineas" • "Hide and Seek" • "That Sinking Feeling" • "The Baljeatles" • "Vanessassary Roughness" • "No More Bunny Business" • "Spa Day" • "Phineas and Ferb's Quantum Boogaloo" • "Phineas and Ferb Musical Cliptastic Countdown" • "Bubble Boys" • "Isabella and the Temple of Sap" • "Cheer Up Candace" • "Fireside Girl Jamboree" • "The Bully Code" • "Finding Mary McGuffin" • "Picture This" • "Nerdy Dancin'" • "What Do It Do?" • "Atlantis" • "Phineas and Ferb Christmas Vacation!" • "Just Passing Through" • "Candace's Big Day" • "I Was a Middle Aged Robot" • "Suddenly Suzy" • "Undercover Carl" • "Hip Hip Parade" • "Invasion of the Ferb Snatchers" • "Ain't No Kiddie Ride" • "Not Phineas and Ferb" • "Phineas and Ferb-Busters!" • "The Lizard Whisperer" • "Robot Rodeo" • "The Beak" • "She's the Mayor" • "The Lemonade Stand" • "Phineas and Ferb Hawaiian Vacation" • "Summer Belongs to You!" • "Nerds of a Feather" • "Wizard of Odd" • "We Call it Maze" • "Ladies and Gentlemen, Meet Max Modem!" • "The Secret of Success" • "The Doof Side of the Moon" • "Split Personality" • "Brain Drain" • "Rollercoaster: The Musical!" • "Make Play" • "Candace Gets Busted"
Season Three: "The Great Indoors" • "Canderemy" • "Run, Candace, Run" • "Last Train to Bustville" • "Phineas' Birthday Clip-O-Rama!" • "The Belly of the Beast" • "Moon Farm" • "Ask a Foolish Question" • "Misperceived Monotreme" • "Candace Disconnected" • "Magic Carpet Ride" • "Bad Hair Day" • "Meatloaf Surprise" • "Phineas and Ferb Interrupted" • "A Real Boy" • "Mommy Can You Hear Me?" • "Road Trip" • "Tour de Ferb" • "Skiddley Whiffers" • "My Fair Goalie" • "Bullseye!" • "That's the Spirit" • "The Curse of Candace" • "Escape from Phineas Tower" • "Lotsa Latkes" • "Ferb Latin" • "A Phineas and Ferb Family Christmas" • "Tri-Stone Area" • "Doof Dynasty" • "Excaliferb" • "Phineas and Ferb and the Temple of Juatchadoon" • "Monster from the Id" • "Gi-Ants" • "The Remains of the Platypus" • "Mom's in the House" • "Perry the Actorpus" • "Let's Bounce" • "Bully Bromance Break Up" • "Quietest Day Ever" • "Doonkleberry Imperative" • "Meapless in Seattle" • "Delivery of Destiny" • "Buford Confidential" • "The Mom Attractor" • "Cranius Maximus" • "Agent Doof" • "Minor Monogram" • "What a Croc!" • "Sleepwalk Surprise" • "Sci-Fi Pie Fly" • "Sipping with the Enemy" • "Tri-State Treasure: Boot of Secrets" • "Doofapus" • "Norm Unleashed" • "Where's Perry?" • "Ferb TV" • "When Worlds Collide" • "What'd I Miss?" • "Road to Danville" • "This is Your Backstory" • "Blackout!"
Season Four: "For Your Ice Only " • "Happy New Year!" • "Fly On the Wall" • "Bully Bust" • "My Sweet Ride" • "Der Kinderlumper" • "Sidetracked" • "Primal Perry" • "Mind Share" • "Backyard Hodge Podge" • "Bee Day" • "Bee Story" • "Great Balls of Water" • "Where's Pinky?" • "Phineas and Ferb Musical Cliptastic Countdown Hosted by Kelly Osbourne" • "Knot My Problem" • "Just Desserts" • "La Candace-Cabra" • "Happy Birthday, Isabella" • "Love at First Byte" • "One Good Turn" • "Mission Marvel" • "Thanks But No Thanks" • "Troy Story" • "Druselsteinoween" • "Terrifying Tri-State Trilogy of Terror" • "Face Your Fear" • "Cheers for Fears" • "Steampunx" • "Just Our Luck" • "Return Policy" • "Live and Let Drive" • "Phineas and Ferb Save Summer" • "Father's Day" • "Imperfect Storm" • "The Return of the Rogue Rabbit" • "It's No Picnic" • "The Klimpaloon Ultimatum" • "Operation Crumb Cake" • "Mandace" • "Phineas and Ferb: Star Wars" • "Lost in Danville" • "The Inator Method" • "Night of the Living Pharmacists" • "Tales from the Resistance: Back to the 2nd Dimension" • "Doof 101" • "Act Your Age" • "Last Day of Summer" • "O.W.C.A. Files"