"Moonlight Bright" is a song sung by Sheriff Scaley Briggs (Beau Bridges) and Amber Briggs (Olivia Holt). It is featured in the episode "Amber" of the series Penn Zero: Part-Time Hero.
Lyrics
Amber:
Moonlight bright, please light the way.
My heart longs for kinder days when Pa would take me down the trail.
See the world from a dinosaur's tail, but he never let me ride by his side, as his deputy.
To him I was never tough enough.
So, I chose a life of crime for me.

Sheriff Scaley Briggs:
Moonlight bright, won't you light the way?
My little girl has gone away.
How could I let her ride with me?
Life's too dangerous as a deputy, but I sure do miss my Amber so sweet.

Amber:
I'm missing my pa tonight.

Amber and Sheriff Scaley Briggs:
But she's/he's still wrong, so I sing out this song to the lonesome moonlight bright.

To the lonesome moonlight bright.
v - e - d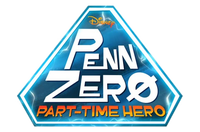 Locations
Middleburg • Middleburg Central High • The Odyssey • Fish Stick on a Stick • North Pole • Knight World • Superhero World • Arabian World • Plush Toy World • Clown World • Dinosaur Cowboy World • Cereal World • Old English World • Giant Monster World • Zombie World • Space World • Ocean World • Color World • Musical Fairy Tale World • Caveman Spy World • Future Barbarian World • Ultrahyperball World • Demon World • Alien World • Galaxy World • Temple World • Dragon World • Gothic Mystery World • Plant World • Animal Barbarian World • Toy World • Outer Space Court World • Robot World • Pirate World • Fairymania World • Steampunk World • Ball World • Ghost World • Rock, Paper, Scissor World • Beast World • Anime World • Sitcom World • Nothingness • Most Dangerous World Imaginable • Least Dangerous World Imaginable
Objects
Multi-Universe Hologram Uplink • Multi-Universe Transprojector • Pigoilet • The QPC Unit • Vortex Tops • Specs