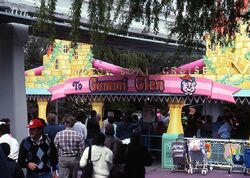 Motor Boat Cruise was an attraction at Disneyland in Anaheim, California which opened in 1957 on the border of Fantasyland and Tomorrowland. The waterways of the Motor Boat Cruise shared space with other attractions such as the Viewliner train and bridges for Junior Autopia.
History
The design of the boats appears very similar to those illustrated in a "Boat Ride Apparatus" patent filed by Edgar A. Morgan and Karl W. Bacon, of Arrow Development. Arrow Development was involved in the design of many attractions at Disneyland between 1953 and 1973.
Major changes took place in 1959 to the three attractions in the area. The Viewliner and its railroad track were gone. Instead, the elevated beam of the new Disneyland Alweg Monorail curved overhead. The new Fantasyland Autopia and an expanded Tomorrowland Autopia replaced the Junior Autopia. The lagoon which had once been home to the Phantom Boats was used for the Submarine Voyage but the Motor Boat Cruise remained.
In 1991, as part of the Disney Afternoon Avenue event, the Motor Boat Cruise became the Motor Boat Cruise to Gummi Glen. Plywood characters from Disney's animated television series Adventures of the Gummi Bears made Gummiberry Juice along the waterway.
On January 11, 1993, the Motor Boat Cruise closed permanently, in part due to the negative reactions to the Gummi Bears overlay, as well as the necessity of its operating budget for the nearby Mickey's Toontown. On September 4, 2001, an attraction considered by Walt Disney Imagineering to be the true successor to the Motor Boat Cruise, Aquatopia, opened at Tokyo DisneySea in Japan.
External links
[1] Motor Boat Cruise at Yesterland
v - e -

d
Disney Parks
Motor Boat Cruise to Gummi Glen