Motorcity
is the name for the old Detroit that
Detroit Deluxe
is built over. The
Burners
call it home, while
Abraham Kane
calls it a sewer. Where Detroit Deluxe is clean, smooth, and sterile, Motorcity is a colorful gritty place, filled with graffiti, cars, and life.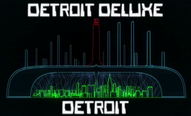 History
Motorcity, a once struggling auto-town was turned into the last safe-haven against Abraham Kane when the evil billionaire built his own personal kingdom, Detroit Deluxe, on top of it. Motorcity is now in danger of utter destruction as Kane continues trying to destroy the city and further expand his metropolis.
Known Residents
Mike Chilton is the leader of the Burners, and has sworn to protect the city.
Chuck is the Burner's computer programmer who's afraid of driving fast.
Julie Kane is the Burners' infiltration expert and inside 'man' when it comes to KaneCo.
Dutch Gordy is the Burner's creative spark and mechanic.
Texas is the Burners muscle
Jacob is the Burners mentor and owner of Mutt Dogs, as well as the Burner's garage.
The Duke of Detroit is a flamboyant rich car collector who owns many of Motorcity's scrap yards.
No. 2 is the Duke of Detroit's loyal right hand gal.
Cyborg Dan is the Duke of Detroit's robot buddy.
Rayon is a regular client of the Burners
Kaia is an eco-activist and the leader of Terra.
Ruby the Darkslayer is a member of Chuck's LARP group.
Known Locations
Mutt Dogs - the Burner's main headquarters.
North, East, West and South side gates
The Terra's Village
Trivia
The remains of old Detroit are known as Motorcity. The Motor City is one of the most common nicknames of real world Detroit.
As the show is set in an aged Detroit, Michigan, there has been a few examples of real world location. Notably, in "Going Dutch", Dutch goes to Central Station, a heavily modified tagged up version of Michigan Central Station.
Community content is available under
CC-BY-SA
unless otherwise noted.