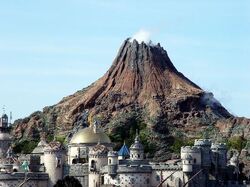 Mount Prometheus is the park icon for Tokyo DisneySea and serves as the primary location of Mysterious Island as well as the main backdrop for Mediterranean Harbor.
Development
Mount Prometheus and Mysterious Island were part of the earliest designs for DisneySea when it was to have been built in Long Beach, California as part of Port Disney. When the Oriental Land Company took interest in the concept, Mount Prometheus was promoted to the park's main icon and placed in a central area of the park, connecting the entry area of Mediterranean Harbor to Mysterious Island. Though it primarily plays the role of Vulcania, the Fortress Explorations attraction in Mediterranean Harbor built into the mountainside features a "volcanic activity monitoring station".
Standing 189 feet tall and featuring over 750,000 square feet of rockwork, Mount Prometheus represents one of the largest rockwork projects that Imagineering ever embarked on. The mountain stands the same height as Cinderella Castle to put both park icons on equal footing. To simulate fiery eruptions, ten rocket boosters weighing 3000 pounds each are installed into the mountain, capable of shooting flames up to fifty feet into the air. These eruptions take place regularly throughout the day and are also used in nighttime spectaculars such as BraviSEAmo! and Fantasmic. For the bubbling fumaroles within Mysterious Island's caldera, submerged water cannons power the eruptions and steamy effects.
Community content is available under
CC-BY-SA
unless otherwise noted.