The Mouseketeers were a group of children that starred in all 3 incarnations of The Mickey Mouse Club.
The 1950s Mouseketeers
There were 39 mouseketeers in total during this incarnation. (42 if you count the three adult leaders)
NOTE: (d.) indicates that this mouseketeer is deceased.
Here they are in alphabetical order:
Adults:
Children:
The Core Nine (all three seasons):
The Two Two's (two seasons):
All the Rest (one season or less):
Nancy Abbate
Sherry Alberoni
Billie Jean Beanblossom
Johnny Crawford (d. 2021)
Eileen Diamond
Dickie Dodd (d. 2013)
Mary Espinosa
Bonnie Lynn Fields (d. 2012)
Don Grady (d. 2012)
Judy Harriet
Linda Hughes
Dallas Johann
Lee Johann
Bonni Lou Kern (d. 2020)
Charley Laney (d. 1997)
Larry Larsen (d. 2018)
Lynn Ready (d. 2018)
Paul Petersen
Tim Rooney (d. 2006)
Mary Sartori
Bronson Scott
Mike Smith (d. 1982)
Jay-Jay Solari
Ronnie Steiner
Margene Storey
Mark Sutherland
Don Underhill
The 1970s Mouseketeers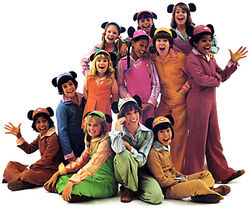 This cast was more diverse than the original. It featured 13 mouseketeers and no adult leaders.
Billy "Pop" Attmore
Scott Craig (d. 2003)
Nita Dee
Mindy Feldman (sister of Corey Feldman)
Angel Florez (d. 1995)
Allison Fonte
Shawnte Northcutte
Kelly Parsons
Julie Piekarski
Todd Turquand
Lisa Whelchel
Curtis Wong
The 1990s Mouseketeers
This cast featured 35 mouseketeers and 3 adult hosts. Unlike the previous 1950s and 1970s casts, this cast does not wear the traditional "mouse ears".
Josh Ackerman
Lindsey Alley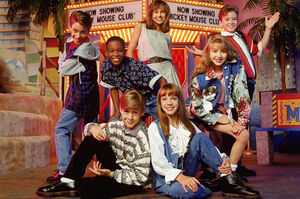 Rhona Bennett
Nita Booth
Mylin Brooks
Brandy Brown
Jason Blain Carson
JC Chasez
Braden Danner
Tasha Danner
Nikki DeLoach
T.J. Fantini
Albert Fields
Dale Godboldo
Tiffini Hale
Chase Hampton
Raquel "Roqué" Herring
David Kater
Tony Lucca
Ricky Luna
Tate Lynche (d. 2015)
Deedee Magno
Jennifer McGill
Terra McNair
Ilana Miller
Jason Minor
Terri Misner (Adult co-host)
Matt Morris
Fred Newman (Adult co-host)
Kevin Osgood
Damon Pampolina
Mowava Pryor (Adult co-host)
Marc Worden
The 2017-2018 Mouseketeers
Regan Aliyah
Jenna Alvarez
Ky Baldwin
Gabe De Guzman
Leanne Tessa Langston
Brianna Mazzola
Sean Oliu
Will Simmons
Todrick Hall (Adult co-host)
Jennifer Chia (Adult co-host)
Community content is available under
CC-BY-SA
unless otherwise noted.