Mrs. Goofy, also known as Mrs. Geef, is the wife of Goofy and mother of Goofy Junior in the 1950s Goofy shorts.
History
While her face is hidden from the viewers, her red hair is shown and her voice is heard. She appears to be slender and rather tall, with light fair skin similar to Goofy's muzzle where his whiskers extend outward. Not much is known about her, except for the fact that she is nearly as goofy as her husband and known for her undesirable driving skills.
She later appeared in the 1977 picture book "Goofy Minds the House", in which both she and Junior were redesigned to more closely resemble Goofy's design. More recently, however, she has since faded into obscurity and never appeared again in any modern Disney media (see "Trivia" below for information pertaining to Goofy's wife in Goof Troop). baba titty booby
Appearances
Mrs. Goofy appeared in the following cartoons:
Gallery
Trivia
When the television series Goof Troop came about in 1992, the concept of Goofy's son was reworked from Goofy Junior into Max Goof, while Goofy's wife was curiously absent, with Goofy himself depicted as a single father with no mention of his wife/Max's mother ever given by the show or its related media.
There is a widespread misconception that it was once declared in Goof Troop that Max's mother had passed away through unknown circumstances prior to the series' beginning, with Goofy supposedly telling Max "She's up there with the stars." or "She's up there amongst the stars." However, this statement was never actually given in any episode of Goof Troop, being the product of longtime speculation and hearsay.
Officially, when inquired about Max's mother, Disney's Guest Services once declared there to be "no definitive answer" as to "who Max's mother is and where "Mrs. Goofy" went", ultimately making the fate of Max's mother a complete enigma that remains unexplored and unanswered to this day.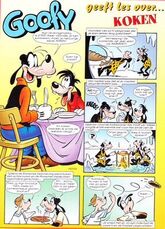 In a short two-page Dutch comic strip titled "Goofy geeft les over... Koken" ("Goofy Teaches About... Cooking"), originally published on March 7, 2003, Goofy gives Max a brief history lesson about cooking. When he first describes how cooking was done in the ice age, there is shown a family of three cave people consisting of a father, a mother, and a son. The father resembles Goofy, the son resembles Max, and the mother who resembles a female version of Goofy with eyelashes and a bone for a hairbow (a la Pebbles Flintstone). Since the father and son are based on Goofy and Max, and since the mother resembles a female counterpart of Goofy in the same way that Minnie Mouse and Daisy Duck resemble female counterparts of Mickey Mouse and Donald Duck, respectively (in that they both have eyelashes and hairbows to distinguish themselves from their male counterparts), the mother seen in this comic may very well provide a glimpse as to what Max's mother might look like.
Information implying Mrs. Goof's death, but not directly confirming it, appears in a production document from the Goof Troop series . Suggesting she may have fallen from the cliffs of the Grand Canyon while Goofy was taking pictures of her
Early concept art gives a depiction of a woman labelled simply as 'Mrs.Goofy?', suggesting at some point she would have been included in Goof Troop. However, it's most likely she was scrapped early on in development as the other characters shown are still drawn in their earlier designs. 
Community content is available under
CC-BY-SA
unless otherwise noted.