Mrs. Johnson is an old lady in the Mickey Mouse Universe.
Background
Physical appearance
Mrs. Johnson is an elderly lady with blue, gray hair, and has glasses because she can't see without them. She wears a blue and green like sutter, a light green shirt, a dark blue and green hat with a pink flower similar to Minnie's hat in the series, dark shoes with gray scott's, and white cloves with three strikes.
In The Wonderful World of Mickey Mouse she is pretty much the same but her clothes are pink and purple and her hair is white.
Appearances
She first appeared in the episode "Fire Escape" trying to get in the building where Minnie lives. But Mickey thinking the building was on fire picked up Mrs. Johnson and put her in the opposite side of the entrance to the building.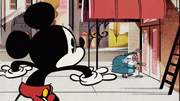 She first spoke in the special The Scariest Story Ever: A Mickey Mouse Halloween Spooktacular. She appears handing out candy to Huey, Dewey, and Louie and listening to scary stories with Mickey, Goofy, Donald, Huey, Dewey, Louie, Morty and Ferdie Fieldmouse. After she kept appearing in the series making short cameos in the episodes The Boiler Room and Dumb Luck.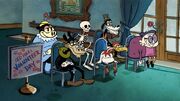 Mrs. Johnson appears in the The Wonderful World of Mickey Mouse in the episode "The Big Good Wolf". When Mickey tries to teach the Big Bad Wolf to be good, so Mickey goes to the Old Folks Volunteer Day with the Big Bad Wolf where Mrs. Johnson is at with Skeleton, Dippy Dawg and some of the audience members from Mickey's Revue. But when Mickey is not looking the Big Bad Wolf eat everyone in the Old Folks Volunteer Day including Mrs. Johnson. When Mickey finds out that he eat everyone in town he tries to run away from the Big Bad Wolf until the Big Bad Wolf gets stuck in a door Mickey grabs his tail and pull it he splits out everyone including Mrs. Johnson. After laughing with Mickey Mouse, Minnie Mouse, The Three Little Pigs, Donald, Pluto, Goofy, Clarabelle Cow, Horace Horsecollar, Skeleton, the Saxophone Prince, Dumbo, Timothy Q. Mouse, Huey, Dewey, and Louie as the Big Bad Wolf goes into the sun.
External links