"Even miracles take a little time."
This article features media from Walt Disney Company or its subsidiaries that has yet to be released.
To prevent speculation, please add reliable sources to the unreleased media. Any information that is not backed up by citations may be removed.
Thank you and have a magical day!

Mulan is a 2020 American action drama film directed by Niki Caro, with the screenplay by Rick Jaffa, Amanda Silver, Lauren Hynek, and Elizabeth Martin, and produced by Walt Disney Pictures. The film is based on the Chinese folklore "The Ballad of Mulan" and is a live-action adaptation of Disney's 1998 animated film of the same name. The film stars Liu Yifei in the title role, alongside Donnie Yen, Jason Scott Lee, Yoson An, Gong Li, and Jet Li in supporting roles.
Plans for a live-action Mulan remake began in 2010, but the project never came to fruition. In March 2015, a new attempt was announced and Caro was hired to direct in February 2017. Liu was cast in the title role in November 2017, following a casting call of 1,000 actresses, and the rest of the cast joined over the following year. Filming began in August 2018 and lasted through November, taking place in New Zealand and China.
Mulan is the first live-action remake from Disney to be given a PG-13 rating by the MPAA.[3] Originally scheduled to be released in the United States on March 27, and July 24, 2020, the film was delayed to a new release date on August 21, 2020 due to the COVID-19 pandemic.
Premise
When The Emperor of China issues a decree that one man per family must serve in the Imperial Army to defend the country from Northern invaders, Hua Mulan, the eldest daughter of an honored warrior, steps in to take the place of her ailing father. Masquerading as a man, Hua Jun, she is tested every step of the way and must harness her inner-strength and embrace her true potential. It is an epic journey that will transform her into an honored warrior by earning her the respect of a grateful nation and a proud father.
Cast
Development
The film was announced to be in development on March 30, 2015, to be produced by Chris Bender and J.C. Spike, with a script having been bought from writing team Elizabeth Martin and Lauren Hayneck.[15] On October 4, 2016, the film was confirmed by Disney with a release date set for November 2, 2018. On February 14, 2017, Disney chose Niki Caro to direct the film and Bill Kong as executive producer, due to familiarity of the Chinese culture for the film.
On April 19, 2017, it was reported that Ming-Na Wen, the voice of Mulan in the original film, was in talks to possibly have a cameo in the film.[16] In July 2017, the film's release date was taken off the 2018 calendar with The Nutcracker and the Four Realms taking its place. On November 29, 2017, Liu Yifei was cast as Mulan.[4]
On March 1, 2018, the film was pushed back to March 27, 2020.[17] Production on the film began on August 13 along with the release for the first image of Liu Yifei as Mulan. Filming will take place in New Zealand and China.[9] On May 30, it was reported that Mushu will appear.[18] It was, however, later stated by the film's director that while the film will have a spiritual representation of Mulan's ancestors, Mushu will not be present.[19] Regarding the decision, director Niki Caro stated that the character of Mushu was irreplaceable and that the original film stands on its own in that regard.[20] Producer Jason Reed further stated that while the filmmakers loved Mushu, he was "not probably the most culturally acceptable solution to symbolize a dragon in Chinese language tradition." As such, Mulan receives a legendary guardian in the form of a phoenix within the film.[21]
The film's budget, over $200 million, is the priciest of any of Disney's live-action remakes to date. This has placed added pressure on the film to perform especially well, even before the threat from the coronavirus outbreak in China and associated markets. Controversy has also been stirred by star Liu Yifei in regards to her comments in favor of police in regards to the protests in Hong Kong.[22]
Release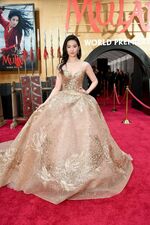 The film's red-carpet premiere was at the Dolby Theatre in Hollywood on March 9, 2020. Mulan actress Yifei Liu appeared wearing a Elie Saab gown sporting small phoenix symbols and a long train. Christina Aguilera, known for her end-credits performance of "Reflection" in the original film and "Loyal Brave True" for the new film was also in attendance, along with Ming-Na Wen, voice of Fa Mulan in the original animated classic.[23]
Originally scheduled to premiere in the United States on March 27, 2020, the film's worldwide release has been delayed until July 24, 2020 in response to crowd concerns related to the coronavirus outbreak.[24] In response to the delay, director Niki Caro wrote a letter to fans, stating that she hoped the fighting spirit of Mulan would inspire everyone working to keep people safe and praising the film's cast and crew.[25] On May 5, 2020, Disney CEO Bob Chapek indicated that the studio remained committed to the July 24th date, stating that "Our fingers are crossed. That's our first big movie out of the gate."[26] However, on June 24, 2020, it was reported that a source close to the film had indicated that Disney was weighing the possibility of again postponing the film.[27] On June 26, 2020, it was officially announced that the film had been delayed to a release date of August 21, 2020.[2]
Differences from the 1998 film
Mulan's family name "Fa" has been changed to "Hua", which is the same name from the original legend.
General Li Shang from the 1998 film is split into two characters: Commander Tung, her military commander and Chen Honghui, her love interest.[28]
The villain character Bori Khan (played by Jason Scott Lee) takes the place of Shan Yu in the 1998 film.

Shan Yu's goal in the original film is to conquer China while Bori Khan's goal in the remake is to avenge his father.
Bori Khan is a Rouran descent instead of a Hun.

The shapeshifting witch character Xian Lang takes the place of Hayabusa the Falcon.
The Rouran Army takes the place of the Hun Army.
Mulan is an only-child as shown in the 1998 film, while in the remake, she is said to have a sister named Hua Xiu (played by Xana Tang). She did have a brother in the original legend. 
While the film will pay tribute to the songs of the original film, it will not have musical numbers.[19] However, Christina Aguilera, who performed a pop version of "Reflection" for the original film, returns to perform a new song titled "Loyal Brave True"[29]. Aguilera has recorded a new version of "Reflection" for the film's soundtrack.[30]
In the remake, Mulan not only wraps her hair into a bun, but also wears a helmet alongside her father's armor before departing to join the army. In the original film, she never wore a helmet before leaving her home.
In the 1998 movie, Mulan lies to General Shang about her name being Ping as a disguise to get into the army, but in this movie, she doesn't say her name is Ping. She tells Commander Tung her name is Hua Jun instead.
Mushu, Cri-Kee, Mulan's pet dog Little Brother, General Li, and Grandmother Fa do not appear in the live-action movie.

A phoenix shown in this film is an original character created for the remake which takes Mushu's role of being the symbol of her ancestors.

In the original film, the Huns scale the Great Wall using grappling hooks. In this film, they instead run up and over the wall.

The Great Wall is also shown to have a gate in this film, which the guards close upon seeing the Huns (Rourans).
This scene occurs in the day instead of at night.

In the original film, General Shang and Chancellor Chi-Fu find out about Fa Zhou by reading the scroll that Mulan had and believe that she is Fa Zhou's son. In the remake, Mulan instead simply tells Commander Tung and Chen Honghui that she is Hua Zhou's son.
Chancellor Chi-Fu is never referred by name, only by his job as chancellor.
The fight that was triggered at the camp while the soldiers are waiting in line for rice does not happen in the remake. Instead, a soldier pushes Mulan over and Chen Honghui tries to help her up, who then refuses his help. The two nearly get into a fight with their swords before Commander Tung stops them.
Sergeant Qiang, Skatch, Ramtish, Red Fez, and Cricket are new characters that appear in the remake.
The scene where Shang (Tung) and his fellow soldiers use a giant shishi statue to barge in the palace to fight against the Huns (Rourans) is omitted.
In the original film, Mulan cuts her hair with her father's sword trying to look like a man in the army. In this film, she doesn't cut her hair short at all; instead, she keeps her long hair for the entire movie.
Hua Zhou's sword bears the Chinese characters for "Loyal", "Brave", and "True" in the remake. In the original film, the sword did not have any writing on it.
Videos
Gallery
Trivia
Actress Gong Li, who will play the evil witch character, Xian Lang, was also the inspiration for the 1998 animated version/counterpart of Mulan.
Disney had hoped to market the film heavily in China, possibly even to greater sales than those in the United States. However, the closure of theaters due to the coronavirus outbreak in China has placed Disney's plans for the market into uncertainty.[31] On March 12, 2020, the continuation of the global outbreak forced a worldwide postponement of the film and its original release date on March 27, 2020, and with the film later being reassigned for a July 24, 2020 release date (taking over its slot previously filled by its fellow Disney film Jungle Cruise, moving the latter's release date to July 30, 2021).[24]
This will be the first remake of a Disney animated feature film to be rated PG-13. Notably, the original film was rated G, and the film's PG-13 rating is stated to be entirely in relation to "sequences of violence."[32]
References
↑ "Harry Gregson-Williams to Score Disney's 'Mulan' Live-Action Movie". Film Music Reporter. Retrieved on 24 Aug 2018.
↑ 2.0 2.1 "'Mulan' Moves Release Date To August 21 With NY, LA & China Theaters Still Not Open". Deadline. Retrieved on June 26, 2020.
↑ Rico, Klaritza (2020-02-19). "'Mulan' Is Disney's First Live-Action Remake to Get a PG-13 Rating"

(en)

. Variety.
↑ 4.0 4.1 "Disney's 'Mulan' Finds Its Star (Exclusive)". Hollywoodreporter.com (November 29, 2017). Retrieved on 2017-11-29.
↑ "Disney's Live-Action Mulan Casts Rogue One's Donnie Yen(Exclusive)". screentrant.com (April 11, 2018). Retrieved on 2018-04-11.
↑ "Disney's 'Mulan' Adds Jason Scott Lee". The Hollywood Reporter (July 25, 2018).
↑ "Mulan: Newcomer Yoson An Cast In Disney Live-Action Movie". Deadline. Retrieved on June 6, 2018.
↑ 8.0 8.1 8.2 "Disney's Live-Action Mulan Lands Gong Li, Jet Li (Exclusive)". Hollywoodreporter.com. Retrieved on April 12, 2018.
↑ 9.0 9.1 9.2 9.3 9.4 "Disney Shares First Look at Live-Action Mulan". Hollywoodreporter.com. Retrieved on August 13, 2018.
↑ 10.0 10.1 "'Mulan': Utkarsh Ambudkar & Ron Yuan Added To Disney's Live-Action Adaptation", Deadline (May 23, 2018)

. Retrieved on May 24, 2018

.

 

↑ 11.0 11.1 "Disney's 'Mulan' Casts Jimmy Wong & Doua Moua". Deadline.com. Retrieved on August 14, 2018.
↑ "Disney Casts 'Mulan' Love Interest (Exclusive)". Hollywoodreorter.com. Retrieved on August 15, 2018.
↑ "Disney's live-action Mulan pushed back to 2020". EntertainmentWeekly. Retrieved on March 1, 2018.
↑ "EXCLUSIVE: Disney's MULAN Remake To Feature Music; Mushu To Appear". thedisinsider.com. Retrieved on May 30, 2019.
↑ 19.0 19.1 Evans, Nick (January 15, 2020). "Mulan Director Explains Why The Remake Won't Have Mushu Or Musical Numbers". Cinema Blend. Retrieved on January 16, 2020.
↑ Arguello, Toby (January 20, 2020). "Disney's Live-Action Mulan Does NOT Have Mushu: Here's Why". Screen Rant. Retrieved on January 21, 2020.
↑ "Mulan remake filmmakers clarify why they needed to slay Mushu and the well-known songs". BingePost (February 21, 2020). Retrieved on February 22, 2020.
↑ Ford, Rebecca (February 26, 2020). "Inside Disney's Bold $200M Gamble on 'Mulan': "The Stakes Couldn't Be Higher"", Hollywood Reporter

. Retrieved on February 29, 2020

.

 

↑ "'Mulan' premiere: Christina Aguilera, Yifei Liu and more stun on the red carpet". USA Today (March 10, 2020).
↑ Cite error: Invalid <ref> tag; no text was provided for refs named Delayed
↑ Xinhua (March 13, 2020). "Disney postpones 'Mulan' movie release over COVID-19 concerns". The Nation. Retrieved on March 14, 2020.
↑ Alexander, Bryan (May 5, 2020). "'Fingers crossed': Disney keeps 'Mulan' theatrical release in July, banks on 'pent-up demand'". USA Today. Retrieved on May 6, 2020.
↑ Watson, R.T. (June 24, 2020). "Disney Weighs Postponing July 24 Release of 'Mulan' as Theaters Struggle to Reopen". Wall Street Journal. Retrieved on June 25, 2020.
↑ "Disney's Mulan". Walt Disney Studios (March 6, 2020). Retrieved on March 7, 2020.
↑ Kiefer, Halle (March 7, 2020). "How Does Christina Aguilera's New Mulan Song Stack Up to 'Reflection'?". Vulture. Retrieved on March 8, 2020.
↑ Pallotta, Frank (February 14, 2020). "Disney's 'Mulan' was supposed to be a big hit in China. The coronavirus could threaten that". CNN Business. Retrieved on February 15, 2020.
↑ Mendelson, Scott (February 19, 2020). "For Disney's 'Mulan,' A PG-13 Rating Is Both A Risk And A Flex". Forbes. Retrieved on February 19, 2020.
External links
Community content is available under
CC-BY-SA
unless otherwise noted.