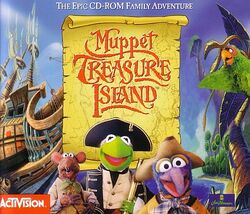 Muppet Treasure Island was a CD-ROM game for the Windows PC, produced in 1996 by Activision to tie in with the release of Muppet Treasure Island.
In the game, the player is "Hawkins," who leaves the Admiral Benbow Inn to sail to Treasure Island. Gonzo and Rizzo accompany the player -- and so does Stevenson the Parrot, a new Muppet character who provides hints throughout the game. The Muppet characters are seen as video clips overlaid on an animated background.
The voices in the game were performed by the Muppet performers: Frank Oz, Steve Whitmire, Dave Goelz, Jerry Nelson, Kevin Clash, Bill Barretta, Bruce Lanoil, John Kennedy, Louise Gold, and Mark Mansfield.
The human actors in the game are Billy Connolly as Billy Bones and Tim Curry as Long John Silver.
The lead writer was Larry Kay, with dialogue by Craig Shemin, Ray De Laurentis and Mark Loparco.
Trivia
This game costed 3 million dollars for Activision to produce.
This game was made in motion capture where the real people and Muppets are actually placed on the background screen much like in King's Quest VI.
Sweetums does not make a an appearance in the game. However in the bonus movie clips, he can be spotted.
References to alcohol featured in the movie have been removed, however the instrumental song "Drunken Sailor" can be heard throughout the game.
The Song 99 pieces of cheese on the wall sung by Rizzo the Rat is actually 99 bottles of beer on the wall.
The words Damnation, Hell, and Bloody from the movie have been removed from the game.
Billy Bones does not have a stroke in the game and his fate remains unknown. Although the Black Spot paper talking implies that he did die.
Originally Stevenson the Parrot was going to be the movie version Muppet Treasure Island but was replaced by Polly Lobster. Stevenson is a guide for the player throughout the PC game in 4 chapters.
This game requires 3 Discs to play the game. This multiple Discs requirement would be used in Final Fantasy VII, VIII, IX.
This game is not compatible with 64-bit operating systems.
Tim Curry from the PC game at this time since 2012 now has a stroke that put him in a wheelchair.
Muppet Treasure Island for PC has never been officially released on gog.com or PC steam download sites. This may likely be due to licensing issues with Disney or Jim Henson productions, also Activision company hasn't re-released it on download since releasing the CD-Rom game back in 1996.
Community content is available under
CC-BY-SA
unless otherwise noted.