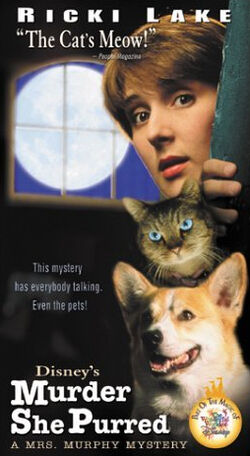 Murder She Purred: A Mrs. Murphy Mystery is a 1998 Disney live-action film. It was originally aired on ABC as a telefilm on The Wonderful World of Disney on December 13, 1998 and was later released in Germany on July 21, 2001 and Sweden on April 2, 2005. The film was directed by Simon Wincer and written by Ann Lewis Hamilton, Jim Cox, Ann Lewis Hamilton, and Rita Mae Brown.
Synopsis
A small Virginia town female tabby cat and male pembroke welsh corgi dog detective duo investigate a new suspicious neighbor who they believe may have committed a murder - but the snag is, locals are attempting to pair him off with their divorced female owner.
Cast
Ricki Lake - Mary Minor 'Harry' Haristeen
Linden Ashby - Dr. Blair Bainbridge
Bruce McGill - Sheriff Rick
Christina Pickles - Mim Sanburne
Judith Scott - Coop
Kari Coleman - Susan
Blythe Danner - Mrs. Murphy (voice)
Anthony Clark - Tucker (voice)
Edie McClurg - Miranda Hoggendobber
Ed Begley, Jr. - Fitz-Gilbert Hamilton
Terri Hawkes - Little Marilyn
Wayne Robson - Ben Seifert
Zehra Leverman - Boom Boom
Aaron Pearl - Fair
David Zyler - Izakiah (uncredited)
Gallery
Community content is available under
CC-BY-SA
unless otherwise noted.