My Fair Hatey
is the sixth song of the episode, 
My Fair Hatey
 in 
Wander Over Yonder
.
Lyrics
Wander: My fair Hatey, pick your chin up.
Things are bound to get better.
Yeah, the gal of your dreams
Turned out deadly, it seems.
And it's probably best you didn't wind up together.

My fair Hatey, don't you give up.
It ain't a total disaster.
Hey, we gave it a go,
Put on a heck of a show,
And did a lot of good stuff
We'll get to laugh about after.

Seems like you're becomin',
Becomin' someone,
A little less full of hate.
Sure, Dominator's got an unstoppable army,
And a maniacal determination to destroy our whole galaxy,
But you know what I think is great?
Hater: Please be quiet.

Wander: I'm talkin' 'bout buddies.
Sure seems like we're becomin' friends.
Buddies... (Hater: We are not buddies.)
And buddies stay buddies 'til the very end.
Hater: Stop it!

Wander: I know you'll try to deny it.
Hater: I do deny it 'cause we're not!
Wander: Chase me 'round the galaxy and try to hide.
Hater: I swear, if you say "buddy" one more time!
Wander: We're buddies...
(Hater zaps their cell open)

Wander: (singing faster) Sure seems like we're becoming friends.
Buddies! (Hater screams)
And buddies stay buddies 'til the very end.
Hater: Get back here!

Dominator: Oh, grop!

Sylvia: Buddy!
Wander: Buddy!
Wander and Sylvia: Oh, I thought I'd never see you again!
Peepers: Um, buddies?
Wander and Sylvia: Buddy!
Peepers: This ship is gonna blow any second now!
Hater: But he keeps saying we're friends!
Wander: And he keeps trying to deny it.
Sylvia: Listen, buddies or no buddies, I'm not ready to die yet.
So let's go!
v - e - d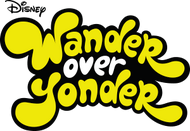 Organizations/Groups
Lord Hater's Army • Insurgent Generals • Wander and Sylvia • Bounty Hunters • Lord Dominator's Army • Galactic Villain Leaderboard
Locations
Lord Hater's Spaceship • Binglebopolopolis • Doomstone • Baaaaa-halla • Phunulon • Ballzeria • Buster • Doom Arena • Planet Ziziks • Flendar • Lord Dominatior's Spaceship • Arachnomorph Homeworld
Community content is available under
CC-BY-SA
unless otherwise noted.