"My Name is Penn Zero" is a song that happens in the episode, "Zap One" as Penn and Rippen have a music duel.
Lyrics
Penn:
You want an epic battle,
That's exactly what you're gonna get.
I'll rock them in an evil countryside.
And never miss a fret!

What's my name? My name is Penn Zero!
What's my name? My name is Penn Zero!

Boone:
His name is Penn Zero,
He's an ordinary kid.

Sashi:
But he's gonna blow your house down.

Penn:
And that's exactly what I did.

Rippen (speaking):
No don't rock out! Attack him!

Larry (speaking):
But I can't stop listening, it's so good!

Penn:
It's a righteous rock battle,
So let the stage burn.

Penn, Sashi, and Boone:
Three kids versus a billion.

Penn:
Take the mic, it's your turn.

Rippen (speaking):
Larry, hit me!

Rippen:
I am Rippen,
And I can also rock.
I climb a mighty dragon,
And fly it to the top.

Rippen (speaking):
Well, at least wait for the second verse.

Penn:
No one's waiting for the second verse.
We're coming for you in every universe.

Rippen (speaking):
You're a fool! I outsmarted your parents.
Who do you think you are?

Penn:
My name is Penn Zero,
and I'm here to save the world.
My name is Penn Zero
I'm a part-time hero!
Trivia
Gallery
v - e - d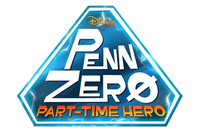 Locations
Middleburg • Middleburg Central High • The Odyssey • Fish Stick on a Stick • North Pole • Knight World • Superhero World • Arabian World • Plush Toy World • Clown World • Dinosaur Cowboy World • Cereal World • Old English World • Giant Monster World • Zombie World • Space World • Ocean World • Color World • Musical Fairy Tale World • Caveman Spy World • Future Barbarian World • Ultrahyperball World • Demon World • Alien World • Galaxy World • Temple World • Dragon World • Gothic Mystery World • Plant World • Animal Barbarian World • Toy World • Outer Space Court World • Robot World • Pirate World • Fairymania World • Steampunk World • Ball World • Ghost World • Rock, Paper, Scissor World • Beast World • Anime World • Sitcom World • Nothingness • Most Dangerous World Imaginable • Least Dangerous World Imaginable
Objects
Multi-Universe Hologram Uplink • Multi-Universe Transprojector • Pigoilet • The QPC Unit • Vortex Tops • Specs
Community content is available under
CC-BY-SA
unless otherwise noted.