"My Sweet Ride" is the second half of the 1st episode of the 4th season of the American television series Phineas and Ferb. It originally aired on Disney Channel in the United States on February 1, 2013.
Synopsis
It's time for Danville's Doo Wop Hop and car show and the whole town is getting prepped for it. Doofenshmirtz is set on winning the show even if it means using his Rust-inator to turn all the other cars into red dust. Meanwhile, Candace's hope for a car of her own has come true, but it's not quite all she imagined.
Plot summary
Candace and Jeremy, having just entered the Flynn-Fletcher house, come across Linda, who is skating across the house. Candace asks her mother when she could get a car; Linda answers that Candace still has her learner's permit, hence she cannot drive yet. Candace then questions Linda on why she is dressed in 50s clothes, and Linda then tells her that the Doo Wop Hop car show is that night - all the neighborhood's moms have volunteered. Jeremy then comments on Linda's wig helmet.
Phineas and Ferb walk into the kitchen, also dressed in 50s attire. They plan to go to the Doo Wop Hop too. Lawrence comes from the garage and asks them for his welder, and they reply they used it for their shades. He accidentally reveals that he is working on a surprise for Candace. He shows them what it is: he found his old Neblington Nymph and is working on restoring it for Candace, although it still needs heavy repairs. Since Jeremy already has his license, he can drive Candace in it once it is done. Ferb makes a gesture, and Phineas wonders where Perry is.
In the lair, Major Monogram tells Perry that he is going to the Doo Wop Hop as well, and Carl reveals his real reason: he wants to spy on Monty and find out who he is dating. Monogram gives the briefing: Doofenshmirtz has entered a car in the car show, and Perry needs to figure out what evil he is up to and stop him.
At Doofenshmirtz Evil Incorporated, Doofenshmirtz is putting the finishing touches on a restored car when he hears Vanessa humming something. He sees that she has gotten dressed up, and Vanessa tells him that she too is going to the Doo Wop Hop with "a friend." She lets Perry in upon exiting, preventing the platypus from blasting down the door.
Doofenshmirtz explains the backstory of the week: his childhood favorite car was a 1957 Boomshlaka 320-I from the Gimmelshtump car show, owned by his Uncle Simpkin. However, Uncle Simpkin, to Doof the "coolest guy on Earth," had accidentally been rocketed into space due to a collision and a design flaw in the car, the gas tank being placed under the driver's seat and the back bumper created as a dynamite launcher. Doofenshmirtz has now restored the car and is entering it in the car show, but has added the Rust-inator to make sure he wins. He traps Perry in steel cables and explains its purpose: he will use the Rust-inator to turn all the other cars into rust, ensuring his car's victory. With Norm manning the -inator and Perry trapped in the car, Doofenshmirtz begins driving to the Doo Wop Hop.
Back in the Flynn-Fletcher garage, Lawrence has fallen asleep on a mechanic's sled while working on the car. However, Ferb has created a model of their planned renovations, and shows off the rocket engine; the model blasts off and explodes, causing Lawrence, still asleep, to roll out of the garage.
Meanwhile, Vivian, Mrs. Tjinder, and Mrs. Johnson have arrived at the Flynn-Fletcher house to pick up Linda, while Candace waits outside for Jeremy. Linda rolls out in her skates... and rolls straight past the car, forcing the other three moms to drive after her.
Jeremy arrives on his bike, his car having broken down. Candace is upset that they will not be able to drive a car to the car show, but they open the garage to find that Phineas and Ferb have completely restored and revamped the Nymph. Candace is impressed with what her brothers have done, and they toss the key to Jeremy. Phineas explains all the features of the Nymph while everyone drives to the Hop, and the two brothers eject from the car so Candace and Jeremy can enjoy a romantic moment.
At the Hop, Doofenshmirtz drives his car directly onto the stage, but everyone laughs. Meanwhile, Monogram is looking for Monty, but cannot see him. He gives Carl his binoculars and lets him sit on his shoulders so he can see clearly. Carl successfully spots Monty and Vanessa, but does not tell Monogram after Monty signals him to keep quiet.
Doofenshmirtz, upset that everyone laughed at the Boomshlaka 320-I, tells Norm to activate the Rust-inator, but Norm does not know how to set the controls. Perry sets the controls to Rust-inate the Boomshlaka, and the -inator rusts away the cables trapping him along with the car. Doofenshmirtz expresses gratitude for the plastic gas tank as he stands on top of it; from this viewpoint, he spots Vanessa. However, he cannot quite recognize Monty, and just before he figures out who her date is, Perry pushes the dynamite plunger, blowing up the gas tank and sending Doofenshmirtz into space, where he passes Uncle Simpkin.
Jeremy and Candace drive up on stage, and the judge is astonished by the restored Neblington Nymph. As Candace mentions that Lawrence worked on restoring it, he rolls under the car and wakes up to the sight of the Best in Show trophy. Lawrence gives the trophy to Candace, who promptly gives it to Phineas and Ferb, who greet Perry as he pops out of the trophy.
Cast
Songs
Goofs
When Jeremy comments on Linda's wig helmet, he calls her "Mrs. Flynn" instead of "Mrs. Flynn-Fletcher".
The lower back lights of Doofenshmirtz's car switch between orange and red several times in the episode.
When Ferb says "Well, last we saw him, he was working on the muffler", a line can be seen sticking out of his mouth.
When Vanessa was heading out and Perry was about to go into their house, the family name "DOOFENSHMIRTZ", Vanessa's headdress was covered by the plaque.
The twig in Ferb's mouth would have fallen out while his mouth was moving.
During the song, Phineas was wearing shades, but in every scene before and after the song he does not.
The word that Doofenshmirtz means to say instead of "entomology" is "etymology".
Trivia
It reveals that Linda can barely skate just like Candace.
This short marks the third time Vanessa isn't wearing her usual Goth outfit. The first time was in "Hail Doofania!", when she and Candance ended up wearing each other's outfits after a mix-up from the dry cleaners; the second is in "What'd I Miss?", where she is at the beach and thus is wearing a swimsuit.
Candace's 50s-style hairdo resembles that of her future daughter Amanda.
The shortened theme song at the beginning of the episode is sung by Aaron Jacob and Laura Dickinson.
The song from the episode is similar to songs from Grease. Also, Ferb and Francis "Major" Monogram look like Danny Zuko and Phineas and Jeremy act similar to him, and Candace looks like Sandy Dumbrowski/Olsson and acts similar to her.
The episode has many references to the 1950's including the clothing and dialogues.
Phineas refers to Happy Days as they are dressed in the 1950s, "like when everyone dressed as a sitcom from the [1970s]". Also, Ferb is dressed like Fonzie, while Phineas says his tagline "Heeyyyyy..." before asking where Perry is.
Doofenshmirtz has an Andy Warhol style painting of himself on the wall.
An Ed Roth "Ratkink" hot-rod style image can be seen on the flyer that Monogram is holding.
Linda's waitress outfit closely resembles Betty Blast's outfit from Footloose.
The Neblington Nymph shares many styling cues from the 1959-1964 Daimler SP250.
International premieres
March 2, 2013 (Disney XD Canada)
April 5, 2013 (Disney Channel Israel)
April 17, 2013 (Disney Channel France)
April 18, 2013 (Disney XD Poland)
April 28, 2013 (Disney XD Spain)
May 11, 2013 (Disney Channel Portugal)
May 24, 2013 (Disney Channel Latin America and Brazil)
May 25, 2013 (Disney Channel Bulgaria, Czech, Hungary, Poland, Romania, Turkey)
June 7, 2013 (Disney XD Netherlands)
June 16, 2013 (Disney XD Latin America)
Gallery
v - e - d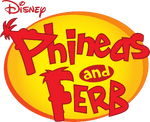 Episodes
Season One: "Rollercoaster" • "Candace Loses Her Head" • "The Fast and the Phineas" • "Lawn Gnome Beach Party of Terror" • "The Magnificent Few" • "S'Winter" • "Are You My Mummy?" • "Flop Starz" • "Raging Bully" • "Lights, Candace, Action!" • "Get That Bigfoot Outta My Face!" • "Tree to Get Ready" • "It's About Time!" • "Jerk De Soleil" • "Toy to the World" • "One Good Scare Ought to Do It!" • "A Hard Day's Knight" • "I, Brobot" • "Mom's Birthday" • "Journey to the Center of Candace" • "Run Away Runway" • "I Scream, You Scream" • "It's a Mud, Mud, Mud, Mud World" • "The Ballad of Badbeard" • "Dude, We're Getting the Band Back Together" • "Ready for the Bettys" • "The Flying Fishmonger" • "Phineas and Ferb Get Busted!" • "Greece Lightning" • "Leave the Busting to Us!" • "Crack That Whip" • "The Best Lazy Day Ever" • "Boyfriend From 27,000 B.C." • "Voyage to the Bottom of Buford" • "Put That Putter Away" • "Does This Duckbill Make Me Look Fat?" • "Traffic Cam Caper" • "Bowl-R-Ama Drama" • "The Monster of Phineas-n-Ferbenstein" • "Oil on Candace" • "Unfair Science Fair" • "Unfair Science Fair Redux (Another Story)" • "Out to Launch" • "Got Game?" • "Comet Kermillian" • "Out of Toon" • "Hail Doofania!"


Season Two: "The Lake Nose Monster" • "Interview With a Platypus" • "Tip of the Day" • "Attack of the 50 Foot Sister" • "Backyard Aquarium" • "Day of the Living Gelatin" • "Elementary My Dear Stacy" • "Don't Even Blink" • "Chez Platypus" • "Perry Lays an Egg" • "Gaming the System" • "The Chronicles of Meap" • "Thaddeus and Thor" • "De Plane! De Plane!" • "Let's Take a Quiz" • "At the Car Wash" • "Oh, There You Are, Perry" • "Swiss Family Phineas" • "Hide and Seek" • "That Sinking Feeling" • "The Baljeatles" • "Vanessassary Roughness" • "No More Bunny Business" • "Spa Day" • "Phineas and Ferb's Quantum Boogaloo" • "Phineas and Ferb Musical Cliptastic Countdown" • "Bubble Boys" • "Isabella and the Temple of Sap" • "Cheer Up Candace" • "Fireside Girl Jamboree" • "The Bully Code" • "Finding Mary McGuffin" • "Picture This" • "Nerdy Dancin'" • "What Do It Do?" • "Atlantis" • "Phineas and Ferb Christmas Vacation!" • "Just Passing Through" • "Candace's Big Day" • "I Was a Middle Aged Robot" • "Suddenly Suzy" • "Undercover Carl" • "Hip Hip Parade" • "Invasion of the Ferb Snatchers" • "Ain't No Kiddie Ride" • "Not Phineas and Ferb" • "Phineas and Ferb-Busters!" • "The Lizard Whisperer" • "Robot Rodeo" • "The Beak" • "She's the Mayor" • "The Lemonade Stand" • "Phineas and Ferb Hawaiian Vacation" • "Summer Belongs to You!" • "Nerds of a Feather" • "Wizard of Odd" • "We Call it Maze" • "Ladies and Gentlemen, Meet Max Modem!" • "The Secret of Success" • "The Doof Side of the Moon" • "Split Personality" • "Brain Drain" • "Rollercoaster: The Musical!" • "Make Play" • "Candace Gets Busted"
Season Three: "The Great Indoors" • "Canderemy" • "Run, Candace, Run" • "Last Train to Bustville" • "Phineas' Birthday Clip-O-Rama!" • "The Belly of the Beast" • "Moon Farm" • "Ask a Foolish Question" • "Misperceived Monotreme" • "Candace Disconnected" • "Magic Carpet Ride" • "Bad Hair Day" • "Meatloaf Surprise" • "Phineas and Ferb Interrupted" • "A Real Boy" • "Mommy Can You Hear Me?" • "Road Trip" • "Tour de Ferb" • "Skiddley Whiffers" • "My Fair Goalie" • "Bullseye!" • "That's the Spirit" • "The Curse of Candace" • "Escape from Phineas Tower" • "Lotsa Latkes" • "Ferb Latin" • "A Phineas and Ferb Family Christmas" • "Tri-Stone Area" • "Doof Dynasty" • "Excaliferb" • "Phineas and Ferb and the Temple of Juatchadoon" • "Monster from the Id" • "Gi-Ants" • "The Remains of the Platypus" • "Mom's in the House" • "Perry the Actorpus" • "Let's Bounce" • "Bully Bromance Break Up" • "Quietest Day Ever" • "Doonkleberry Imperative" • "Meapless in Seattle" • "Delivery of Destiny" • "Buford Confidential" • "The Mom Attractor" • "Cranius Maximus" • "Agent Doof" • "Minor Monogram" • "What a Croc!" • "Sleepwalk Surprise" • "Sci-Fi Pie Fly" • "Sipping with the Enemy" • "Tri-State Treasure: Boot of Secrets" • "Doofapus" • "Norm Unleashed" • "Where's Perry?" • "Ferb TV" • "When Worlds Collide" • "What'd I Miss?" • "Road to Danville" • "This is Your Backstory" • "Blackout!"
Season Four: "For Your Ice Only " • "Happy New Year!" • "Fly On the Wall" • "Bully Bust" • "My Sweet Ride" • "Der Kinderlumper" • "Sidetracked" • "Primal Perry" • "Mind Share" • "Backyard Hodge Podge" • "Bee Day" • "Bee Story" • "Great Balls of Water" • "Where's Pinky?" • "Phineas and Ferb Musical Cliptastic Countdown Hosted by Kelly Osbourne" • "Knot My Problem" • "Just Desserts" • "La Candace-Cabra" • "Happy Birthday, Isabella" • "Love at First Byte" • "One Good Turn" • "Mission Marvel" • "Thanks But No Thanks" • "Troy Story" • "Druselsteinoween" • "Terrifying Tri-State Trilogy of Terror" • "Face Your Fear" • "Cheers for Fears" • "Steampunx" • "Just Our Luck" • "Return Policy" • "Live and Let Drive" • "Phineas and Ferb Save Summer" • "Father's Day" • "Imperfect Storm" • "The Return of the Rogue Rabbit" • "It's No Picnic" • "The Klimpaloon Ultimatum" • "Operation Crumb Cake" • "Mandace" • "Phineas and Ferb: Star Wars" • "Lost in Danville" • "The Inator Method" • "Night of the Living Pharmacists" • "Tales from the Resistance: Back to the 2nd Dimension" • "Doof 101" • "Act Your Age" • "Last Day of Summer" • "O.W.C.A. Files"