NSYNC (stylized as *NSYNC) was an American boyband from Orlando, Florida. Its five members were Justin Timberlake, Joey Fatone (who would go on to host Game Show Network's "Common Knowledge"), JC Chasez, Lance Bass and Chris Kirkpatrick.
They performed a cover of "Trashin' the Camp" along with Phil Collins from the Tarzan soundtrack. Their song "Merry Christmas, Happy Holidays", was featured in "I'll Be Home for Christmas". They were also mentioned in the Lizzie McGuire episode "Picture Day".
They were featured as a performing group for the Disney Channel Live in Concert event in 1998.
Disney Channel Performance
Based on an interview with Billboard, linked below:
In 1998, NSYNC released their first album, titled *NSYNC. The album debuted at No. 82 on the Billboard 200, up until their summer performance on Disney Channel Live in Concert. After this concert, their album jumped up to No. 2 and sold 10 million copies in the United States.
They performed in front of the MGM Studios Mann Chinese Theater. They were asked about doing the show after the Backstreet Boys were forced to cancel because band member Brian Littrell needed to undergo heart surgery.
Discography
*NSYNC (1997)
No Strings Attached (2000)
Celebrity (2001)
Members
Filmography
Movies
NSYNC Bigger Than Live (2001)
Longshot (2001)
On the Line (2001)
TV Specials
NSYNC In Concert (1998); filmed at Disney's Hollywood Studios at Walt Disney World for Disney Channel in Concert.
Holidays In Concert (1998); performed songs from Home for Christmas as well as "God Must Have Spent A Little More Time On You" from their debut album.
NSYNC 'N Concert (1999); pay-per-view concert filmed in Florida during NSYNC's Ain't No Stoppin' Us Now Tour.
Walt Disney World Summer Jam Concert (1999); performed along with Britney Spears, Tyrese Gibson and 98 Degrees.
NSYNC: Live From Madison Square Garden (2000); a concert special presented by HBO during the No Strings Attached Tour.
Walt Disney World Twas The Night Before Christmas (2000); performed along with 98 Degrees, Monica, Jessica Simpson, Billy Gilman and many others.
NSYNC Ntimate Holiday Special (2000); a Christmas special on FOX where NSYNC sang songs from No Strings Attached plus "You Don't Have To Be Alone (On Christmas) from the soundtrack to the film How the Grinch Stole Christmas and "O Holy Night" from their album Home for Christmas.
NSYNC: The Road to Celebrity (2001); an MTV special from San Diego, California where NSYNC sang and previewed songs from their third album Celebrity. The special also included a countdown of the best NSYNC moments on MTV.
NSYNC: Live From Atlantis (2001); a Thanksgiving concert special on CBS filmed from Atlantis Paradise Island which aired before an airing of The Rugrats Movie & included duets with & a performance from special guest Tim McGraw.
Tours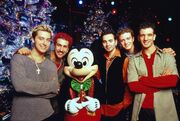 Headlining
For the Girl Tour (1997)
NSYNC in Concert (1998–2000)
No Strings Attached Tour (2000)
PopOdyssey Tour (2001)
Celebrity Tour (2002)
As supporting act
The Velvet Rope Tour (supporting Janet Jackson) (1998)
External link
Community content is available under
CC-BY-SA
unless otherwise noted.