Neckbeard is a character in Wander Over Yonder. He is voiced by Seth Morris.
Background
He first appeared in the episode The Sky Guy where he runs a magical item shop then Wander and Sylvia come in to buy a magic mirror to stop Lord Dominator but Wander is distracted by a tiny isolated planet Neckbeard forbids to let him touch. He then fights Wander for the planet and offers the mirror for the Bitties but Sylvia throws the planet in the mirror to another galaxy being free to see the universe. Then Neckbeard charges them for the mirror and the planet.
He will join Wander and a group of rebels to fight Lord Dominator in The End of the Galaxy.
v - e - d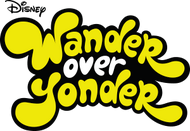 Organizations/Groups
Lord Hater's Army • Insurgent Generals • Wander and Sylvia • Bounty Hunters • Lord Dominator's Army • Galactic Villain Leaderboard • Emperor Awesome's Army
Locations
Lord Hater's Spaceship • Binglebopolopolis • Doomstone • Baaaaa-halla • Phunulon • Ballzeria • Buster • Doom Arena • Planet Ziziks • Flendar • Lord Dominatior's Spaceship • Arachnomorph Homeworld
Community content is available under
CC-BY-SA
unless otherwise noted.