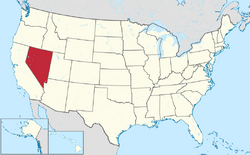 Nevada is a state in the western, mountain west, and southwestern regions of the United States. Nevada is the 7th most extensive, the 35th most populous, and the 9th least densely populated of the 50 United States. Over two-thirds of Nevada's people live in one single county, Clark County, which contains the Las Vegas–Paradise metropolitan area, where the state's three largest incorporated cities are located. Nevada's capital is Carson City.
Nevada is largely desert and semiarid, with much of it located within the Great Basin. Areas south of the Great Basin are located within the Mojave Desert, while Lake Tahoe and the Sierra Nevada mountains lie on the western edge. Approximately 86% of the state's land is owned by the U.S. federal government under various jurisdictions, both civilian and military.
The name Nevada is derived from the nearby Sierra Nevada mountains, which means "snow-capped mountain range" in Spanish. The land comprising the modern state was inhabited by Native Americans of the Paiute, Shoshone, and Washoe tribes prior to European contact. It was subsequently claimed by Spain as a part of Alta, California, until the Mexican War of Independence brought it under Mexican control.
The United States gained the territory in 1848 following its victory in the Mexican-American War and the area was eventually incorporated as part of Utah Territory in 1850. The discovery of silver at the Comstock Lode in 1859 led to a population boom that was an impetus to the creation of Nevada Territory out of western Utah Territory in 1861. Nevada became the 36th state on October 31, 1864.
Films
Television Shows
Cities and Locations
Las Vegas
North Las Vegas
Area 51
Henderson
Reno
Carson City
Lake Tahoe
Ely
Elko
Laughlin
Mesquite
Jean
Primm
Moapa
Gardnerville
Actors/Actresses and Crew born in Nevada
Gallery