Miss Piggy
sings
"Never Before, Never Again"
in
The Muppet Movie
. After winning the
Miss Bogen County Beauty Pageant
, she notices
Kermit the Frog
in the crowd, and begins to fantasize about life with him.
Originally, this song was meant to be sung by Johnny Mathis during the fantasy montage, but after he recorded it, Jim Henson decided it would be funnier if Miss Piggy sang it herself.
Johnny Mathis did eventually sing it in the 1979 special The Muppets Go Hollywood, and Miss Piggy planned on singing it in episode 418 of The Muppet Show with Rowlf on the piano, but she sabotaged the performance to sing with Christopher Reeve. The extended version of The Muppet Movie shown in the UK featured a different instrumental track from the original version.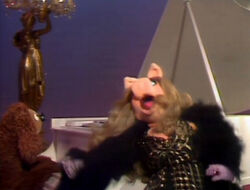 Lyrics
Never before have two souls joined so freely,
And so fast.
For me this is the first time,
And the last.
Is this an angel's wish for men?
Never before and never again.

And where to find the words to sing it's worth,
This love was bound for heaven, not for earth.
This love was meant to light the stars,
But when we touched, we made it ours.

And could they take it back?
Oh, no, they wouldn't dare!
Why should they take it back,
When there's enough to share with all the world,
And fill the heavens above,
With left-over love?

Never before, a love that just keeps growing on and on,
To fill each lover's heart and light the dawn.
Is this an angel's wish for men?
Never before and never again.
Never before and never again.
Releases
Audio
Video
Publications