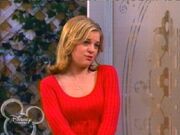 Nicki Peterson is a character on That's So Raven. She was a student at Bayside High School and was known for keeping a posse of "hairspray girls". Her only appearance was in "The Parties". She is a terrible friend and hates pineapples, pizza, and makeup. She is really annoying.
Season 1
Raven (Raven-Symoné) planned to throw a party, but was upset to hear that Nicki was throwing one herself at the same time. Raven believed her chances were done until a popular boy named Ricky Rodriguez agreed on going to Raven's party because he hated the Giants, a baseball team Nicki's father played for. In retaliation, Nicki sent an e-mail to the students that Raven moved her party one week ahead. The students arrived to Raven's house while she had a face mask on and her parents were wearing spandex. The party-goers thought Raven forgot her own party and wound up going to Nicki's. The next day, Raven discovered that Nicki had a large Cardboard cut out of her with a face mask on and is displaying it to humiliate her.
Raven wanted revenge and invited Nicki to her house on the night of the party. Raven messed up her hair, got her all sticky, covered her in feathers, and got her soaking wet. Just as Raven was about to cut the camera on with a live feed to Nicki's party, she decided to go against it so she wouldn't become Nicki.
Nicki changed, but didn't show mercy and insulted Raven's dress. In retaliation, Raven didn't tell Nicki that the flowers were loaded with poison ivy.
Trivia
Kirsten Storms, who portrayed Nicki, was also Zenon Kar in Zenon: Girl of the 21st Century and her best friend Nebula was played by Raven Symoné.
The reason why she sees Raven as a rival is because she thought that she was stylish and cool enough to become one of her hairspray girls, but she declined. Ever since then, she has been determined to make her life miserable.
She is the first mean-girl antagonist on the show.