Nightmare Ned is a short-lived animated television show which ran from April 19, 1997 to August 9, 1997 on ABC. Based on an eponymous video game of the same name developed by Creative Capers Entertainment and Window Painters Ltd.,[3] the show focuses on the life of Ned Needlemeyer (voiced by Courtland Mead), a 10-year-old boy that deals with his daily problems through dark, quirky nightmares. The show ran over budget, and was cancelled after only 12 episodes were produced.[4]
The show had Donovan Cook as its producer and director. Cook previously created 2 Stupid Dogs.[5]
Characters
Ned Needlemeyer: The show's protagonist. He is a 10-year-old boy who deals with his troubles through his nightmares. Voiced by Courtland Mead.
Ed Needlemeyer: Ned's father. He constantly tries to help Ned with his problems, but this does not occur often. Voiced by Brad Garrett.
Sarah Needlemeyer: Ned's mother. She is the only one in the family who tries to understand Ned's nightmares. Voiced by Victoria Jackson.
Amy Needlemeyer: Ned's baby sister.
Conrad and Vernon: Two bullies who constantly pick on Ned. They are named after Conrad Vernon, who served as one of the storyboard artists of the show. Conrad is voiced by Jeff Bennett, while Vernon is voiced by Rob Paulsen.
Ms. Bundt: Ned's teacher. Voiced by Tress MacNeille.
Joanie: A girl from Ned's school who has a crush on him. She has appeared on the episodes "Until Undeath Do Us Part" and briefly in "Girl Trouble".
Episode list
v - e -

d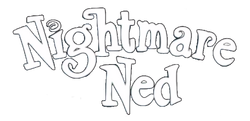 Characters
Ned Needlemeyer • Ed Needlemeyer • Mrs. Needlemeyer • Amy Needlemeyer • Ted Needlemeyer • Conrad and Vernon • Ms. Bundt • Joanie • Sally • Dr. Klutzchnik • Billy Blatfield • Shadow Creatures
References
External links