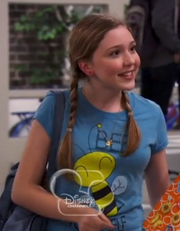 Ocean is a recurring character in Liv and Maddie. She is portrayed by Cozi Zuehlsdorff.
Personality
Ocean is a positive girl who likes Liv without knowing she was on a TV show. She usually refers to people by their full name. She seems to love learning and school. She doesn't have much friends, but also seems to care for the environment, and she is kind and really wants to help.
Biography
Background
Ocean lives on a sunflower farm with no TV, therefore she didn't know who Liv was.
History
In "Steal-a-Rooney", Maddie puts Ocean in Liv's direction to be her friend. In Kang-A-Rooney she and Liv scare Maddie.
Physical Appearance
Ocean is a girl with brown hair and brown eyes and usually wears her hair in braids.
Strengths and Weaknesses
Strength
To be added in.
Weaknesses
Ocean's weakness is making friends.                             
Relationships
Friends
Liv is Ocean's friend. They first met in Steal-A-Rooney after Maddie set up the friendship between Ocean and Liv. Since then, despite Liv being mad about Maddie helping her find friends, Liv and Ocean have become good friends. In "Kang-a-Rooney", Liv and Ocean were seen hanging out and talking about the Halloween dance. Ocean was determined to figure out who Liv was dressed up as at the dance, which was a kangaroo. In the end of the episode, Ocean did not figure it out and Liv told her.
Maddie was the one who introduced Ocean to Liv, hoping if they'd become friends. Maddie and Ocean most likely are friends because Maddie previously knew Ocean and Maddie wouldn't have introduced Liv to Ocean if Ocean weren't a nice person. Maddie also says that Ocean has a cool backpack (Steal-A-Rooney).
Trivia
Ocean lives on a farm (Steal-A-Rooney).
She takes German class with Liv (Steal-A-Rooney).
Ocean made her backpack with her old jeans (Steal-A-Rooney).
She does Spirit Club, archery lessons and has a blog (Steal-A-Rooney).
It is possible that Ocean is a vegetarian because she had a petition to have Meatless Mondays (Steal-A-Rooney).
Ocean is into upcycling, something that Dove Cameron (who plays Liv and Maddie Rooney) likes to do in real life (Steal-A-Rooney).
She does not own a television set (Steal-A-Rooney).
Her favorite part of the school year is watching the school turn to a Halloween carnival, and school (Kang-A-Rooney).
She once found a needle in a haystack (Kang-A-Rooney).
Appearances
Steal-A-Rooney
Kang-A-Rooney
Community content is available under
CC-BY-SA
unless otherwise noted.