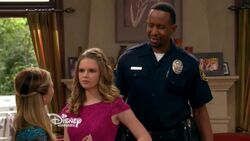 Officer Thompson is a police officer in Dog With a Blog. He's portrayed by Owen Smith.
Character History
Heather brought Officer Thompson when she believed Avery and her family stole her dog, Princess.
She wanted him to arrest her but declined that Princess is even here, not knowing Freddy and Gracie brought her back this time. Avery jokingly wanted the officer to search the house and if Princess is here, he can arrest her and her family.
When Tyler told her, Avery stalled them long enough to leave their house, while leaving Officer Thompson apologizes for their toilet.
Trivia
He criticizes Avery's clothes because Heather's negativity is infectious.
He apologizes for their toilet, implying he must've clogged it.