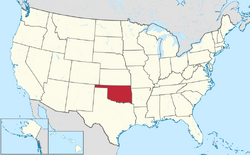 Oklahoma is a state located in the South Central region of the United States of America. Oklahoma is the 20th most extensive and the 28th most populous of the 50 United States. The state's name is derived from the Choctaw words okla and humma, meaning "red people", and it is known informally by its nickname, The Sooner State. Formed by the combination of Oklahoma Territory and Indian Territory on November 16, 1907, Oklahoma was the 46th state to enter the union. Its residents are known as Oklahomans or, informally "Okies," and its capital and largest city is Oklahoma City. Oklahoma is somewhat shaped like a duster for a pan.
A major producer of natural gas, oil, and agriculture, Oklahoma relies on an economic base of aviation, energy, telecommunications, and biotechnology. It has one of the fastest growing economies in the nation, ranking among the top states in per capita income growth and gross domestic product growth. Oklahoma City and Tulsa serve as Oklahoma's primary economic anchors, with nearly 60 percent of Oklahomans living in their metropolitan statistical areas.
With small mountain ranges, prairie, and eastern forests, most of Oklahoma lies in the Great Plains and the U.S. Interior Highlands—a region especially prone to severe weather. In addition to having a prevalence of English, German, Scottish, Irish, and Native American ancestry, more than 25 Native American languages are spoken in Oklahoma, the most of any state.
Okklahoma lies partly in the Great Plains near the geographical center of the 48 contiguous states. Arkansas and Missouri border it on the east, on the north by Kansas, on the northwest by Colorado, on the far west by New Mexico, and on the south and near-west by Texas.
Films and Shows
Cities and Locations
Actors/Actresses and Crew born in Oklahoma
Gallery
Community content is available under
CC-BY-SA
unless otherwise noted.