Not to be confused with Old Tom.
Old Tim is the name of the Ice Moose, the equivalent of Santa Claus within the world of PB&J Otter. It is believed by some that if, on Hoohaw Hoo Eve, you turn around three times, make Ice Moose antlers, go "honk honk honk" and then make a wish on the star of Hoohaw Hoo, then Old Tim and his Sugarplum Ferrets (the equivalents of Santa's reindeer) will grant it. In "The Ice Moose", PB&J and the others put on a pageant about Old Tim. Peanut, Butter, Jelly and most of their friends believe that Old Tim is real, though Flick, disappointed at not receiving the flashy presents he wanted, has stopped believing (if he ever truly believed at all). Flick's disbelief is tested when he meets a young mouse who wishes on the Ice Moose to fly. He receives a visit from Old Tim in a dream. Additionally, at the end of "The Ice Moose", Old Tim and his Sugarplum Ferrets are shown driving off in a sleighboat. Tim exclaims "Happy Hoohaw to all and to all a hawhoo!" in a nod to the final line from the classic Christmas poem "Twas the Night Before Christmas" (or "A Visit from Saint Nicholas"). Butter refers to him as "Moo-Moo".
Gallery
v - e - d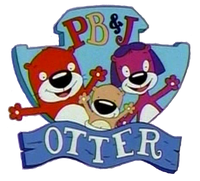 Episodes
Season One: "Bye, Bye PB&J" / "Babbleberry Day" • "The Treasure of Hoohaw Rock" / "A Sledding We Will Go" • "Bagpipe Blues" / "You Can't Come In" • "Go Away, Gorilla" / "Mama for a Day" • "Born to Chirp" / "Mega Melon" • "The Silent Treatment" / "Picture Perfect" • "Invitation to the Snooties" / "Too Hot for Fishsicles" • "Otter in the Water" / "All Popped Out" • "Nothin' But the Tooth" / "Special Delivery" • "Soap Box Derby Day" / "Howdy Hoohaw Day" • "Butter the Balloonatic" / "Gizmotronictron Raffle" • "Dare Duck" / "Otters of the Wild" • "Big Time Bass-Off Contest" / "The Sleeping Beagle"


Season Two: "Gotta Dance" / "Otter Pox" • "The Dollhouse" / "The Tell-Tale Candy Wrapper" • "Eye Spy" / "Happy Harmony" • "Strike Up the Band" / "World's Strongest Otter" • "Come Back, Little Monster" / "The Big Sweep" • "Butter Tags Along" / "Flick's Big Find" • "Tub O' Butter" / "El Dorado, Seat of Gold" • "Mayor Flick" / "The Greatest Sleepover Ever" • "Save Oaky Oak Tree" / "The Duck Who Cried Wolf" • "Poor Bubbles" / "Poodle Power" • "Forgive Me Not" / "These Shoes Are Made for Walking" • "Mama Peanut" / "Bye-Bye Bubbles" • "Practice Makes Perfect" / "Three's a Crowd" • "Lost and Found" / "Sherlock Otter" • "I'll Be Your Best Friend" / "Otterly Alone" • "Lemon-itis" / "Duckbird Alert" • "Follow Your Nose" • "The Ice Moose" • "Baby Butter's Bankie" / "Three Super Otters" • "Butter's First Check-Up" / "The Legend of Ponce de L'Otter" • "Gotcha!" / "The Mysterious Mirror" • "A Tree Grows in Hoohaw" / "Flick's Big Fakeout" • "This Little Light of Mine" / "Look Ma, No Hands" • "Chez Otter" / "Hooray for Peanut" • "The Great Water Race" / "Be Nice to Beavers" • "Kid Court" / "A Frog Named Measles"
Season Three: "No Hands, No Feet, No Wings" / "Let's Help Dad" • "The Funky Band" / "The Singin' Kid" • "The Johnny Pompalope Story" / "The Soapbox Boat Race" • "Aunt Nanner's Special Place" / "Munchy's Sinking Feeling" • "The Mystery Crate" / "It's a Bird, It's a Plane... It's an Elephant?" • "Whistling Up the Wrong Munchy" / "Billy the Duck" • "Opal's Magic Mud Party" / "Leave it to Munchy" • "Peanut Overboard" / "Come Back, Mama" • "Hoohaw is Where the Heart Is" / "Everything in its Place" • "On the Right Track" / "Itchy Situation" • "The Big Surprise" / "Bazania Mania" • "Sergeant Gravel to the Rescue" / "Sleepyhead" • "Watchbird Alert" / "Flick's Hat Trick" • "A Very Surprising Party" / "Easy Pickings" • "Collector's Edition" / "Trading Places" • "Munchy's No Big Deal" / "Bubbles' Beginnings" • "Soccer Surprise" / "Baking Blues" • "Thanks for the Giggle Melon" • "Hope Castle" • "Where Oh Where is Flick?" / "Win, Win, Winner" • "Easy as Pie" / "Pinky Pledge" • "Peanut Cries Uncle" / "Nanner Says "I Do."" • "Big Beaver Day" / "The Thing That Almost Ate Hoohaw" • "Ducking Out on Valentine's Day" / "Opal and the New Otter" • "Goodbye Lake Hoohaw" • "A Hoohaw Halloween"
Songs
Season One: Oodelay-O • Noodle Dance • Bye, Bye PB&J • Pickin' Babbleberries • Secret Hidden Treasure • Squeezin' and a-Wheezin' • Come on In • Close Your Eyes • Gorilla Go Away • Get Those Bubbles • Jumpy's Themes • Fiddlin' Funs • What You Need • Put on Your Best Face • Good Clean Fun • The Best Party Ever • Just Not Cool/Just Too Hot • Blowing Bubbles • Pop, Pop, Pop • Jump Down on the Truth • Hooray for Captain Peanut • Everybody Wants to Be a Soap Box Racer • Look at Me • On the Shores of Lake Hoohaw • Otters Three • Shipshape • Otters in the Wild • Catch a Bunch of Bass • We Hope You Enjoyed the Show


Season Two: Do the Waddle • P-O-O-D-L-E • Nearly Dancing • Opal's Lullaby • Hoohawan Birthday Song • Who Needs Toys? • Whammy Clammy • Glasses Boy • Down in Old Hoohaw • PB&J's Mother's Day Song • I'm So Strong • Come Back • Hoo-Haw, Hoo-Haw • Anything Can Happen • Finders Keepers, Losers Weepers • Scrub-a Dub-a • El Dorado • Everybody Wins • PB&J's Good Night Song • The Woof-Woof Song • The Goodnight-Woof-Woof Mashup • Save Our Tree • John Jacob Jingle-Otter Breath • Bubble-O Popple-O • Super Socks • We Are Noodle-Matic Puppets • Welcome to Our Toys • Welcome to Our Fun • It Works Both Ways • When I'm in My Shoes • We're Only Just Kids • Gotta Find Our Friend • Practice Makes Perfect • Sisters and Brothers • At the Fair • Sherlock Otters • Who's Your Buddy? • Let the Fun Begin! • We Want Something Different • Flying • An Oodely-Doodely Day • Follow Your Nose (song) • Hoohaw Hoo • The Bankie Song • Zip-Zap-Zoom! • Tippecanoe and Tickle Me Too • Treasure Magnifico • There Aren't Any Monsters • My Lucky Mirror • A Never-Ending Song • 'Til You're Better Again • Catching Lightning Bugs • Watching Lightning Bugs • Otter Cafe • Thanks to Peanut Otter • Slow 'n' Steady • Friends • We're On Our Own • Go Slow, You Know
Season Three: Halloween • Making Fun • One, Two, Three (Playing Together) • Givin' Dad a Hand • Friends and Neighbors • Biggest Little Thing • Talkin' Bout Hoohaw Lake • From Our Heart • The Ballad of Johnny Pompalope • Teamwork • When are We Gonna Get There? • Laugh it Out! • Worth the Wait (Patience) • Imaginings • Munchy is Whistling • Big, Bad Billy the Duck • Good Old Billy the Duck • A Helping Partnership • Speak Your Feelings Out • What Makes You Shine • The Come Back Mama Song • I Love My Life • The Clean-up Song (Everything in its Place) • Have Fun • The Great Outdoors • Gotta Keep Thinking, Gotta Keep Hoping • A Simple Hat • I Love a Good Book! (The Reading Song) • Oodelee, Oodelay (The Hoohawan Lullaby) • A Watchbird is Watching • My Official Soccer Team Hat • Sharing Babbleberries • I Might Just Find Something New Today • I Wish I Was Home • No Big Deal • Little Friend • Our New, Old Friend • Time for a Little TLC • We'll Laugh Together • Gonna Make the Giggle Melons Grow • Make it Last • Try, Try Again • All Together We Can Build It • Hope Will Carry Us Through • Nothing Lasts Forever • Before You Go • We Always Win! • All By Myself • We're Best Friends • Redolfo, Redolfo • Wedding in Hoohaw • PB&J's Wedding Dedication Song • Big Beaver Now • Don't Judge a Book By its Cover • You Just Can't Hide Your Heart • New Friends, Life's Sweet Surprise • Nothing to Do in Lake Hoohaw • It's Gonna Be Great • No Place We'd Rather Be
Community content is available under
CC-BY-SA
unless otherwise noted.