"On Your/My Own" is a song sung by Sofia and Vor in the Sofia the First series finale, "Forever Royal". This is the last song in the entire series.
Lyrics
Vor: You've always had a friend or two
Someone to lend a hand
When times are tough you look to them
To get out of a jam
But now, no matter where you turn
There's no one here but you
You're all alone, your greatest fear
Has finally come true

Sofia: Just because I'm by myself
Does not mean I will fold
I don't need help to battle you
I just need to be bold
Vor: Spare me your heroic speech
We both know you are wrong
Sofia: I'm not afraid to stand alone
Vor: My dear, you won't be standing long!

You're on your own, can't run away
You've met your match this very day
Sofia I'm on my own, but won't give in
I'll get back up to fight again
Vor: The good in you is fading fast
And when it's gone you're mine at last
Sofia: But like the sun, I'll rise once more!
Vor: Until night falls and wins the war!

(Instrumental bridge)

Sofia: There's a bond you'll never know
A power you can't feel
The love you give comes back to you
And makes you strong as steel
If I remember those I love
I keep them close to heart
My love will shine from deep within
And chase away the dark

Vor: My darkness can not be denied
Your little light won't last
I'll show you where real power lies
One final wicked blast
Sofia: You tried your worst to keep me down
But I'm still standing tall
Vor: How can this be happening?!
Sofia: Because, I stand for one and all!

I'm on my own, I found the light
To see me through the darkest night
Vor: You're just a girl! This cannot be!
Sofia: I'm more than that, but you can't see
I may be small and on my own
But I can feel how much I've grown
My will is strong, my heart is true
My love will be...
The end...!
OF...!!
YOU!!!
v - e - d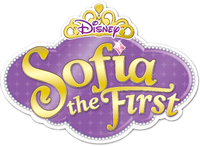 Characters
Princess Sofia • Queen Miranda • King Roland II • Prince James • Princess Amber • Princess Hildegard • Cedric the Sorcerer • Wormwood • Baileywick • Robin • Mia • Clover • Whatnaught • Goodwyn the Great • Winifred the Wise • Jade • Ruby Hanshaw • Princess Clio • Prince Zandar • Princess Jun • Prince Hugo • Minimus • Princess Vivian • Crackle • King Marcus and Queen Cecily • Trolls• Lucinda • Prince Jin • Magic Carpet • Jasper • Prince Khalid • Meg and Peg • Madam Ubetcha • Prince Desmond • Miss Nettle • Sir Gillium • Professor Popov • Helen Hanshaw • Oona • Queen Emmaline • Cora • Plank • Aunt Tilly • Wilbur the Wombeast • Sven • Emperor Quon • Empress Lin-Lin • Rex • Prince Axel • King Garrick • Electra • Vaughan and Vance • Marla • Sir Bartleby • Sir Maxwell • Sir Finnegan • Gwen • Chef Andre • Sofia the Worst • Lady Joy • Lord Gilbert • Wu-Chang • Jade Jaguar • Sir Dax • Boo • Princess Lani • Mamanu • Kamea and Halia • Praline • Freedo • Princess Zooey • Princess Astrid • Slickwell • Greylock the Grand • Princess Ivy • Dragons of Enchancia • Winter • Whiskers • Glacia the Ice Witch • Elliot, Amy, and Kurt • Tizzy • Master Erwin • Bryce Twigley • Button, Benngee, and Brody • Mossy • Carol of the Arrow • Jane • Princess Kari • Miss Elodie • Fluke • Slim • Shelly • Flip • Mantacorn • Onyx and Opal • Wendell Fidget • Mrs. Fidget • Saffron • Muck, Gunk, and Grime • Spruce • Ballerina • Mazzimo • Prince Roderick • Gavin • Kazeem • Sergeant Fizz • King Habib and Queen Farnaz • Chief Gnuckles • Flinch • Grotta • Elfonso • Elfred • Milo the Snake • King Henrik • Cordelia the Conjuror • Calista • Morgana • Crispy • Barley • Sassofras • Professor Zacharias Fleeber • Grand Mum • Gemina and Argus • Count Barnstorm • Sir Oliver • Sir Jaxon • Willawing • Kai • Princess Charlotte • Morris • Zinessa • King Philip and Queen Everly • Lily • Indigo • Marty and Maple • Mandy • Grimtrix • Wriggley, Pumpkin, and Chester • Skye • Piccolo • Baron Von Rocha • Professor Pecullian • Sea Monsters • Malachite and Fig • Omar • Prisma • Azurine • Orion • Vega • Chrysta • Sizzle • Cinder • Singe • Mare of the Mist • King Roland I • Roma • Giggling Goblin • Captain Quivers • Twitch • Vor • Nerissa


Elena of Avalor: Princess Elena • Princess Isabel • Francisco • Luisa • Shuriki • Alacazar • Zuzo • Mateo • Migs, Luna, and Skylar • Rafa • Chancellor Esteban • Armando • King Raul and Queen Lucia • Naomi Turner
Guest Characters: Flora, Fauna, and Merryweather • Cinderella • Jasmine • Magic Carpet • Belle • Ariel • Aurora • Snow White • Mulan • Rapunzel • Tiana • Merida • Olaf • Merlin • Archimedes