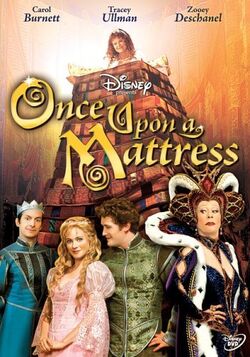 Once Upon A Mattress
is a TV adaptation of the late '50s Broadway musical -- a send-up of "The Princess and the Pea" that initially made a name out of its young star,
Carol Burnett
.
Kathleen Marshall, a Broadway vet, directed and choreographed this colorful production, offering superb arrangements (courtesy of veterans Michael Kosarin and Danny Troob) of Mary Rodgers and Marshall Louis Barer's original songs. The cast, which also includes Edward Hibbert and Michael Boatman, seems to be having a good time, and chances are that musical aficionados and families will as well with this entertaining holiday treat.
Disney's DVD release will be available on December 20th, just a couple of days after "Once Upon a Mattress" makes its debut on ABC (where it will air on 12/18 at 7pm). The 16:9 enhanced transfer and 5.1 Dolby Digital sound are perfect, while a couple of short Making Of featurettes touch upon Burnett's original involvement in the show's first production and Marshall's debut as director here. Recommended!
Plot
In this hilarious tweaking of the fairy tale, "The Princess and the Pea", Queen Aggravain has ruled that none may marry until her son, Prince Dauntless marries. However, she has managed to sabotage every princess that come along. When Sir Harry and Lady Larken learn that they are going to be parents, wed or not, he goes off to the swamps and brings back Princess Winnifred ("Fred" to her friends). The queen is horrified and immediately begins to scheme, but Winnifred, with some help from Sir Harry, the King, and the Jester, isn't going to be quite so easy to get rid of
Cast
Carol Burnett as Queen Aggravain
Brittany Gray as Ensemble
Tracey Ullman as Princess Winnifred
Denis O'Hare as Prince Dauntless
Zooey Deschanel as Lady Larken
Matthew Morrison as Sir Harry
Michael Boatman as The Jester
Tom Smothers as King Sextimus
Edward Hibbert as The Wizard
Michelle Harrison as Princess #12
Details
Rated: PG (Parental Guidance Suggested)
Studio: Buena Vista Home Entertainment/Disney
DVD Release Date: December 20, 2005
Run Time: 90 minutes
ASIN: B000ATQYVK
Gallery
Community content is available under
CC-BY-SA
unless otherwise noted.