"Even miracles take a little time."
This article features media from Walt Disney Company or its subsidiaries that has yet to be released.
To prevent speculation, please add reliable sources to the unreleased media. Any information that is not backed up by citations may be removed.
Thank you and have a magical day!

Onward is an upcoming American 3D computer-animated fantasy adventure film produced by Pixar and set to be released on March 6, 2020.[1] The film will be directed by Dan Scanlon and produced by Kori Rae and Pete Docter. It will be Pixar's 22nd feature film.
Synopsis
The film takes place in a universe where humans do not exist, therefore the world is instead populated by mythical creatures, including elves, gnomes, goblins, manticores, and unicorns. In the beginning, they used magic as their resource. But since it was rather difficult to master, the world found a simpler way to live and abandoned the art. In the present day, brothers Ian and Barley Lightfoot are bestowed a wizard staff from their deceased father on Ian's 16th birthday, where a spell can bring their father back to life for 24 hours. But when the brothers lose control over the staff when summoning their father, they only end up bringing the bottom part back of him. With the help of their mother, the fearless manticore restauranteur Corey, and half of their toe-tapping father, the two brothers try to find a little magic left in the world with the twenty-four hours.
Cast
Tom Holland as Ian Lightfoot, the protagonist of the movie. He is a rather awkward 16-year-old boy who's given a wizard staff to bring his father back to life.
Chris Pratt as Barley Lightfoot, the deuteragonist of the movie and the older brother of Ian. Unlike his brother, he is rowdy and loud and believes Ian can bring their father back to life.
Julia Louis-Dreyfus as Laurel Lightfoot, Ian and Barley's quirky and loving mother. She joins up with Corey the Manticore in saving her sons from a curse.
Octavia Spencer as Corey the Manticore, an owner of a restaurant. Ian and Barley go to her to begin their quest, and she supplies them with everything they need . . . except about a curse, causing her to join up with Laurel to rescue them.
Ali Wong as Gore, a Faun cop[2]
Lena Waithe as Specter, a Cyclops cop[3]
Mel Rodriguez as Colt Bronco, a Centaur cop who attempts to escort the brothers home, only to chase after them after Ian drives off with the van.[4]
John Ratzenberger as TBA
Development
Onward was first announced at the 2017 D23 Expo as "The Untitled Pixar Film That Takes You Into A Suburban Fantasy World" and was described as a story about two brothers seeking to reconnect with their late father set in a human-free world of elves, sprites, trolls, dragons and "anything else that would be painted on the side of a van in the 1970s", with unicorns being depicted as common pests and dragons are pets.
On December 12, 2018, it was announced that the film will be called "Onward" and will also be based on Dan's relationship with his brother. It was announced that Scanlon will co-wrote the screenplay with Zootopia and Moana animator, C.S. Anderson.[5]
Release
International premieres
Trivia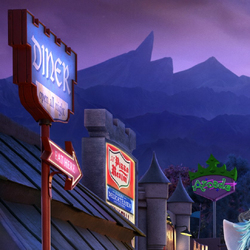 This will be the fifth Pixar film not to have humans in it, following A Bug's Life, and the Cars movies, and therefore making it the second one not from the Cars franchise.
This is the second time for Mychael Danna and Jeff Danna to compose the music for a Pixar film since The Good Dinosaur in 2015.
On the main poster, a sign can be seen reading "Pizza Realm", which is the Pizza Planet restaurant modified to keep in tone with the fantasy theme of the film.
Gallery
Videos
References
External links
v - e - d

Locations
New Mushroomton • Lightfoot House
Community content is available under
CC-BY-SA
unless otherwise noted.