Onward
 is an 
American
3D computer-animated fantasy adventure film produced by 
Pixar
that was released on
March 6
,
2020
.
[1]
The film is directed by
Dan Scanlon
and produced by
Kori Rae
 and
Pete Docter
. It is Pixar's 22nd feature film.
Synopsis
The film takes place in a universe where humans do not exist, therefore the world is instead populated by mythical creatures, including elves, gnomes, goblins, manticores, and unicorns. In the beginning, they used magic as their resource. But since it was rather difficult to master, the world found a simpler way to live and abandoned the art. In the present day, brothers Ian and Barley Lightfoot are bestowed a wizard staff from their deceased father on Ian's 16th birthday, where a spell can bring their father back to life for 24 hours. But when the brothers lose control over the staff when summoning their father, they only end up bringing the bottom part back of him. With the help of their mother, the fearless manticore restauranteur Corey, and half of their toe-tapping father, the two brothers try to find a little magic left in the world with the twenty-four hours.
Cast
Tom Holland as Ian Lightfoot, the protagonist of the film. A newly 16-year-old elf, he yearns for the father he lost back before he was born. Ian is sweet and determined with the best intentions, but his lack of confidence and nervous energy trips him up more often than not. Ian is convinced that if only he had his father's guidance, his life wouldn't be so complicated and messy.
Chris Pratt as Barley Lightfoot, the deuteragonist of the movie and the older brother of Ian. He's a big, burly and boisterous 19-year-old elf who loves magic and immerses himself in role-playing fantasy gameplay. He's a free spirit who may be slightly more passionate about the past than the present - and he'll fight to the death, so to speak, to preserve historical landmarks. But because he's so focused on the past, he struggles to find success in the present.
Julia Louis-Dreyfus as Laurel Lightfoot, Ian and Barley's quirky and loving mother. She is a hardworking, sardonic and devoted single mom who throws herself whole-heartedly into everything she does. Laurel lost her husband years ago, but her love and determination helped her overcome the hardship and make the most of her life with her much-loved sons, Ian and Barley.
Octavia Spencer as Corey the Manticore. She is at least a thousand years old, but that's just middle-aged for her species. Part lion, part bat, and part scorpion, the Manticore was once a fearless warrior and proprietor of a dark and mysterious tavern that served as a waystation for travelers embarking on epic quests. But as modern conveniences replaced magic and any need for quests, the Manticore tapped her practical side, transforming her tavern into a family-friendly restaurant with family-friendly games and fried foods aplenty. She may not realize it, but her adventurous spirit still lurks within.
Mel Rodriguez as Colt Bronco, a Centaur cop, and Laurel's boyfriend, much to the boy's disgust. He follows the rules and sincerely expects those around him to respect authority like he does. Half horse and half man, Colt is strong and commanding, but unaware of the destruction he typically leaves in his full-bodied wake. He treasures his relationship with Laurel, and earnestly wants to connect with her two sons, Ian and Barley.
Kyle Bornheimer as Wilden Lightfoot, the late father of Ian and Barley and the late husband of Laurel. A confident and determined man, Wilden discovered a creative, albeit fantastic way to reconnect with his sons long after his passing. An ancient staff and magical spell reveal Wilden's plan that allows Ian and Barley to conjure him for 24 hours. But magic, it turns out, is far from a perfect science and the boys are only able to bring back half of their dad, the bottom half, on first pass. That half joins them on a quest to retrieve a Phoenix Gem in an effort to fully conjure Wilden before time runs out.
Grey Griffin as Dewdrop, the leader of a sprite biker gang.
Tracey Ullman as Grecklin, the owner of a pawn shop.
Wilder Valderrama as Gaxton, an elf and a college friend of Wilden.
George Psarras as Officer Avel, an elf cop.
John Ratzenberger as Fennwick, a construction worker.
Development
Onward was first announced at the 2017 D23 Expo as "The Untitled Pixar Film That Takes You Into A Suburban Fantasy World" and was described as a story about two brothers seeking to reconnect with their late father set in a human-free world of elves, sprites, trolls, dragons and "anything else that would be painted on the side of a van in the 1970s", with unicorns being depicted as common pests and dragons are pets.
On December 12, 2018, it was announced that the film would be called Onward and would also be based on Dan's relationship with his brother. It was announced that Scanlon would co-wrote the screenplay with Zootopia and Moana animator, C.S. Anderson.[4]
Release
International premieres
Reception
On Rotten Tomatoes, the film holds an approval rating of 87% based on 270 reviews, with an average rating of 7.16/10. The website's critics consensus reads: "It may suffer in comparison to Pixar's classics, but Onward makes effective use of the studio's formula -- and stands on its own merits as a funny, heartwarming, dazzlingly animated adventure." On Metacritic, the film has a weighted average score of 62 out of 100, based on 44 critics, indicating "generally favorable reviews".
Trivia
This marks the first time the 2019 MPA logo would appear in the end credits for a feature-length Pixar film.
Excluding international releases, this is the first Pixar film to be released in March.

That makes it the third post-Disney purchase Pixar film not to be released in the summer since Coco in 2017.
In addition, it was to be the first major Disney film to be released on the same month of March, next to the live-action adaptation of Mulan, which would eventually get postponed, due to coronavirus concerns.

This is Pixar's first original film since Coco in 2017.
This is the first Pixar film without any participation from John Lasseter (following his departure at the end of 2018), with Pete Docter taking over producing duties.
This is the first Pixar movie not to feature the credits "Disney Presents" and "A Pixar Animation Studios Film" in the opening.
This is the third time that Pixar releases two major films (both Onward and Soul) in the same year, after 2015's Inside Out and The Good Dinosaur, and 2017's Cars 3 and Coco.
Both Chris Pratt and Tom Holland have roles in the Marvel Cinematic Universe: Pratt played the role of Star-Lord and Holland performed Spider-Man.
This marks the second Pixar film to feature Julia Louis-Dreyfus in a voice role, after previously voicing Princess Atta in A Bug's Life in 1998.
This is Octavia Spencer's second role for a Disney film after Zootopia, where she previously voiced Mrs. Otterton.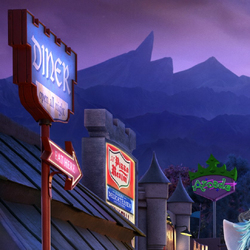 This is the fifth Pixar film not to have humans in it, following A Bug's Life, and the Cars movies, and therefore making it the second one not from the Cars franchise.
This is the second time for Mychael Danna and Jeff Danna to compose the music for a Pixar film since The Good Dinosaur in 2015.
On the main poster, a sign can be seen reading "Pizza Realm", which is the Pizza Planet restaurant modified to keep in tone with the fantasy theme of the film.
This is the third Pixar film to accompanied by a non-Pixar short film.
This is the second Pixar film to feature a non-Pixar short, in this case a Simpsons short, the first being Coco, featuring Olaf's Frozen Adventure.
According to the producer, Kori Rae, there are no talks of a sequel to the film ever happening.
This is the first Disney (and Pixar) film to have a digital release just two weeks after its theatrical release, due to coronavirus concerns.

In addition, it is also the first Disney (and Pixar) film to stream on Disney+ just one month after its theatrical release (and also only two weeks after the digital download release), due to coronavirus concerns.
Gallery
Videos
References
External links
Community content is available under
CC-BY-SA
unless otherwise noted.