"I think most of all what I want is Disneyland to be a happy place...where parents and children can have fun, together."
―Walt Disney, as inscribed on the plaque directly below the statue.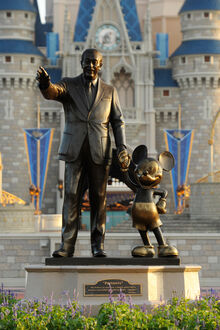 "Partners" is a statue created by Disney Imagineer and animator Blaine Gibson for the Disneyland Resort in Anaheim, California. The statue is of Walt Disney holding hands with Mickey Mouse in that they were "partners" that brought the dream of Disneyland to life.
Since its unveiling on Disneyland's Main Street in 1993, it has been replicated in other Disney parks, studios, and merchandising. The statue stands 6' 5" tall, while in reality, Walt Disney was actually 5' 10" tall. The dedication ceremony for the statue happened November 18, 1993 on Mickey Mouse's birthday 65 years after Steamboat Willie premiered.
The full sized replications of the statue, in order of installation include:
Trivia
In the original maquette made for the statue, Mickey was to be portrayed holding an ice cream cone. However, this was rejected as being interpreted as Walt taking his kid through the park.[1]
In Epic Mickey, there is a statue in Wasteland similar to "Partners", but Mickey is replaced by Oswald the Lucky Rabbit holding Walt's hand.
Gallery
See also
References
Community content is available under
CC-BY-SA
unless otherwise noted.