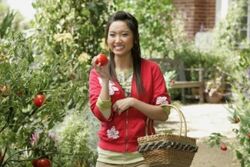 Pass the Plate is a multicultural series produced by Saskia in ten countries in association with Disney Channel. Hosted by The Suite Life on Deck's Brenda Song, the series includes various other Disney Channel performers from all around the world.
Summary
Rotating on-air each day, Pass the Plate "aims to inspire kids and preteens to lead a healthier lifestyle by sharing cultural and historical facts about food and cooking, while giving emphasis to kids assisting in the preparation of their own meal." Each of the ten segments focuses on the exposition, preparation and health benefits of one food item – mangoes, rice, fish, tomatoes, bananas, grains, vegetables, fruits and spinach - and takes viewers across the globe on a tour of how these foods are enjoyed by kids and families in each country.
Production
Culinary educator David Glickman is a consultant to the Pass the Plate series.
"We want our programming to reflect and recognize that everyone shares a responsibility to encourage kids and families to adopt healthy lifestyles. Our ongoing healthy kids initiatives...and especially Pass the Plate...represent our global team's effort to both inform and empower our viewers, showing them how kids just like them around the world enjoy and benefit from healthy foods," Disney Channel's Worldwide President Rich Ross said in a statement.
Cast
Main
International
Disney Channel Australia
Alicia Banit
Deniz Akdenzi
Jack Pearson
Disney's Dragon Club in China
Disney Channel India
Sonia Malhotra
Sunny Malhotra
Disney Channel Italy
Disney Channel Japan
Disney Channel Argentina
Daniel Martins
Federico Di Iorio
Robson Nunes dos Santos
Disney Channel Mexico
David Holguin Garcia
Paulina Holguin Garcia
Disney Channel Spain
Disney Channel UK
Brad Kavanagh
Gregg Sulkin
Sydney White
Disney Channel Vietnam
Episodes
Episode 1: Rice
Episode 2: Tomato
Episode 3: Spinach
Episode 4: Fish
Episode 5: Banana
Episode 6: Mango
Episode 7: Fish 2
Episode 8: Vegetables
Episode 9: Grains
Episode 10: Fruits
Worldwide shows
UK
The show aired on Disney Channel UK in November 2011. It will be hosted by Gregg Sulkin, Brad Kavanagh, Sydney White and Amy Wren. It will visit the world to find out about what they eat, like China for noodles, or India for curry. Also there will be tips on healthy eating.
Merchandise
Disney Consumer Products in the United Kingdom announced a deal with Tesco in 2007 to launch a line of branded food products featuring Disney characters. All the items would conform to nutritional guidelines and limits.
External links
| | |
| --- | --- |
| | This page uses content from the English Wikipedia. The article or pieces of the original article was at Pass the Plate. The list of authors can be seen in the page history. As with Disney Wiki, the text of Wikipedia is available under the GNU Free Documentation License. |
Community content is available under
CC-BY-SA
unless otherwise noted.