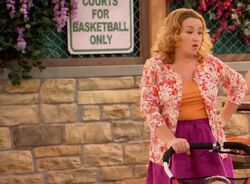 Paula is a minor character and antagonist in Dog With a Blog. She is portrayed by Allison Bills.
History
Not much is known about but she is a mother.
At the park, when Bennett and Ellen are teaching Chloe to drive a toy car, they accidentally bumped with her baby in his carriage. She yelled at Chloe but Bennett and Ellen said don't yell her and she's their moment, so she thought it was a good idea to yell at parents instead of her.
Appearances
Season One
Trivia