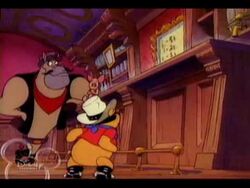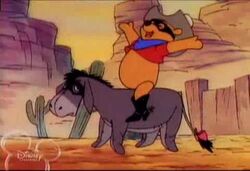 "Paw and Order" is the twelfth episode of The New Adventures of Winnie the Pooh. It first aired on April 3, 1988.
Plot
The episode starts with everyone building a stage in the Hundred Acre Wood. Offscreen, Piglet asks what's going on and Pooh tells him, "Don't worry, Piglet. You'll find out." Later that day, everyone is in their seats as Christopher Robin announces their play - The Legend of Sheriff Piglet. As Roo opens the curtains, Owl and Gopher sing the opening song about the hero of the play.
In the next scene, we see Pooh, Piglet, Tigger, Rabbit and Eeyore traveling through the hot dessert on their wagon until they reach a town where the townsfolk (who are all Prairie Dogs) are vacating the premise because a gang of Horse Thieves is on their way. Piglet suggests that the town needs a sheriff, at which point the town's sheriff gives Piglet his badge and promotes him to the job. The Horse Thieves arrive and their leader, Nasty Jack, tells Pooh and his friends that since Sheriffs and Horse Thieves don't get along, he plans to trounce Piglet (which, as he shows them, is nothing like bouncing). When Pooh suggests that Nasty Jack would be "satisfied with a hug instead", Nasty Jack just kicks their wagon into the sheriff's office. Tigger tells the group that they should stand and fight against Nasty Jack, but Owl and Gopher interrupt the conversation and tell them (in song) that they have no chance standing up against him.
Rabbit panics and runs out of the office, only to be caught by Nasty Jack in the nearby tavern. He becomes the bartender and serves the Horse Thieves root beers and banana splits with carrots on top (which disgusts Jack). Outside the tavern, Pooh, Piglet, Tigger, and Eeyore plan a rescue. Tigger comes in with a lasso and threatens to tie up Nasty Jack if he doesn't let Rabbit go. Pooh and Eeyore go in the backdoor, but are put into barrels by the Horse Thieves. Tigger tries to do his lasso trick after seeing Pooh and Eeyore have failed, but gets tangled up and is used as a yo-yo by Jack while Piglet and Pooh help Eeyore get out of his barrel. Nasty Jack then kidnaps Piglet.
Pooh and Eeyore come back into the Tavern as "The Masked Bear and his Faithful Steed" and battle Jack with ice cream. As Pooh ran out of his ammo, Nasty Jack accidentally shoots the piano, which hits him into the water tub outside the tavern. As Pooh and Eeyore ride off into the sunset, Nasty Jack swears revenge.
Later, Pooh and his friends work on "cleaning up this town" by sweeping the streets. Nasty Jack appears disguised as a delivery person, bringing a telegram for the Masked Bear. Pooh tells him that the Masked Bear isn't here, but he and the others would give him the message. Jack reads the message, which only says a loud "Help!" This frightens Piglet so much that he rushes to the jail cell to hide. While Rabbit and Tigger try to get Piglet out of the Jail cell, Pooh and Eeyore go off to become the Masked Bear and his Faithful Steed again, only to be captured by Nasty Jack.
Piglet then receives a letter from Nasty Jack, and since Tigger and Rabbit can't read it, Christopher Robin appears and reads it for them. It says that Nasty Jack is challenging Piglet to a showdown at sunset, and the Masked Bear and his Faithful Steed cannot help him due to being captured. Piglet doesn't want to do it, but for the sake of the Townspeople and with the encouragement of Rabbit and Tigger, he decides to face Nasty Jack once and for all.
As Piglet tries to stall Jack so Pooh and Eeyore can come to the rescue, Owl and Gopher are in the mines singing to Pooh and Eeyore, who are tied up in a mine wagon. After they ask for help, Gopher lets go of the mine wagon and Pooh and Eeyore are rushed to the rescue, but when they get to Town, they miss Nasty Jack and crash into the sheriff's office, which Tigger states wasn't in the script. Piglet tells Jack about the importance of being the sheriff, but before Jack can make good on his threat to trounce Piglet, Piglet's badge loosens off of him. Jack complain that he can't trounce Piglet anymore since he's no longer a sheriff. Piglet then tells Jack that he can be sheriff now, much to Jack's delight, as he has always wanted to be a sheriff himself. Thus, Jack becomes the town's new sheriff , gives up his old ways and scares off his former minions. Later, Piglet is rewarded a metal by the Mayor. Pooh and Eeyore ride off into the sunset again, and Owl and Gopher end the story with a song about themselves, but the curtains close on them.
Characters
Home video
US
Volume 4: There's No Camp Like Home
UK
Trivia
This episode was written by Tom Dunsmuir and directed by Richard Hunt.
The title is a pun on "law and order".
Piglet would be a sheriff again in "The Good, the Bad, and the Tigger".
v - e - d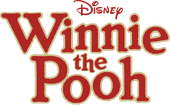 Songs
Movie Songs
Winnie the Pooh and the Honey Tree: "Winnie the Pooh" • "Up, Down, Touch the Ground" • "Rumbly in My Tumbly" • "Little Black Rain Cloud" • "Mind Over Matter"
Winnie the Pooh and the Blustery Day: "A Rather Blustery Day" • "The Wonderful Thing About Tiggers" • "Heffalumps and Woozles" • "Rain, Rain, Rain Came Down, Down, Down" • "Hip-Hip-Hooray!"
Boo to You Too! Winnie the Pooh: "I Am Not Afraid" • "I Wanna Scare Myself"
Pooh's Grand Adventure: The Search for Christopher Robin: "Forever & Ever" • "Adventure is a Wonderful Thing" • "If It Says So" • "Wherever You Are" • "Everything is Right"
The Many Songs of Winnie the Pooh: "It Really Was a Woozle, Yes it Was"
Sing a Song with Pooh Bear: "Kanga Roo Hop" • "You're the One and Only One" • "Harvest What You Grow" • "My Song"
Winnie the Pooh: A Valentine for You: "Girls are Like Boys" • "When the Love Bug Bites" • "Places in the Heart"
Winnie the Pooh: A Very Merry Pooh Year: "Jingle Bells" • "Snow Snows" • "Merry Pooh Year" • "Hunny, Not for Me" • "Auld Lang Syne"
The Tigger Movie: "Someone Like Me" • "Whoop-de-Dooper Bounce" • "Lull-a-Bee" • "Round My Family Tree" • "How to Be a Tigger" • "Your Heart Will Lead You Home"
Piglet's Big Movie: "If I Wasn't So Small" • "A Mother's Intuition" • "With a Few Good Friends" • "Sing-Ho (For the Life of a Bear)" • "The More It Snows (Tiddely-Pom)" • "The More I Look Inside" • "Comforting to Know"
Springtime With Roo: "We're Huntin' Eggs Today" • "Sniffley Sniff" • "Easter Day With You" • "The Way It Must Be Done"
Pooh's Heffalump Movie: "Little Mr. Roo" • "The Horribly Hazardous Heffalumps" • "The Name Game" • "Shoulder to Shoulder" • "In the Name of the Hundred Acre Wood/What Do You Do?"
Pooh's Heffalump Halloween Movie: "Trick 'R Treating With Our Friends" • "Brave Together"
Winnie the Pooh: "The Tummy Song" • "A Very Important Thing to Do" • "The Winner Song" • "The Backson Song" • "It's Gonna Be Great" • "Everything is Honey" • "Pooh's Finale"
Christopher Robin: "Goodbye, Farewell" • "Busy Doing Nothing" • "Christopher Robin"
Television Songs
Welcome to Pooh Corner: "Welcome to Pooh Corner Theme Song" • "Try a Little Something New" • "The Right Side" • "Yes, I Can" • "You're the Only You" • "I Hum to Myself" • "Please and Thank You" • "Responsible Persons" • "Welcome to Pooh Corner Ending Theme"
The New Adventures of Winnie the Pooh: "Pooh Bear" • "'Cause It's Make Believe" • "The Floating Song" • "Nothing's Too Good for a Friend" • "Under the Bed" • "I Don't Have A Name" • "King of the Beasties" • "The End" • "Pirates is What We'll Be" • "Tigger, the Private Ear is Here"
The Book of Pooh: "Everyone Knows He's Winnie the Pooh" • "Goodbye for Now" • "Your Best Wishes" • "On the Double" • "Who is Me" • "Think, Think, Think" • "What Piglets Are" • "I Watch for Signs" • "We're Making a Cake" • "If I Could Be Big" • "Isn't that Funny?" • "Find the X" • "Everyone Wants a Valentine" • "That's What We Do" • "Keep it Simple" • "Have You Got a Book For Me?" • "Give It a Try" • "On Your Way Back Home" • "The Birdbird Song" • "Nightmare Wranglers" • "Carry On" • "What's Your Name, River" • "Where Do Words Go?" • "Under a Spelling Bee's Spell" • "Adventure" • "Mental Altitude" • "I Want to Know Everything Now" • "Happy Tailiversary" • "Get Growin'" • "Tigger's Lullaby" • "Perfect Party" • "If We Were Talkin'" • "Someone New to Meet" • "My Hero" • "I Want To Be Scary" • "Broken Friendships" • "Do the Roo" • "Call Me Buck-a-Roo" • "At Chez Piglet" • "Nothing Ever Happens" • "Too Much Honey" • "Lost in a Book"
My Friends Tigger and Pooh: "A Few Simple Rules" • "Bouncin'" • "The Grass is Greenier" • "The Password Song" • "Underneath the Same Sky" • "One Big Happy Family" • "Think, Think, Think" • "The Question Song" • "Floating in a Cloud" • "Different Can Be Good" • "The Little Things You Do" • "There's a Party" • "No More Fun In the Snow" • "Butterflies" • "What Makes a Pony a Pony" • "When We Work Together" • "Christmas Comes Tomorrow" • "Time to Go (On a Trek Through the Snow)" • "Snowman Song"
Miscellaneous: "Luv-a-bye" • "Playtime Song" • "Learning Song" • "Friendship Song"

Community content is available under
CC-BY-SA
unless otherwise noted.