Penn Zero: Part-Time Hero is a Disney animated television series produced for Disney XD. It follows Penn Zero, a boy from the suburbs who inherits the coolest job ever – part-time hero and leader of a team of good guys who zap to other worlds to save the day. Jared Bush serves as executive producer and writer for the series and Andy Levine is the series' executive producer and director. The five-minute pilot aired on October 16, 2012.
The series aired its sneak peek episode on December 5, 2014.[2] with the show officially premiering sometime in February 2015 in Canada. On January 10, 2015, Sam Levine confirmed on his Twitter account that Penn Zero premiered on February 13, 2015 followed by a 14th, 15th and 16th premiere. He also said that an episode appeared on the Disney XD app on January 19 and another two on January 30, 2015.[3]
The series concluded its run on July 28, 2017.
Synopsis
In "Penn Zero: Part-Time Hero," Penn's destiny came knocking unexpectedly, but that doesn't stop him from jumping head first into his hero duties, while juggling his normal life in Middleburg. Every day after school, Penn teams up with his sidekick Sashi and wise man Boone to fight the evil part-time villain Rippen and save another world. Together, they will tackle everything from outer space and the Old West, to lands of enchantment and the ultimate challenge – suburbia.
Cast
Guest stars
Additional voices
Gallery
Trivia
The show was originally scheduled to air in the fall of 2014 before it was pushed back to January 2015, only to be moved up to December 2014.
The Wilhelm scream is used at some point in every episode of the series.
External links
References
v - e -

d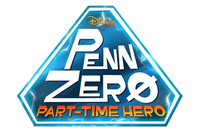 Media
Penn Zero: Part-Time Hero
Locations
Middleburg •

Middleburg Central High

• The Odyssey • Fish Stick on a Stick • North Pole • Knight World • Superhero World • Arabian World • Plush Toy World • Clown World • Dinosaur Cowboy World • Cereal World • Old English World • Giant Monster World • Zombie World • Space World • Ocean World • Color World • Musical Fairy Tale World • Caveman Spy World • Future Barbarian World • Ultrahyperball World • Demon World • Alien World • Galaxy World • Temple World • Dragon World • Gothic Mystery World • Plant World • Animal Barbarian World • Toy World • Outer Space Court World • Robot World • Pirate World • Fairymania World • Steampunk World • Ball World • Ghost World • Rock, Paper, Scissor World • Beast World • Anime World • Sitcom World • Nothingness • Most Dangerous World Imaginable • Least Dangerous World Imaginable
Objects
Multi-Universe Hologram Uplink • Multi-Universe Transprojector • Pigoilet • The QPC Unit • Vortex Tops • Specs