The Penn Zero Theme is the opening song for the Disney XD series, Penn Zero: Part-Time Hero.
Lyrics
Penn (speaking):
Wherever good is threatened,
Heroes rise to the challenge and always save the day!
...Except when they don't.
And that's when I go to work.

Penn (singing):
I zap into dimensions every day, it's my job.
To be a hero, save the world, and make things right.

Kung fu moles, rescue trolls, punch a zombie, score a goal!
I'm a robot! I'm a rabbit! I'm a knight!

Choir:
Stretching, swinging, spying, flying, flipping, monster-kicking!

Penn:
Boone and Sashi always sticking at my side!
No villain's gonna stop...

Choir:
Penn Zero: Part-Time Hero!

Penn Zero: Part-Time Hero!

Penn & Choir:
Penn Zero: Part-Time Hero!

Penn (speaking):
Penn Zer--aaugh!
Trivia
Many of the worlds that Penn visits appear throughout the theme song.
Gallery
v - e - d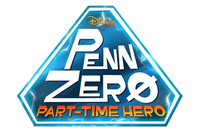 Songs
Penn Zero: Part-Time Hero (Opening Theme) • We're Breaking Out of Here for Christmas • Time to Kill • We Can Catch the Milkman • What is a Princess? • Pigoilet • Victory is Mine at Last • The Truth of It Is • Moonlight Bright • This is a Real Song • Boone Reads On • Race to the Top • Race to the Top (reprise) • You're a Karaoke King • High in the Sky • Breath In, Breath Out • Bad Weed • Today's The Day • My Name is Penn Zero • Save the Worlds • In the Splishy Splashy Sea • Come Aboard with Me • Training to Win • Wings of Destiny Song • Sometimes We Need a Friend • Build and Backup Now • The Time Table • Everybody Chillax • Why Won't You Turn Green • It's the Best Friend Song • It's the Best Friend Make Up Song • Grinkon's Song • Its Not Just Today
Locations
Middleburg • Middleburg Central High • The Odyssey • Fish Stick on a Stick • North Pole • Knight World • Superhero World • Arabian World • Plush Toy World • Clown World • Dinosaur Cowboy World • Cereal World • Old English World • Giant Monster World • Zombie World • Space World • Ocean World • Color World • Musical Fairy Tale World • Caveman Spy World • Future Barbarian World • Ultrahyperball World • Demon World • Alien World • Galaxy World • Temple World • Dragon World • Gothic Mystery World • Plant World • Animal Barbarian World • Toy World • Outer Space Court World • Robot World • Pirate World • Fairymania World • Steampunk World • Ball World • Ghost World • Rock, Paper, Scissor World • Beast World • Anime World • Sitcom World • Nothingness • Most Dangerous World Imaginable • Least Dangerous World Imaginable
Objects
Multi-Universe Hologram Uplink • Multi-Universe Transprojector • Pigoilet • The QPC Unit • Vortex Tops • Specs
Community content is available under
CC-BY-SA
unless otherwise noted.