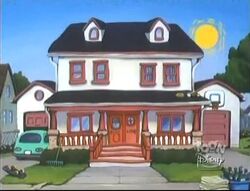 Info was provided
http://pepperann.wikia.com/wiki/Pepper_Ann%27s_House
Pepper Ann's house is commonly seen in episodes. The Living room is the most seen. The house is a duplex. Aunt Janie, Uncle JoJo, and Ned live in the other side.
The Living Room/Foyer
The Living room is the most seen area in the whole house, next to Pepper Ann's bedroom.
There is a television stand in the living room with a Clock, some VHS tapes, a VCR, and of course, a TV.
The Dining Area
The Dining room is a living room-dining room combination. Pepper Ann and her family can be seen eating here at multiple times throughout the series.
The Kitchen/Laundry Closet
There is a small kitchen in the back of the house with a door leading outside and a laundry closet to the right.
Upstairs
Upstairs are Lydia, Moose, and Pepper Ann's rooms. Pepper Ann and Moose's are next door to each other.
There is also a bathroom.
Pepper Ann's Room
Pepper Ann's room is blue and has A dresser, a nightstand, a bed of course, and lots of other things like the replica of Milo's hat seen in "The Tell-Tale Fuzzy".
Moose's Room
Moose's room is bright pink and has a bunk bed, a dresser, and lots of other things.
Lydia's Room
Lydia's room is white and has a full/queen sized bed with lamps on the headboard, apparently a Television since Grandma was watching Spanish Soap Operas in Lydia's room in "One Angry Woman".
Gallery
Community content is available under
CC-BY-SA
unless otherwise noted.