Disney's Phineas and Ferb: The Best LIVE Tour Ever! (referred to in advertising as Disney's Phineas and Ferb LIVE!) was a live stage show produced by Feld Entertainment under license from Disney which toured North America from August 2011 to May 2012. After a summer vacation of their own, the tour resumed on August 24, 2012, ending in Chattanooga, Tennessee on February 18, 2013.
The show premiered at the Lakeland Center in Lakeland, Florida on August 21, 2011. The 90-minute show featured live actors in costumes for the characters. Some are full body suits, including Phineas, Ferb, Buford, Heinz Doofenshmirtz, and Perry the Platypus. Others, including Candace, Jeremy, Isabella, and Baljeet, are wearing costumes that resemble the character's clothing and masks with the character's haircuts and large goggles for eyes. A few backup dancers and a henchman for Dr. Doofenshmirtz also appear. The show features one original song written for the production, while the rest are re-worked versions of the songs from the television show made to fit the characters singing them. Dr. Doofenshmirtz also sings a medley of Broadway hits, including One from A Chorus Line and The Impossible Dream from Man of La Mancha.
Production Information
From the official press release: [1]
Hit Disney Channel Series "Phineas and Ferb" Reaches New Heights, Inspires Stage Show, Disney's Phineas and Ferb: The Best LIVE Tour Ever!
Danville Tri-State Area Gang Comes to Life to Bring Ultimate Live Stage Show to More Than 80 U.S. Cities
VIENNA, Va., May 11, 2011 -- Phineas and Ferb are gonna do it all! Disney Channel's animated gem, the critically acclaimed "Phineas and Ferb," TV's #1 animated series among Tweens 9-14 for three years running, has reached a new pinnacle by inspiring an exciting live touring stage show which will play more than 80 hometowns across the country beginning in August.
Produced by Feld Entertainment, Disney's Phineas and Ferb: The Best LIVE Tour Ever!, brings Phineas, Ferb, Candace, Isabella, Baljeet, Buford, and friends to the stage as they make the most of the last day of summer by building an invention bigger, better, and more amazing than ever. Before anyone can wonder "Hey! Where's Perry?," the pet platypus dons his Agent P fedora, and hilarious hijinks unfold as he battles Dr. Doofenshmirtz to save the Danville Tri-state area and audiences everywhere from the evil scientist's most havoc-wreaking scheme to date.
"Disney Channel has created an extraordinarily popular TV series that offers humor for multiple generations and I am thrilled that Feld Entertainment is bringing Disney's 'Phineas and Ferb' to the stage for the very first time," said Producer Alana Feld. "The dynamic characters, witty humor, and inspired music from the television series set the perfect foundation for Disney's Phineas and Ferb: The Best LIVE Tour Ever! to create an unparalleled Phineas and Ferb experience for audiences."
"We are filled with a great sense of pride over this upcoming live tour and are especially thrilled with the achievements of the Feld creative team which has produced a smart, interesting, and funny stage show, that extends the characters, stories, and comedy that are at the heart of what we do every day," said "Phineas and Ferb" co-creators Dan Povenmire and Jeff "Swampy" Marsh.
Audiences will be whisked on a high-energy ride that is part action adventure and part rock concert, while they move it and shake it to a soundtrack of hit songs from the animated series, including "Gitchee Gitchee Goo", "S.I.M.P. (Squirrels In My Pants)", "Backyard Beach (song)", "Everything's Better with Perry", "Busted", "Today is Gonna Be a Great Day", and "Summer Belongs to You". Familiar songs serve as a main ingredient in the plot, advancing the story from scene to scene, while taking on a whole new feel when fused with fresh, original choreography and inventive special effects.
Tour dates
2011-12 Schedule
August 21, 2011- The Lakeland Center, Lakeland, FL
August 26, 2011- WesBanco Arena, Wheeling, WV
August 28, 2011- Municipal Auditorium, Wheeling, WV
September 2, 2011- Warner Theatre, Erie, PA
September 3, 2011- SeaGate Convention Centre, Toledo, OH
September 4, 2011- Wharton Center for the Performing Arts, East Lansing, MI
September 10, 2011- William D. Mullins Memorial Center, University of Massachusetts, Amherst, MA
September 16, 2011- Valley View Casino Center, San Diego, CA
September 17, 2011- The Granada Theatre, Santa Barbara, CA
September 18, 2011- William Saroyan Theatre at Fresno Convention Center, Fresno, CA
September 23, 2011- Fred Kavli Theatre at Thousand Oaks Civic Arts Plaza, Thousand Oaks, CA
September 24–25, 2011- Terrace Theater, Long Beach, CA
September 30-October 2, 2011- Orleans Arena, Las Vegas, NV
October 7, 2011- Redding Convention Center, Redding, CA
October 8, 2011- Stockton Arena, Stockton, CA
October 9, 2011- Lawlor Events Center, Reno, NV
October 14–15, 2011- US Airways Center, Phoenix, AZ
October 21, 2011- i wireless Center, Moline, IL
October 22, 2011- Wells Fargo Arena, Des Moines, IA
October 23, 2011- Xcel Energy Center, St. Paul, MN
October 28, 2011- Expo Center at the Memorial Coliseum, Fort Wayne, IN
October 29, 2011- Covelli Centre, Youngstown, OH
October 30, 2011- Wolstein Center, Cleveland (OH) State University
November 4, 2011- Palace Theatre, Columbus, OH
November 5, 2011- Palace of Auburn Hills, Auburn Hills, MI
November 6, 2011- Bankers Life Fieldhouse, Indianapolis, IN
November 12, 2011- Cambria County War Memorial Arena, Johnstown, PA
November 13, 2011- Crouse-Hinds at Oncenter Complex, Syracuse, NY
November 18, 2011- The Hanover Theatre for the Performing Arts, Worcester, MA
November 20, 2011- Sun National Bank Center, Trenton, NJ
November 25, 2011- State Theatre, New Brunswick, NJ
November 26, 2011- Tsongas Center at UMass Lowell, Lowell, MA
November 27, 2011- Performing Arts Center, Providence, RI
December 2, 2011- Hershey Theatre, Hershey, PA
December 3, 2011- Sovereign Center, Reading, PA
December 4, 2011- Mohegan Sun Arena at Casey Plaza, Wilkes-Barre, PA
December 9–10, 2011- Lyric Opera House, Baltimore, MD
December 11, 2011- Constant Convocation Center, Old Dominion University, Norfolk, VA
November 19, 2011- XL Center, Hartford, CT
December 16, 2011- Lakefront Arena, University of New Orleans, New Orleans, LA
December 18, 2011- Philips Arena, Atlanta, GA
December 20–21, 2011- Theatre for the Performing Arts, Baton Rouge, LA
December 23, 2011- Frank Erwin Center, University of Texas, Austin, TX
December 28, 2011- Laredo Energy Arena, Laredo, TX
December 29, 2011- State Farm Arena, Hidalgo, TX
December 30, 2011- Toyota Center, Houston, TX
December 31, 2011- Selena Auditorium at the American Bank Center, Corpus Christi, TX
January 6, 2012- Paramount Theatre, Oakland, CA
January 7–8, 2012- San Jose Civic Auditorium, San Jose, CA
January 13, 2012- Rabobank Theater, Bakersfield, CA
January 14–15, 2012- Citizens Business Bank Arena, Ontario, CA
January 20, 2012- Memorial Coliseum, Portland, OR
January 21, 2012- ShoWare Center, Kent, WA
January 22, 2012- Comcast Arena at Everett, Everett, WA
January 27–29, 2012- Pacific Coliseum, PNE Complex, Vancouver, BC
February 3–4, 2012- Wells Fargo Theatre, Denver, CO
February 5, 2012- Pikes Peak Center, Colorado Springs, CO
February 9–10, 2012- Chaifetz Arena, St. Louis (MO) University
February 11, 2012- Independence Events Center, Independence, MO
February 17–18, 2012- Knoxville Civic Auditorium, Knoxville, TN
February 19, 2012- University of Tennessee-Chattanooga (TN) McKenzie Arena
February 24, 2012- Colonial Life Arena, University of South Carolina, Columbia, SC
February 25, 2012- Roanoke Performing Arts Theatre, Roanoke, VA
February 26, 2012- Patriot Center, George Mason University, Fairfax, VA
March 2, 2012- BankAtlantic Center, Sunrise, FL
March 3, 2012- Maxwell C. King Center for the Performing Arts, Melbourne, FL
March 4, 2012- Germain Arena, Fort Myers, FL
March 8–9, 2012- Tampa Bay Times Forum, Tampa, FL
March 10, 2012- Moran Theatre, Jacksonville, FL
March 11, 2012- University of Central Florida Arena, Orlando, FL
March 16, 2012- Von Braun Center Concert Hall, Huntsville, AL
March 17, 2012- BJCC Concert Hall, Birmingham, AL
March 18, 2012- Mississippi Coliseum, Jackson, MS
March 23, 2012- North Charleston Performing Arts Center, North Charleston, SC
March 24, 2012- Florence Civic Center, Florence, SC
March 25, 2012- BI-LO Center, Greenville, SC
March 30, 2012- War Memorial Auditorium, Greensboro (NC) Coliseum Complex
March 31, 2012- Durham Performing Arts Center, Durham, NC
April 1, 2012- Time Warner Cable Arena, Charlotte, NC
April 5–10, 2012- The Theater at Madison Square Garden, New York City, NY
April 12–15, 2012- Westchester County Center, White Plains, NY
April 17–18, 2012- St. George Theatre, Staten Island, NY
April 19–20, 2012- Nassau Veterans Memorial Coliseum, Uniondale, NY
April 21–22, 2012- IZOD Center, East Rutherford, NJ
May 1–13, 2012- Arena Ciudad de México, Mexico City, DF, Mexico (Performances, titled Disney's Phineas y Ferb: El mejor show ¡EN VIVO!, featured a soundtrack with the Latin American voice cast en español.)
2012-13 Schedule
Some of the cities on the 2011-12 tour will be revisited in 2012-13, with the schedule having the following additions for this leg.
August 31, 2012 - Canton (OH) Memorial Civic Center
September 7, 2012 - Lila Cockerell Theatre, San Antonio, TX
September 9, 2012 - Foster Communications Coliseum, San Angelo, TX
September 14–16, 2012 - Abraham Chavez Theatre, El Paso, TX
September 21, 2012 - Community Center Theatre, Sacramento, CA
October 18, 2012 - Pershing Center, Lincoln, NE
November 3, 2012 - The Theatre at Dow Event Center, Saginaw, MI
November 9, 2012 - Broome County Veterans' Memorial Arena, Binghamton, NY
November 10, 2012 - Shea's Performing Arts Center, Buffalo, NY
December 6, 2012 - Credit Union Centre, Regina, SK, CAN
December 7–8, 2012 - Brandt Centre, Saskatoon, SK, CAN
December 9, 2012 - MTS Centre, Winnipeg, MB, CAN
December 10, 2012 - Ralph Engelstad Arena, University of North Dakota, Grand Forks, ND
December 15, 2012 - General Motors Centre, Oshawa, ON, CAN
December 16–17, 2012 - Scotiabank Place, Ottawa, ON, CAN
December 20–26, 2012 - Theatre St-Denis Number 1, Montreal, PQ, Canada (Three shows - 12/21 at 6 PM, 12/23 at 6 PM and Christmas Day at 2:30 PM - were performed with the English soundtrack, the remainder of the shows were done with a soundtrack by the French-Canadian voice cast, under the title of Phineas et Ferb: Le meillurs jamis VIVE!)
December 28, 2012 - Windsor Family Credit Union Centre, Windsor, ON, CAN
December 29, 2012 - Copps Coliseum, Hamilton, ON, CAN
January 4, 2013 - Raffi Armenian Theatre, Centre in the Square, Kitchener, ON, CAN
January 5, 2013 - K-Rock Centre, Kingston, ON, CAN
January 6, 2013 - John Labatt Centre, London, ON, CAN
January 11–13, 2013 - Rogers Centre, Toronto, ON, CAN

January 19, 2013 - San Jose (CA) Civic Auditorium

January 20, 2012 - Paramount Theatre, Oakland, CA

January 24, 2013 - The Rose Garden's Thearte of the Clouds, Portland, OR (new site)

January 26, 2013 - ShoWare Arena, Kent, WA

January 27, 2013 - Comcast Arena at Everett (WA)

January 31, 2013 - Budweiser Events Center, Loveland, CO
February 1-2, 2013 - Bellco Theatre, Colorado Convention Center, Denver, CO

February 3, 2013 - Pikes Peak Center, Colorado Springs, CO

February 8, 2013 - Independence (MO) Events Center

February 9-10, 2013 - Chaifetz Arena, St. Louis (MO) University

February 15-16, 2013 - Knoxville (TN) Civic Auditorium

February 17, 2013 - University of Tennessee Chatanooga- (TN) McKenzie Arena
Plot
Act I
The show begins with the curtain opening, and an animated Phineas and Ferb are shown on a big screen, sitting in their backyard. Phineas is sad that it is the last day of summer, and says that they need a new invention to make it the best day ever. The two both notice the audience in front of them, and run into the screen. Ferb notices a slide that brings them to the stage. Both slide down, and a live action Phineas and Ferb in costume appear. They both decide to put on the best live show, and sing the exclusive song, We're Gonna Put On A Show!. The rest of the cast (Isabella, three Fireside Girls - Milly, Gretchen. and Katie, Buford, Baljeet, Candace, and Jeremy) join them on stage. Candace tries to bust Phineas and Ferb, but ignores the urge due to Jeremy being there. Phineas then asks "Where's Perry?". Meanwhile, Agent P appears, beats up some generic bad guys while the gang sings a medley of, Everything's Better with Perry and Perry the Platypus. Then Perry gets his mission from an animated Major Monogram to stop Dr. Doofenshmirtz and his Audience-Controllinator. It's revealed that Doofenshmirtz has always wanted to perform in a Broadway musical, but cannot due to his lack of talent. With his Audience-Controllinator, though, he will be able to force to people to admire him. He then lunches into a medley of Broadway show tunes. The canes used by Doof and his backup dancers eventually become the bars for a trap for Agent P.
Phineas, Ferb, and the rest of the crew then start brainstorming about what to do for their show. Ferb suggests a beach, which everyone agrees to, because a beach will help them think of something to do their show about. This leads into the song Backyard Beach. Then, they end up having so many ideas, that Phineas and Ferb decide to make an idea mash up machine, which will combine their ideas. When the machine breaks down, and because everyone is sitting down for a long time so they decide to give the audience a break for intermission.
Act II
After intermission, some small kids are brought on stage from the audience to test the audience-controllinator. Dr. Doofenchmirtz commands them to dance, and they do to the song Gitchee Gitchee Goo. However, the audience-controllinator isn't working on the whole audience, and Doofenshmirtz says that it needs a few adjustments.Then, Phineas and Ferb being mashing up ideas. First, Isabella's marshmallow roasting idea and Buford's monster truck idea are combined to make a monster truck with marshmallows for tires, but not before Phineas & Ferb appear in marshmallow-tired go-carts. The song Truck Drivin' Girl is repurposed as Truck Drivin' Boy. They then add in Baljeet's Bollywood idea to launch into another musical number. Phineas' miniature golf idea and Jeremy's desire for disco are combined, and the song Disco Miniature Golfing King (originally Disco Miniature Golfing Queen in the television series) plays. Giant beach balls that look like golf balls are launched into the audience. Candace then wants her idea presented by herself, which is to try on pants. She finally finds the perfect pair, bringing on the songs Fabulous. Now satisfied, she allows her idea to be combined with the Fireside Girls' idea about cute furry animals, resulting in the song S.I.M.P. (Squirrels In My Pants). Before Phineas and Ferb can then combine everybody's ideas, the machine breaks, and they need a new handle for it.
Back with Doofenshmirtz and Perry, the evil doctor has made final adjustments. However, Perry escapes from his trap, and the final battle between him and Dr. Doofenshmirtz ensues (parodying The Matrix and Star Wars at some points). Perry eventually manages to win the fight and defeat Doofenshmirtz. Phineas and Ferb come across the audience-controllinator, and discover that a part of it is just the right size to fix their machine. Upon discovering the audience controllinator's true purpose, by zapping Candace into becoming a chicken, they decide to control the sun so that it never goes down and summer can truly last forever. The cast launch into Today is Gonna Be a Great Day, with Summer Belongs to You! and Follow the Sun, as the curtain call.
Songs
Act I
The Impossible Dream - Man of La Mancha
I Feel Pretty - West Side Story (Starting with the Latin Spanish version, this song was replaced by "Cabaret" from the self-titled musical)
One - A Chorus Line
Phinedroids and Ferbots (Instrumental)
Act II
Pre-show, intermission, and post-show
Backyard Beach
Busted
Gitchee Gitchee Goo
Cast
Caroline Rhea as Mom (unseen)
Gallery
References
v - e - d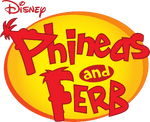 Episodes
Season One: "Rollercoaster" • "Candace Loses Her Head" • "The Fast and the Phineas" • "Lawn Gnome Beach Party of Terror" • "The Magnificent Few" • "S'Winter" • "Are You My Mummy?" • "Flop Starz" • "Raging Bully" • "Lights, Candace, Action!" • "Get That Bigfoot Outta My Face!" • "Tree to Get Ready" • "It's About Time!" • "Jerk De Soleil" • "Toy to the World" • "One Good Scare Ought to Do It!" • "A Hard Day's Knight" • "I, Brobot" • "Mom's Birthday" • "Journey to the Center of Candace" • "Run Away Runway" • "I Scream, You Scream" • "It's a Mud, Mud, Mud, Mud World" • "The Ballad of Badbeard" • "Dude, We're Getting the Band Back Together" • "Ready for the Bettys" • "The Flying Fishmonger" • "Phineas and Ferb Get Busted!" • "Greece Lightning" • "Leave the Busting to Us!" • "Crack That Whip" • "The Best Lazy Day Ever" • "Boyfriend From 27,000 B.C." • "Voyage to the Bottom of Buford" • "Put That Putter Away" • "Does This Duckbill Make Me Look Fat?" • "Traffic Cam Caper" • "Bowl-R-Ama Drama" • "The Monster of Phineas-n-Ferbenstein" • "Oil on Candace" • "Unfair Science Fair" • "Unfair Science Fair Redux (Another Story)" • "Out to Launch" • "Got Game?" • "Comet Kermillian" • "Out of Toon" • "Hail Doofania!"


Season Two: "The Lake Nose Monster" • "Interview With a Platypus" • "Tip of the Day" • "Attack of the 50 Foot Sister" • "Backyard Aquarium" • "Day of the Living Gelatin" • "Elementary My Dear Stacy" • "Don't Even Blink" • "Chez Platypus" • "Perry Lays an Egg" • "Gaming the System" • "The Chronicles of Meap" • "Thaddeus and Thor" • "De Plane! De Plane!" • "Let's Take a Quiz" • "At the Car Wash" • "Oh, There You Are, Perry" • "Swiss Family Phineas" • "Hide and Seek" • "That Sinking Feeling" • "The Baljeatles" • "Vanessassary Roughness" • "No More Bunny Business" • "Spa Day" • "Phineas and Ferb's Quantum Boogaloo" • "Phineas and Ferb Musical Cliptastic Countdown" • "Bubble Boys" • "Isabella and the Temple of Sap" • "Cheer Up Candace" • "Fireside Girl Jamboree" • "The Bully Code" • "Finding Mary McGuffin" • "Picture This" • "Nerdy Dancin'" • "What Do It Do?" • "Atlantis" • "Phineas and Ferb Christmas Vacation!" • "Just Passing Through" • "Candace's Big Day" • "I Was a Middle Aged Robot" • "Suddenly Suzy" • "Undercover Carl" • "Hip Hip Parade" • "Invasion of the Ferb Snatchers" • "Ain't No Kiddie Ride" • "Not Phineas and Ferb" • "Phineas and Ferb-Busters!" • "The Lizard Whisperer" • "Robot Rodeo" • "The Beak" • "She's the Mayor" • "The Lemonade Stand" • "Phineas and Ferb Hawaiian Vacation" • "Summer Belongs to You!" • "Nerds of a Feather" • "Wizard of Odd" • "We Call it Maze" • "Ladies and Gentlemen, Meet Max Modem!" • "The Secret of Success" • "The Doof Side of the Moon" • "Split Personality" • "Brain Drain" • "Rollercoaster: The Musical!" • "Make Play" • "Candace Gets Busted"
Season Three: "The Great Indoors" • "Canderemy" • "Run, Candace, Run" • "Last Train to Bustville" • "Phineas' Birthday Clip-O-Rama!" • "The Belly of the Beast" • "Moon Farm" • "Ask a Foolish Question" • "Misperceived Monotreme" • "Candace Disconnected" • "Magic Carpet Ride" • "Bad Hair Day" • "Meatloaf Surprise" • "Phineas and Ferb Interrupted" • "A Real Boy" • "Mommy Can You Hear Me?" • "Road Trip" • "Tour de Ferb" • "Skiddley Whiffers" • "My Fair Goalie" • "Bullseye!" • "That's the Spirit" • "The Curse of Candace" • "Escape from Phineas Tower" • "Lotsa Latkes" • "Ferb Latin" • "A Phineas and Ferb Family Christmas" • "Tri-Stone Area" • "Doof Dynasty" • "Excaliferb" • "Phineas and Ferb and the Temple of Juatchadoon" • "Monster from the Id" • "Gi-Ants" • "The Remains of the Platypus" • "Mom's in the House" • "Perry the Actorpus" • "Let's Bounce" • "Bully Bromance Break Up" • "Quietest Day Ever" • "Doonkleberry Imperative" • "Meapless in Seattle" • "Delivery of Destiny" • "Buford Confidential" • "The Mom Attractor" • "Cranius Maximus" • "Agent Doof" • "Minor Monogram" • "What a Croc!" • "Sleepwalk Surprise" • "Sci-Fi Pie Fly" • "Sipping with the Enemy" • "Tri-State Treasure: Boot of Secrets" • "Doofapus" • "Norm Unleashed" • "Where's Perry?" • "Ferb TV" • "When Worlds Collide" • "What'd I Miss?" • "Road to Danville" • "This is Your Backstory" • "Blackout!"
Season Four: "For Your Ice Only " • "Happy New Year!" • "Fly On the Wall" • "Bully Bust" • "My Sweet Ride" • "Der Kinderlumper" • "Sidetracked" • "Primal Perry" • "Mind Share" • "Backyard Hodge Podge" • "Bee Day" • "Bee Story" • "Great Balls of Water" • "Where's Pinky?" • "Phineas and Ferb Musical Cliptastic Countdown Hosted by Kelly Osbourne" • "Knot My Problem" • "Just Desserts" • "La Candace-Cabra" • "Happy Birthday, Isabella" • "Love at First Byte" • "One Good Turn" • "Mission Marvel" • "Thanks But No Thanks" • "Troy Story" • "Druselsteinoween" • "Terrifying Tri-State Trilogy of Terror" • "Face Your Fear" • "Cheers for Fears" • "Steampunx" • "Just Our Luck" • "Return Policy" • "Live and Let Drive" • "Phineas and Ferb Save Summer" • "Father's Day" • "Imperfect Storm" • "The Return of the Rogue Rabbit" • "It's No Picnic" • "The Klimpaloon Ultimatum" • "Operation Crumb Cake" • "Mandace" • "Phineas and Ferb: Star Wars" • "Lost in Danville" • "The Inator Method" • "Night of the Living Pharmacists" • "Tales from the Resistance: Back to the 2nd Dimension" • "Doof 101" • "Act Your Age" • "Last Day of Summer" • "O.W.C.A. Files"