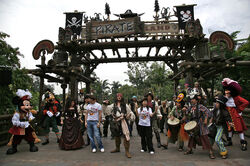 Pirate Takeover (Traditional Chinese: 魔盜王玩轉迪士尼樂園) was a special event taking place at Hong Kong Disneyland, in conjunction with the release of the film Pirates of the Caribbean: At World's End.
From May 4, 2007, Adventureland has been taken over by pirates and converted into Pirateland.[1] Although the event officially ended on June 30, its continued until September 2, part of the "Mickey's Summer Blast" event started from July 14.
Summary
The takeover includes pirate-themed decorations (including a giant flag reading "Pirate Island - Beware!" over Tarzan's Treehouse), Jungle River Cruise: Pirate Takeover!, and Captain Jack Sparrow's Pirate Boot Camp. Midway games including Rum Tumble, Captain Hook's Ring Toss and Treasure Hunt have been added. Various forms of street entertainment including "The Doctors of Soul" Voodoo Drum Show, Pirate's Procession, and Mirabella, The Gypsy Fortune Teller. All characters wear pirate costumes. Also, Captain Hook and Tick-Tock the Crocodile from Peter Pan are roaming there.
There are various special photo areas set up for guests to pose next to a ship's wheel, life-size pirate cutouts, a skeleton pirates, or inside a crocodile's mouth. As far as dining goes, Pirate View Café, Pirate Chow!, and The Galley! were all created for this event.
References