Pirates of the Caribbean: Dead Man's Chest is an action-adventure game based on the film of the same name developed by Griptonite Games and Amaze Entertainment for the Game Boy Advance, Nintendo DS and PSP. It is an adventure game that follows the events of the movie while also bringing in new interactive elements that are not included in the movie.
Gameplay
The game incorporates role playing elements where Jack Sparrow and the Black Pearl can be customized. Dead Man's Chest is played on land and sea, on land the player must defeat enemies, search for treasure or for comrades, items, rumors and boat enhancements can be bought from towns. When on sea the player must travel from one island to another to play through the story or to explore the world. Sea battles can take place when the Black Pearl is steered towards other boats, during these battles the cannons are fired to damage the opposing ship and once when it has been sufficiently damaged, it's possible to board the burning ship and plunder it for food, grog and even treasures. The GBA version's gameplay is similar to the Castlevania game engine.
Plot
Development and release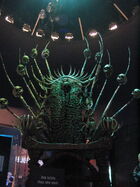 Reception
See also
External links
Community content is available under
CC-BY-SA
unless otherwise noted.