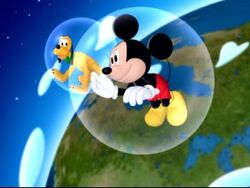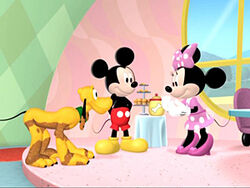 "
Pluto's Bubble Bath
" is an episode from the second season of
Mickey Mouse Clubhouse
, which originally aired on
Playhouse Disney
on
September 6
,
2008
.
Plot
Clarabelle and Bella are coming over for tea and biscuits and Pluto is all dirty and needs a bubble bath. But when Pluto's bubble bath gets out of hand, Mickey and Pluto each get stuck inside giant bubbles and float away from the clubhouse.
Characters Present
Mousketools
Six rubber duckies
A bath towel
A blow drier
Puppy bubble bath
Trivia
This is the 2nd of 4 episodes on the Mickey's Big Splash DVD.
This is the second of 5 episodes where the Mystery Mousketool is used first.
This episode premiered the same day as the premiere of Imagination Movers.
End Credits
Mickey and Pluto singing their bubble song while floating in a bubble.
Quotes
Mickey: (Singing) There's no trouble in a bubble as you flotin' along, singin' dibble, dabble, double--it's a bubblin song. Bubble fast.
Pluto: Woof Woof
Mickey: Bubble slow
Pluto: Woof Woof
Mickey: Bubble everywhere you go. Because, there's no trouble in a bubble as you're floatin' along, singin' dibble, dabble, double--it's our floatin bubble song!
Mickey: You can't stear a bubble. They have no stearing wheel
Gallery