Spider-Man: No Way Home Trailer Dropped - The Loop
Play Sound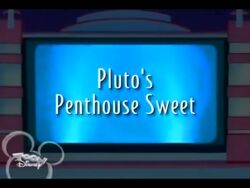 Pluto's Penthouse Sweet is an animated short starring Pluto, originally aired as part of the second episode of Mickey Mouse Works. It was later shown as part of the House of Mouse episode "Max's Embarrassing Date".
Plot
Mickey is out playing a game of "catch the stick" with Pluto when suddenly he's reminded that he and Donald are going out on a double date with their girlfriends, so the game is cut short, and Pluto is left behind feeling lonely. Suddenly, he notices a beautiful Maltese Terrier named Tiki and immediately falls for her, pursuing her and her owner all the way to the sky-high skyscraper in which they live. However, Butch is guarding the building, cutting Pluto off from getting to his new love. After an attempt at mailing himself inside the building only results in him getting shipped to Alaska and back, Pluto manages to scare Butch by constructing a Trojan Rabbit-like replica of himself, which causes the bulldog to faint on sight. After climbing the stairway all the way up to the penthouse apartment in which Tiki lives, Pluto is immediately pounced upon and kissed by her and fantasizes about marrying her and having puppies with her. But then he realizes how lonely Mickey will be without him and tries to leave, but this proves difficult now that Tiki is in hot pursuit of him. After several gags of him trying to get away from her, Pluto manages to distract her by tricking Butch into getting on the elevator in his place, leading Tiki to fall for Butch instead. Pluto then makes his way back home, just in time to greet Mickey when he returns from his and Donald's double date.
Characters
Trivia
The title is a pun on "sweet" and "penthouse suite".
Gallery