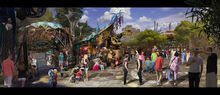 Pongu Pongu (English: Party Party) is a beverage stand in Pandora: The World of Avatar.
Storyline
Pongu Pongu is a popular drink stand ran by a human ex-pat who fell in love with Pandora and never left. Formally employed by the Resources Development Administration, he built Pongu Pongu as an ex-pat gathering place but it became popular with the local Na'vi as well. The Na'vi gave Pongu Pongu its name because of the fun times shared by the Na'vi and humans there. The owner collaborated with Alpha Centauri Expeditions to accommodate tourists, making it a frequented spot by both visitors and the locals. Pongu Pongu stands out with its eclectic Pandora-sourced decorations and co-opted RDA relics, including the retired Amplified Mobility Platform suit that sits outside the drink stand as a landmark.
Menu
Pongu Pongu specializes in drinks, much of which are alcoholic, and snacks including its signature, the Pongu Lumpia pineapple cheese spring roll. The menu occasionally changes with new foods that might not always stay on the menu, such as the Mo'ara Coffee Cake, giant soft pretzels, and the viperwolf-themed cinnamon Viper Claw that was later changed to a regular cinnamon roll. Pongu Pongu's signature drink is the Night Blossom, which is served with and without alcohol. Two unique draft beers from the Terrapin Brewing Company are also sold, the Mo'ara High Country ale and Hawkes' Grog ale. The ales are also available at Satu'li Canteen.
A glowing Unadelta Seed can be bought to go with the Night Blossom, Mo'ara Margarita, Rum Blossom, and the draft beers. They also come included when the drinks are purchased with a souvenir Pongu mug.
Reception
The Night Blossom beverage and the Pongu Lumpia are the most popular Pandora drink and food items in the park, with the Night Blossom showing up in many pictures posted by Disney World fans on Instagram. The official Avatar Instagram acknowledged this by reposting a fan photo of the Night Blossom and Pongu Lumpia by the Moss Wall, a moss-covered wall near Pongu Pongu and Satu'li Canteen that's become an Instagram popular photo spot.
Trivia
A display case in Pongu Pongu featuring a mechanical replica of a stingbat skeleton also features one of the few Disney references in the Pandora park: a collection of World War II-era Disney patches featuring designs made for the United States military. The most prominent Disney character featured in the display case is the skunk Flower from Bambi, used by D Company, the 84th Chemical Battalion at Camp Rucker in Alabama.
While the AMP Suit outside of Pongu Pongu is depicted with a hula skirt in concept art, the actual AMP suit shown in the park doesn't have one.
Community content is available under
CC-BY-SA
unless otherwise noted.